A scenic road trip out of the central bustle of Berlin takes you through the lakes and trees to Grunewald Forest at the edge of the Wannsee.
A tranquil walk here through the winding leafy paths of this vast expanse of tall pines, bending like dancers in the breeze, takes you quite unexpectedly to a small quirky cemetery seemingly in the middle of nowhere.
A short look around will eventually lead you to a dark granite headstone bearing the names of Margarete Päffgen and below, her daughter Nico. On 16th August 1988, Nico was laid to rest in this peaceful corner of the world, reunited with her mother.

On 18th July 1988, Nico went for a bike ride on the isle of Ibiza, a healthy pursuit in contrast to her hard narcotic past. She was later found unconscious by the side of the road and taken to the Cannes Nisto Hospital, where she died at 8pm of a brain haemorrhage. A tragic end to a tragic life.
Christa Päffgen (Nico) was born on 16th October 1938 in Cologne, in Nazi controlled Germany. At two years  old she was taken to the small town of Spreewald on the outskirts of Berlin where she lived together with her mother and grandfather to the end of World War II.
Christa and her mother moved to West Berlin in 1946, where Christa worked part-time as a seamstress, went to school until she was 13 years old and then took a job selling lingerie. About a year later, her mother found her work as a model with a Berlin fashion house.
At age 15 she was sent to Ibiza on an assignment and met up with the photographer who gave her the name Nico, apparently after a recently departed boyfriend of his. Nico appeared in For The First Time, starring Mario Lanza and directed by Rudolph Maté in 1958. The following year on holiday at a friend's villa in Rome, Nico was invited to the set of La Dolce Vita where Fellini noticed her standing in a corner and offered her a role in the film.
With a growing reputation, Nico and her mother left for Paris where she was signed to a larger modelling agency. Her pictures were appearing regularly in magazines and commercials internationally. She was contracted by Coco Chanel to promote their products, but instead went to New York in 1960 to model, also enrolling in Lee Strassberg's Method School and joining the same class as Marilyn Monroe. November 1962 saw her land a role in the French movie Strip-Tease.
In 1962 Nico was said to have had an affair with French actor Alain Delon and gave birth to her son, Christian Aaron "Ari" Päffgen. Delon always denied his paternity. Ari was raised mostly by Delon's mother and her husband and eventually was adopted by them, taking their surname, Boulogne.
In 1964/65 she met Brian Jones. Through Jones she met Stones' manager Andrew Loog Oldham, and made her first record, 'I'm Not Sayin'. She was soon introduced to Bob Dylan in Paris and Dylan wrote the song 'I'll Keep It With Mine' for her shortly thereafter (which she recorded for her first album, Chelsea Girl in 1967). Dylan wrote her a tribute on his album Blonde on Blonde called 'Visions of Johanna'. Later he introduced her to Andy Warhol who began to feature her in his and Paul Morrissey's experimental films.
According to legend, Nico told Andy, "I want to sing," and he introduced her to his latest protégés, The Velvet Underground – then part of Warhol's mixed media Exploding Plastic Inevitable troupe. Nico gave up modelling and spent a year touring with them. She joined them on the classic Lou Reed compositions 'Femme Fatale', 'All Tomorrow's Parties' and 'I'll Be Your Mirror', but before the legendary 'Banana' album was released she went her own way.

It is said the band worried about being eclipsed by her haunting, charismatic presence and forced her out of the line-up, although the reason may well have been trouble between her, Lou Reed and John Cale. Love, hate and jealousy – something that, reportedly, Warhol loved to witness.
Nico had begun singing at the downstairs bar of the legendary Dom Club, backed up by people such as Tim Hardin, Tim Buckley, Ramblin' Jack Elliot and most often, the young Jackson Browne. For a while she lived with the young songwriter, and recorded several of his early compositions. In 1967 along with the song Dylan gave her and unrecorded Velvet Underground tunes like 'Wrap Your Troubles in Dreams', Nico had her solo-album Chelsea Girl.
In 1967, Nico began a turbulent relationship with Jim Morrison, albeit short-lived, this relationship had  a significant impact on Nico.  American journalist Danny Fields once said that, "Jim and Nico got into  this fight, with Jim pulling her hair all over the place – it was just this weird love-making, between  the two most adorable monsters, each one trying to be more poetic than the other."
In 1985 Nico spoke about the relationship:
"I like my relations to be physical and of the psyche. We hit each other because we were drunk and we enjoyed the sensation. We made love in a gentle way, do you know? I thought of Jim Morrison as my brother, so we would grow together. We still do, because he is my soul brother. We exchanged blood. I carry his blood inside me. When he died, and I told people that he wasn't dead, this was my meaning. We had spiritual journeys together".
It is reported that during their time together in California, they often drove out of Los Angeles into the desert. Jim found the cactus buttons called peyote, which they picked and ate. Nico stated:
"Peyote was a spiritual drug. We were in the middle of the desert and everything was natural, you know, in the open air, nature all around, not a hotel room or a bar. And the cactus was natural. You did not buy it from somebody on a street corner.
We had visions in the desert. It is like William Blake; he would see visions like Blake did, angels in trees, he would see these, and so would I. And Jim showed me that this is what a poet does. A poet sees visions and records them. He said that there were more poets in Comanches than there were in bookstores. The Comanches took the cactus, too. We were like the Indians who lived in this way for thousands of years, before the Christians and as long as the Jews."
Nico gave an example of the peyote visions she experienced with Jim:
"The light of the dawn was a very deep green and I believed I was upside down and the sky was the desert which had become a garden and then the ocean. I do not swim and I was frightened when it was water and more resolved when it was land. I felt embraced by the sky-garden."
It is said that soon after she began to write a song lyric, possibly her first, entitled 'Lawns of Dawn'. The song contains lines such as, "He blesses you, he blesses me. The day the night caresses, caresses you, caresses me, can you follow me?… I cannot understand the way I feel until I rest on lawns of dawns – can you follow me?"
The lovers went their own self-destructive ways but Morrison would always be a strong and influential force on Nico.
Love it or hate it, her deep hypnotic and sometimes monotone voice became a trademark, as well as her classic high cheekbones and heavy make-up, a style later resurrected by Goths. She made three albums with John Cale as producer, The Marble Index, Desertshore and The End, each fully loaded with strange and haunting sounds.
The End, the fourth studio album by Nico, was released in November 1974. The album was her fifth collaboration with Cale and second with him as producer. Allegedly the song 'You Forget To Answer' tells of the misery felt when she failed to reach her former lover Jim Morrison by phone only to find out later that he had died.

Her career fell into disarray during the rest of the seventies and early eighties as she struggled with a massive drug habit and a tangled personal life. She had lost her manager and friend Lutz Ulbrich and moved to London to record the ill-planned Drama of Exile album in 1981. It was reportedly an unhappy time but her touring was more regular, mainly with new, younger musicians.
In 1985 she released the more successful Camera Obscura album, again produced by John Cale. This album placed Nico in the middle of the experimental scene that took place in the eighties. Some of the younger audience saw her as a punk goddess singing about the extremely dark side of life; her performances becoming more mournful, some saying she was paying tribute to dead friends.
This is where it began for me and sadly where it was soon to end for Nico. In a small cemetery in the Grunewald Forest with a few friends playing a song from Desertshore on a cassette recorder, she was laid to rest.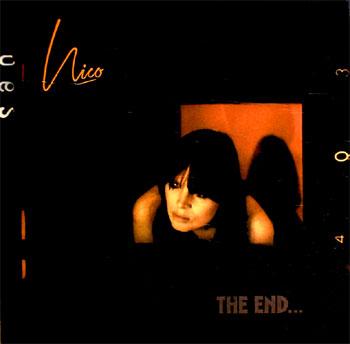 The End was a hop, skip and a side step away from her previous Cale collaborations, Desert Shore and The Marble Index. Almost 40 years on from its release, The End has now been digitally re-mastered. The cover shots on the CD are from the film, Les Hautes Solitudes, in which Nico appeared.
The images fit quite beautifully with the album content – raven haired, dark heavy eyes and forlorn pouting lips, appearing almost doomed. So beware, this is definitely not the album for you if you are merely looking for a quick introduction to her work. This album is dark, death-like and even sinister in places. Nico's tortured voice and relentless pumping harmonium consume Cale's piano and Eno's synthesizer.
There is a hard gothic edge to the tracks as she turns her back on her beauty and scratches at her mirror sending shivers up your spine like fingernails on a chalkboard. This two-disc reworking features the original album, tracks from The John Peel Sessions, The Old Grey Whistle Test, a live version of 'The End' from 1974 and a previously unreleased version of 'Das Lied Der Deutschen', making this a must-have for any Nico collector.
'Das Lied der Deutschen' / 'Deutschland Uber Alles' (the former German national anthem) was pretty much a  no-go zone in 1974, especially to the German people, but this is one of the most beautiful and simple tracks on the album, sung in an almost childlike way. Just Nico and a harmonium, one can almost imagine this being sung in a school assembly or Church gathering, "a harmless little song" she says.
During live performances she would dedicate this track to terrorist Andreas Baader. Nico later stated she intended her performance to be taken in the same spirit as Jimi Hendrix's version of 'Star Spangled Banner'.
Naturally Jim Morrison reappears on the album in the title track, a reworking of the Doors' 'The End', albeit stripped down and darker than even Morrison perhaps could have imagined. Nico's voice is deliberate and her harmonium echoes intensely through the track. When she reaches the "mother/father" passage her broken, shattered scream fades beautifully back into hum of the harmonium. She doesn't just pad through this album in endless monotone; Nico's voice hits the sun, melts like Icarus's wings and then buries itself deep within the tomb, beautiful and alone.
John Cale admitted he spent most of his time in the studio simply marvelling, and that the arrangements were mostly Nico's own.
This is The End, beautiful friend.
Reissued on Universal/Island, October 1st
[button link="http://rcm-uk.amazon.co.uk/e/cm?t=trebucmagazi-21&o=2&p=8&l=as1&asins=B008RYN5YE&ref=qf_sp_asin_til&fc1=000000&IS2=1&lt1=_top&m=amazon&lc1=0000FF&bc1=000000&bg1=FFFFFF&f=ifr" newwindow="yes"] The End at Amazon.co.uk[/button]
The Original Album
01: It Has Not Taken Long (4: 11)
02: Secret Side (4:08)
03: You Forget To Answer (5:07)
04: Innocent and Vain (3:51)
05: Valley of the Kings (3:57)
06: We've Got The Gold (5:44)
07: The End (9:36)
08: Das Lied Der Deutschen (5:28)
DISC TWO
01: Secret Side (4:05) – John Peel Session 20th February 1971 – First Time on CD
02: We've Got The Gold (4:00) – John Peel Session – 3rd December 1974 – Previously Unreleased
03: Janitor of Lunacy (4:36) – John Peel Session – 3rd December 1974 – Previously Unreleased
04: You Forget To Answer (4:32) – John Peel Session – 3rd December 1974 – Previously Unreleased
05: The End (9:07) – John Peel Session – 3rd December 1974 – Previously Unreleased
06: Secret Side (4:07) – Old Grey Whistle Test – 7th February 1975 – Previously Unreleased
07: Valley of the Kings (3:34) – Old Grey Whistle Test – 7th February 1975 – Previously Unreleased
08: Das Lied Der Deutschen (5:37) June 1st 1974 – Previously Unreleased
09: The End (9:14) – from June 1st 1974

Photographer, published poet, former party animal, body builder, grave robber
to the stars and renowned chainsaw juggler, Carl can often be spotted on his
Harley Davidson pretending to be in Terminator 2. He is also frequently seen in
the press pits of old London town, camera in hand, avoiding being hit by bottles
of wee and crippling his opposition with secret Kung Fu moves.