[dropcap style="font-size:100px; color:#992211;"]I[/dropcap]f the world were fair and just, Johnny Depp would be making a ninth biographical film about singer-songwriter Nick Harper.
Faber and Faber would be publishing a fancy hardcover edition of his lyrics thus far, and he would be forced to rent sheds throughout the countryside to store all of his awards.
Harper has built nine albums' worth of distinctive work since his debut EP Light at the End of the Kennel in 1994, toured heavily in the UK and Europe, appeared regularly at festivals like Clonakilty, Funny as Folk, Glastonbury, and Wickerman, and won over many, many grumpy music snobs. One the great treats of seeing him live is his random choice of covers, which can be anything from Bauhaus to Pink Floyd to Public Enemy.
It's difficult to describe his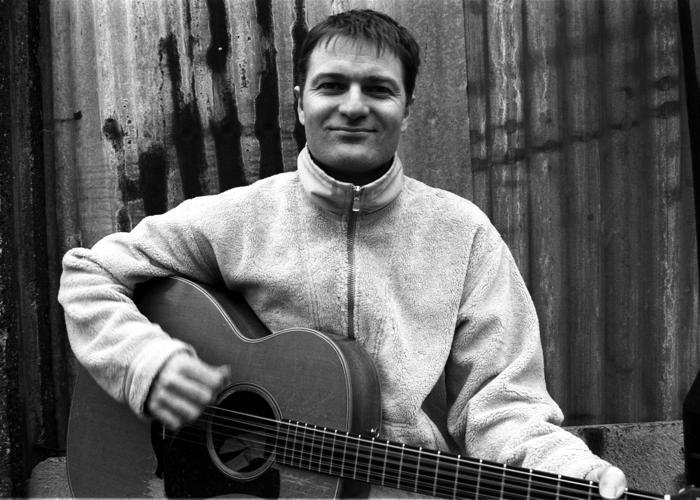 intense acoustic style without lapsing into language reminiscent of a police report for grievous bodily harm, usually only a problem when talking about certain genres of metal. Still, he really does beat his Lowden like a rented mule. He breaks strings so often during gigs, and so little does it faze him, that he just continues singing a capella while replacing the string.
Nick's sharp, whimsical, wittily quirky sense of humor is more along the lines of Neil Innes's, Douglas Adams's, or Ray Davies' than Frank Zappa's (his rousing cover of 'Titties and Beer' notwithstanding). His lyrics are magnificently crafted, with emotional intelligence, love of nature, beauty, freedom, and humanity, and thoughtful political insights without sounding the least bit pompous and overbearing. He founded an annual fundraising walk and concert in Wiltshire (Avebury Rocks and Devil's Den Rocks) in support of the Love Hope Strength charity, "set up to improve levels of care around the world for families suffering with cancer."
Harper is currently touring the UK in support of his new album NIX (as in the 9th album, IX), recorded in a whirlwind ten days at his home studio entirely on his own. "Nick in a room with a guitar…Nothing else. Nothing, Nada, Nix," as the CD inlay says, which is the best way to hear him.
What was the first song you ever wrote?
Nick Harper: A song called 'Macaroni' which juxtaposed food and young love. I wrote it when I was five, and it is at the end of my first album Seed.
Do you write music and lyrics all the time or does inspiration hit you out of the blue? Do you have to stop in mid conversation (or in traffic or wherever) and scribble down notes?
I used to be quite disciplined with my little black book, but over the years I've let more than a few ideas drift into hidden synapse alleys. Hopefully they twist around in there a bit and later emerge from the cocoon, and maybe that's the stuff that you think is 'out of the blue'.[quote]no two people hear music or
even see the world in the same
way, and it's your vision that
counts for you in the end[/quote]
You capture a kind of longing so well in your songs. Do you write more easily when you're in a brooding mood? With the concept of Riven being dark and light moods, you obviously don't rely too heavily on the dark side to create.
I think music is a conduit to the fundamentals of the universe, and when we are searching for answers and meaning, music can help us get to where we want to be, with some kind of explanation. When we're on top of the game and want to let it all hang out and celebrate life, it's almost always enhanced by a soundtrack. I suppose we inhabit the former state more often, otherwise we wouldn't be the unique searching inquisitive creatures we are.
Who do you consider your biggest influences as a guitarist? You've mentioned Zappa, Gilmour, Page, Hendrix, your dad [Roy], Hugh Cornwell, Django, Tommy Emmanuel, Andy Gill, Glen Tilbrook, Geordie, and Stephen Stills…. Does that still cover everyone, or is there anyone else who's given you goosebumps and brain tingles?
There are at least one billion great players out there. I could name another hundred that I've learned from or been inspired by. I suppose the thing I like about the players I like is for me it's all about the song and an expression of a feeling rather than technique or ability – that's what music is about. When musicians do a perfect rendition of a well-known song without any 'mistakes' or deviations it usually leaves me cold.
At what point as a kid did you decide to be a guitarist rather than a drummer?
Well for a start I haven't grown all the way up yet, and when I do I might decide to be a drummer!
Do you have any childhood memories of Keith Moon?
A few – I probably can't go into too much detail, but I remember driving his car when I was nine. We got on well because I suppose we were closer in mental age than the others!
What was the inspiration for the songs on NIX? What went on in your life and mind in between Riven and NIX?
NIX? N 1X? Nine songs on the ninth album. It had to be the nine muses. That covers Dance, Astronomy, Tragedy, Song, History, Humour, Lyric poetry, Elegy and Hymn. Plenty to get the teeth into! There wasn't much time between the two albums, but life doesn't half tick by! Things happen….
What influenced your decision to do an acoustic album entirely solo?
Usually when I'm recording I get to take each song a lot further than one man and a guitar, which is a great artistic adventure for me, but live I'm known as the solo troubadour bloke, and I've been asked a few times to represent that on a recording. I thought these songs were made for it and it was about time to 'bare all'.
How do you successfully overcome general self-doubt and performance anxiety?
You can prepare all you like – learning the songs is always handy! A bit of Dutch courage maybe, but nothing comes close to actually doing it. Experience is king. You can unveil your great work to the world after intense and detailed preparation, only to find that although it breaks your heart, the rest of the world merely quite likes it (hopefully). So why did you get so worked up about it? After experiencing the highs and lows of reactions to things you do, you realise that no two people hear music or even see the world in the same way, and it's your vision that counts for you in the end. Whatever anyone else thinks is essentially irrelevant.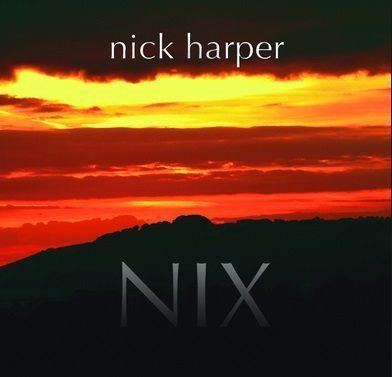 Was there an actual "Juicy Fruit Girl" in your life or did you invent her?
Yes, I remember her well! Perhaps we were all victims of the fear created by those clever advertising people and were terrified of not having the freshest of breath at the school disco. The Polo Mint Girl didn't have the same ring to it though.
Since you grew up in the country and have such an affection for it, what do you consider the most beautiful part of Britain?
I wrote a silly, but affectionate piece of verse inspired by the wonders of the Wiltshire countryside called, 'A Wiltshire Tale'. It's a celebration of the places I grew up in, beautiful it is too, but the point of the poem was that there is magic in this world just outside the door (or a short drive) wherever you are and it's there to explore. Having said that the West of Scotland and the Islands out there take some beating. Love the Lake District too. North coast of Cornwall? Snowdonia? The New Forest? (Named so, because Savernake was the old one). etc. etc. etc.
What's your opinion of the Occupy movement (so far, anyway)?
So great and life affirming to see the spirit of optimism in the youth that will never give up on trying to attain a fairer world for everyone. I hope whoever of those among their ranks go on to 'achieve' in the capitalist world can do so without evicting those principles from their minds.
What are your thoughts on Dorothy Parker, whom you reference on NIX? Who's your favorite poet?
I first learned about Dorothy Parker from Harpo Marx's autobiography Harpo Speaks. He talked about the 'Algonquin Round Table' set that they were both part of. One of Harpo's obsessions was croquet – apparently he turfed the roof of a warehouse in Manhattan just to play, and there is rumour of a painting of her playing in nothing but a hat. I was given The Best Of Dorothy Parker and ended up diving in to the book and a bath at the same time, and the song came from there.
Favourite poet? Not fair. William Blake?
What's your most recent favorite song/album?
Dr. John Locked Down. Magnetic Man, Magnetic Man. James Varda Chance and Time.
Do you still prefer small clubs to bigger venues, even with the curse of mobile phones in the audience?
Yes, I like to smell the lion's breath and make it an inclusive intimate event rather than a spectacle with some guy playing in the distance with a sound delay. Having said that, a run at Madison Square Garden would help with the pension plan!
Photo: Mark Hunt.
[button link="http://www.harperspace.com/nick-harper-tour.html" newwindow="yes"] Nick Harper Tour Details[/button]