[dropcap style="font-size:100px; color:#992211;"]W[/dropcap]
ooden shoes don't rot, they take root.
It's easy to ignore New Model Army (NMA). They are never namechecked by new bands, their politics could never really be simplified and their attitude never quite meshed with what is essentially a hard folk outfit. They are an outsider band for those who don't consider themselves outsiders, just loud people who believe in a pointed freedom and, as hard as it is to label the band, their loyal fans are worse.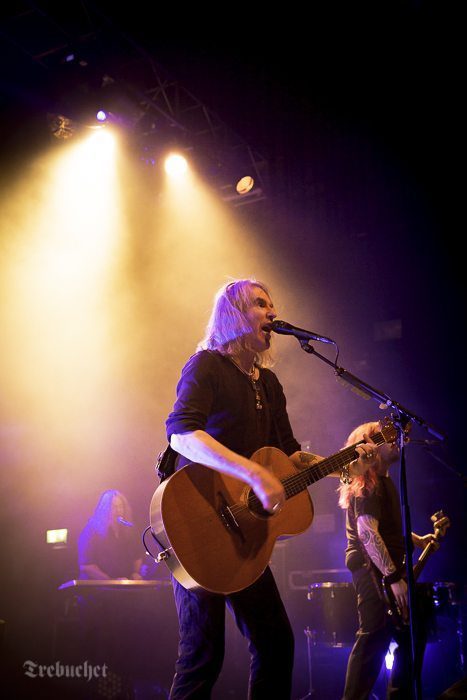 To huge cheers the band took the stage, and launched into a heavy version of Burn the Castle, from whereon the concert became a celebration of resistance. Tribal war drums, bass lines like a battery of cannon fire, and Justin Sullivan earnestly reporting from the front line of a protracted internal conflict.
The martial analogy is quite endless when it comes to New Model Army, their post-punk fans have a sense of camaraderie and history that borders on saga. Unusual for such an underground iconic band, the militia (as the fans are known) have little to no hero worship about the musicians themselves, but what they lack in blind worship they make up for in appreciation.
NMA's most recent album Winter is easily one of their most accomplished releases, containing drone and tribal elements which seem to contemporise their sound, drifting towards Neurosis in terms of space and intensity (imagine those bands on the same bill, supported by Amebix!). The memorable one-two punch of Born Feral and Die Trying is a particular high point, churning with that drive and emotion you return to for chest swelling NMA groove.
As the atmospheric elements of Born Feral begin the crowd start to sway, and by the time the primal tom-led drumming kicks in the mosh pit increases in pace and heat; from delicates/woollens to heavy spin. Sadly the band didn't follow with Die Trying, but did another cracker ('Devil') earlier in the set. Alas, on the night it didn't quite carry the same oomph of the record.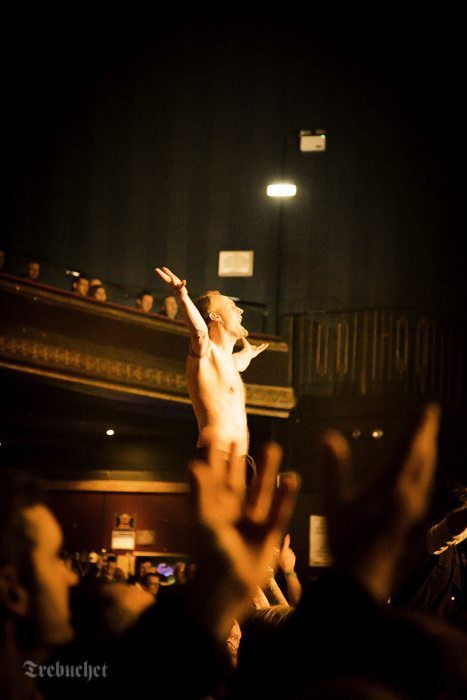 Live, NMA are fantastic. Outside of toothy singer Justin there are many hidden weapons in the band. Both Marshall and Ceri seem to really connect with the crowd and are never overshadowed by Justin's begrudgingly iconic status. One element that struggled over the show was the drums. Not quite loud enough, they never reached where they needed to. Granted, live sound is fickle show to show, depending on where you're standing and several other factors. It was a shame. Rob Heaton casts a big shadow over the kit but Michael Dean has delivered a lot of dynamic power since the late 90s. Noticeably it's only on recent albums that he's stretched out and come into his own, possibly because he's been taking some of the production role at the songwriting stage, which gives him a bit more rein to be creative.
Both encores started with solid crowd favourites, firstly with Christian Militia and then with Vagabonds. Giving new fans those hits they crave and memory lane to the perennial. The show at Kentish Town 2016 will go down as one of the top shelf gigs of that year. How it rates against other Army shows is hard to say, but with this lineup and on the back of this album, the show (like the ticket holder) is in the company of greatness.
More photos from the gig here.
New Model Army Setlist  O2 Forum Kentish Town, London, England  15th Dec 2016
Burn the Castle
White Light
Winter
Part the Waters
Fate
Devil
Angry Planet
Drifts
Born Feral
No Rest
Autumn
Stormclouds
51st State
Purity
Bad Old World
Wonderful Way to Go
Encore:
Christian Militia
Poison Street
Get Me Out
Encore 2:
Beginning
Vagabonds
Photos by Kailas Trebuchet. Not to be reproduced without express prior permission.