[dropcap style="font-size:100px; color:#992211;"]T[/dropcap]homas Koner's explorations on La Barca have been out of print for a while now and, rereleased here, remind exactly what minimal electronic music can achieve: passion and mystery.
At its best minimalism allows huge chasms of sound where the listener can fall away as though into darkness, immersed in an ego-crushing abstraction. It is this that Thomas Koner does best.
During 2008 and 2009 Koner travelled around the world creating 22 pieces of 'sonic cartography'. The results are startling exercises in melancholy and psycho-geographic portraiture. One can imagine Koner staring into the back of a headrest, glaring with teutonic intensity, doubtless scaring the crumbs from his fellow passengers' baguettes.
"The title La Barca refers to the solar barque, or sun boat, which passes through the realms of the underworld (Duat according to Egyptian mythology) each night to reappear in the east every morning."
Koner augments his lonely world with sweeping chords and plucked notes that often remain static, whilst the fields samples act as the lead instrument; the human pivot around which the listener wheels, hating and judging the chattering mortals with their inane foreign banter, tannoy announcements, paunchy hypocritical religion and facile humour. At one point Koner traces a single word over and again in his notework, causing a regional friar to jostle his rosary with consternation.
"The sounds and images for this part I recorded in Tokyo. It appeared to me as if the railway car moved like a slow boat, and the announcements at the stations sounded like invocations.
I realized:
'In a barque she sails across the high lands of the past.
The barque heads shimmer and glow at stern and bow,
and that lights her unseeable passage.
She calls to the spirits of this hour,
and that is how we come to even hear her voice.'"
Within the La Barca release there is a suffix to pieces 2-13 denoting a progressive hour. While nothing is mentioned in the accompanying press release, knowing Koner's love for audiovisual explorations of entropic time and space presupposes that these moments are collated as progressive movements that encapsulate travelling.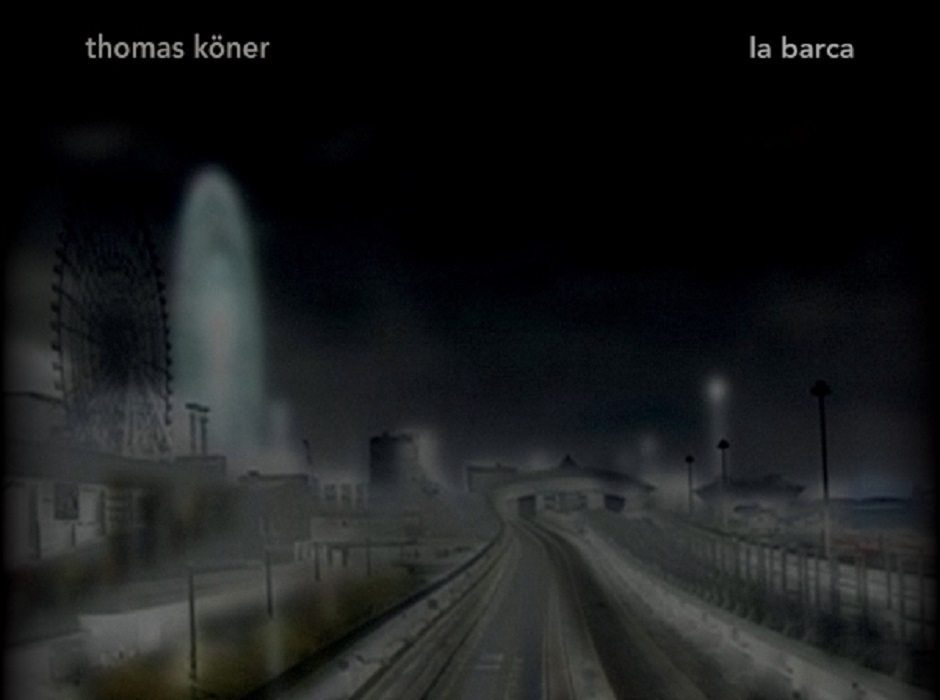 The kernel of the La Barca experience can be emblematically understood in Manhatten when at around 1.15 into the piece a woman mourns 'Does this stop at fiftieth?' as a bell tolls. Koner masterfully repeats the bell at intervals, changing its tone with each repetition and creating a hyperreal majestic melody that elevates the subject and the listener.
La Barca is an unlikely winner within electronic music. It's not apparent that the subject, theme, or execution are particularly innovative. Recording transit sounds and then augmenting them with subdued instrumentation is the avant garde equivalent of covering the Beatles' 'Yesterday', however, Koner does it with real sense of emotion and finesse.
As a leading musician within forward-thinking electronic music circles Koner's work around his theme presupposes an exploration into the primitive nomadic elements of being human. What we have here then is a misanthropic roots record for the rootless savage and Koner a wandering minstrel wired forward and back into musical history.
Effortless.
[button link="https://thomaskoner.bandcamp.com/album/la-barca-complete-edition" newwindow="yes"] La Barca, Bandcamp[/button]