[dropcap style="font-size:100px; color:#992211;"]T[/dropcap]hen he appeared to more than five hundred brothers at one time, most of whom are still alive, though some have fallen asleep.
– 1 Corinthians 15:6
No one was asleep and I think everyone was alive. It wasn't the messiah, it was Hang The Bastard and it wasn't the promised land, it was The Underworld in Camden on the 18th September (although with a squint and a couple of shots in your belly you could easily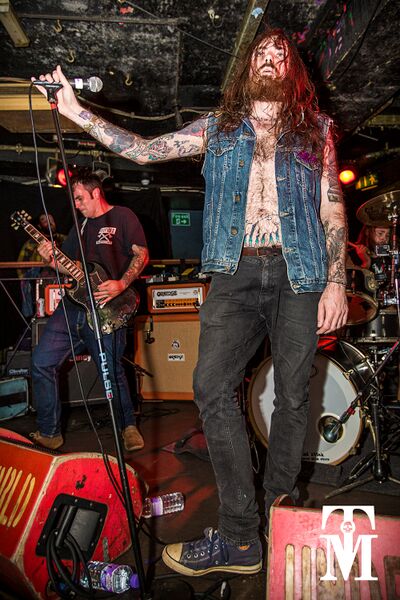 mistake him for the chosen one – think modern-day Jesus on crystal meth).
The amassed souls didn't number 500 either but it was an early show and a weekday to boot. These lucky brothers and sisters who had managed to get to this Hang The Bastard early support slot (for The Sword) were in for some hard-core preaching.
Celebrating a year since the release of Sex In The Seventh Circle, the word of Hang The Bastard would be mighty and thunderous. The gospel of rock would be laid down without mercy and the non-believers would be smitten with frenzied guitar licks until all those congregated banged their heads in affirming unison.
As Worshipmetal puts it: 'they come shrouded in menace, filthy atmospherics, unpredictability and an old-school blues mentality wrapped around the darkest of primeval groove… what more do you possibly need?'
With further live slots scheduled at Brighton's Mammothfest next month, and a string of UK gigs following that, Hang The Bastard's live onslaught of heavy grooves, stoner doom riffs and black metal vocals (from the ex bassplayer, no less) are poised to convert Albion's masses, make believers of heathens, and bring on bouts of apocalyptic revelations.
Go see them before they, like Jesus, become too popular. Check their Facebook and do buy their awesome anniversary t-shirt.
Photo: Carl Byron Batson. Not to be reproduced without express prior permission.

Photographer, published poet, former party animal, body builder, grave robber
to the stars and renowned chainsaw juggler, Carl can often be spotted on his
Harley Davidson pretending to be in Terminator 2. He is also frequently seen in
the press pits of old London town, camera in hand, avoiding being hit by bottles
of wee and crippling his opposition with secret Kung Fu moves.