[dropcap style="font-size:100px; color:#992211;"]T[/dropcap]he city itself is awkwardly positioned within the tour route A-town catchment area of both Liverpool and Manchester, yet occasionally Preston's venues will manage to reel in a hip-hop show worth shouting about.
Dan Le Sac vs Scroobius Pip at 53 Degrees a few years ago and B Dolan's recent date at The Ferret are prime examples, both packed out performances from leading underground artists. Tonight, DJ Jammie has managed to lay on the best free entry rap showcase line-up in local memory at Ships & Giggles.
We roll in just before Razorrawks takes to the stage, and join the students and locals chilling in the beer garden between acts. There's a cool vibe to the place tonight – while Ships isn't really what I'd call a designated live music venue, the friendly gaming bar setting lends itself to a Mega Ran headliner given the recurring themes within his tunes.
Razorrawks is an unassuming looking local bloke, but when he kicks things off it's with the flair of a naturally gifted lyricist. It's refreshing to see someone relatable championing his Northern accent (rather than engaging in faux American or roadman pretension) and embracing that, while he might not be the most marketable of artists, his natural flow and talent with words can speak for themselves. 'House of Frauds' hammers this attitude home.
It's a shame that British rappers with a non-standardised accent (read: not from London and surrounding areas) are frozen out of airplay and rarely afforded opportunities for exposure, as with a bit of polish on his stage presence Razorrawks could happily be calling out the pretentious and the bullshit on a national level.
Next up is LEW.W, who's perhaps more recognisable from his work with Dirty Bare Feet than his solo stuff. He brings a decent crowd of mates with him, yet his delivery falls a little flat for me following the impactful stylings of Razorrawks. His recasting of Ed Sheeran's 'Shape Of You' gets the crowd moving a bit, but all in all I definitely prefer the groove and chilled out Dirty Bare Feet, as there's simply more charisma about them as a unit.
Breaking from the solo trend, Manchester's Illerstate are a trio-fronted hip-hop crew, tonight featuring promoter/beard enthusiast DJ Jammie behind the decks. Between them, they manage to lay out much more energy than we've seen so far tonight, with constant on-stage movement and crowd interaction (when I say 'iller', you say 'state') shifting the room up a few gears.
Musically, Illerstate blend classic hip-hop tropes whilst drawing on contemporary UK grime to throw a bit more edge and grittiness into the mix. It's cool to see a UK unit tipping a snap-back to hip-hop sample culture – exemplified by the 'suicide, it's a suicide' refrain on their track 'Suicide', first popularised by KRS-one in 1987 (then further by Ice-T, Snoop Dogg, Nas, Jay Z etc).
There's an awkward few minutes mid-way through the set when they try to bring a live guitar into play and it doesn't quite happen, but they move swiftly on with a catchy tune called VIP reminiscent of Boy Better Know. It's been a pretty varied bill so far, and this is a strange one for Illerstate to be playing on the face of it – I'd expect them to go down well supporting someone like Task Force – but they definitely bring a different dynamic to the lineup and I'll definitely be keeping an eye out for them in future.
We're into the US contingent now with tour support Richie Branson, who brings some classic hip-hop versus trap beats complimented by vocal delivery reminiscent of Kanye. I'll qualify that last – obviously Richie hasn't got such an uncontrollably absurd ego, and (like tour buddy Mega Ran) his lyrics are both relatable and steeped in pop culture and gaming references.
Richie has been enjoying the night so far (Preston can be kind to some) and a couple of drinks makes for some brilliant on-stage craic, which raise smiles and spirits in the room as we move forward into 'Cloud City Problems', a Star Wars-themed take down of Jay Z's 99 Problems ("if you ain't from cloud city I feel bad for you son, I got 99 problems but a Sith ain't one").
Towards the end of Richie's set we get our first appearance from tonight's headliner Mega Ran for a couple of numbers – Jackson 5/Biggie Smalls tribute 'Super Nintendo Sega Genesis' and 'OP'. It's top drawer stuff, and you've really got to hand it to Richie for performing to this standard on the full length of an international tour so soon after recovering from the big C. Brilliant.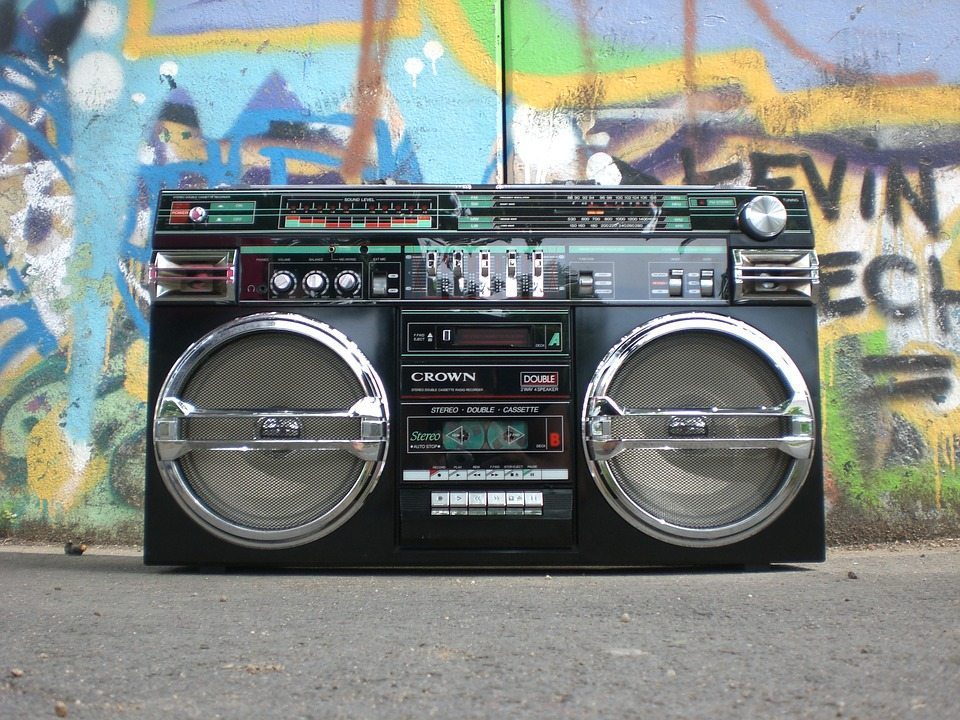 Finally on to Mega Ran, who comes on after an interval of a couple of minutes at most (he's just that ready to get things going). A brilliantly charismatic performer, Mega Ran involves the audience in everything he does and this peaks tonight with one of the highlights of the set – playing a Nintendo Switch Mario Kart race while performing a gradually sped-up rendition of 'Player 2' (he lost… but it's still accomplished multitasking).
It's one of the most interactive sets I've experienced, as Ran sits everyone down for Tifa's FFVII tune, before inviting everyone to turn out their pockets and bags for a seriously impressive freestyle component. This segment is capably jammed on the musical front by barman Tommy 'Techno' Robinson (of Dirty Bare Feet) on his innovative 'jaw harp' and DJ K-Murdoch's beats.
I've since seen a video and ascertained that Ran's freestyle was as accomplished as it appeared on the night (https://www.facebook.com/ShipsAndGiggles/videos/1155190197959751/). Mega Ran works his way through a set-list jammed with fan favourites, including my own favourite… and your favourite… handily entitled 'Your Favourite Song'. It's surprisingly the first time I've managed to see Mega Ran live, but I'm assured from hardened fans that apparently he can top this performance, but for a free entry show I couldn't have asked for a more entertaining night. Give me all your merchandise, Ran.
It's interesting; I've been thinking about how I engage with both Ran and Richie Branson's material – both are both interesting case studies regarding how nostalgia impacts on our reception of music. Both have targeted their demographic based on interpretation of and affiliation with geek culture, and having performed extensively on studio material celebrating retro gaming and other niche culture elements usually identified as 'geeky' (anime, sci-fi and speculative fiction). Do these affiliations limit their music to niche appeal definitively, though, or do they merely attract fans from the disillusioned and the ignored whilst the more commercially viable tracks hit a sweeter spot?
Tonight has surely been a live experience I hope to see taken to a larger audience for further review.
Find the night's acts on Twitter – @megaran @richiebranson @illerstate @djjammie @razorrawks @shipsandgigs

Jed the Music Ed. is a Music Promoter/Booking Agent and general fixer with Rawkus Events. Jed's interests include a constant and reckless over-caffeination, irrationally spontaneous travel plans and maintaining an over-expensive (borderline hoarder) PC/retro gaming habit.