Swans give one of those performances that must be seen before you die and they never disappoint.
Latest release The Glowing Man purports to be the final release by this incarnation of Swans, and with this tour being the last chance for fans to take part in an incredible run of albums and performances, it was always going to be special.
For readers unfamiliar with live Swans their music uses sound as a transformative tool: excessive volume, repetition, evangelical fervour, it exists at a physical level that vibrates your whole body. It's not that audiences have to be merely interested; stamina is required, you must be mentally limber.
Support act Anna Von Hausswolf gave a winning performance, mixing Bulgarian Women's choir vocals with industrial drone to scintillating effect. Converting most of the audience, her as yet unrecorded closing number blew the roof off the crowd and I must see her perform again.
As the band took the stage, with some disappointment we saw that percussionist Thor Harris wasn't present for this tour. His parts were played on keyboards. Was there a falling out? Was this a concession to touring costs? After all, it must be pricey to travel with tubular bells, dulcimers and the myriad of other percussion that bar- chested Harris dominates.
Not so, as Swans leader Gira explains:
"Our beloved brother Thor Harris has taken a sabbatical from Swans for this tour. In an admirable personal decision he's decided he can't undertake the relentless touring schedule of Swans this time and needs to be in Texas as much as possible to be near his quite elderly mother. He is also be pursuing his own music as Thor and Friends. Thor will of course be working with me on future projects….
The keyboardist Paul Wallfisch will be taking Thor's place for this tour cycle. Paul's recent projects include Ministry of Wolves (with Alexander Hacke of Einsturdzende Neubauten, Mick Harvey of Bad Seeds and Danielle DePicciotto). Paul also plays piano with the tortured cabaret singer Little Annie, a personal favorite of mine. I've known Paul for years, and it's good to be working with him. He will be playing piano, organ, and Mellotron on this tour."
Despite Wallfisch's admirable playing Harris' presence was missed. He's a primal and pure force of music that complements the avant gaarde vibe of his colleagues. Sonically, the visceral and analogue effect of having live bells and dulcimer adds much to the Swans sound as well adding some heft to its considerable swing.
Regarding the sad news story surrounding Gira earlier this year, those very public problems didn't noticeably affect tickets sales or the performance. With two sold out London shows it doesn't appear that his audience has diminished, and Gira didn't let what must have been tense time show in his performance or demeanour. Along with the rest of the band he was enjoying being onstage, expressing love for the audience, espousing and encapsulating the spiritual gratitude that marks the great latter Swans experience.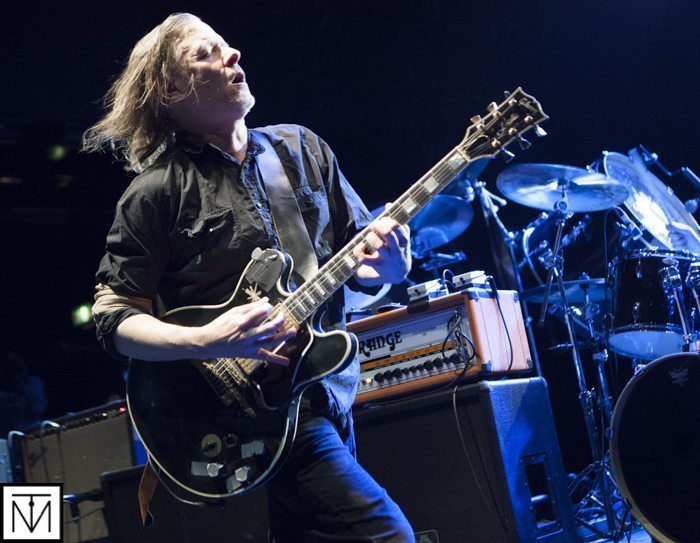 With Kristoph Hahn on lap steel, Gira, Westberg and the keyboardist create a undulating wall of noise, loud and visceral. Through the distortion grand harmonies emerge. Swans are wild and impassioned but also regimented and cohesive, there are few (if any) instances of lead playing. Even Gira's vocals are set entirely within each song, the meaning of the lyrics become subliminal as his singing becomes another facet of the whole, another instrument ringing in the firmament.
Chistopher Pravdica's bass playing still lies the core of Swans, although it seemed more distorted at the Islington Assembly than the Roundhouse show. Tuned in directly to Gira, together they play with the structure of the album tracks extending them to twice (sometimes more) their recorded lengths. Drawing out various sections they maintain tension, building to a climactic music apex.
Powering across all five epic pieces was Phil Puleo, incredible as always on drums. His tribal hypnotic beats demonstrate a confident power that pummelled the venue's tight sounding acoustic space. Sound at the Islington Assembly Room didn't seem quite as dynamic or as sibilant as the Roundhouse, fine for the quieter sections but when pushed, a bit muddy. The drums in particular seemed to get lost in places.
The five song set lasting over two hours was taken mostly from The Glowing Man broken up by the unreleased new track The Man Who Refused to Be Unhappy, an upbeat number reminiscent of Honey Bee by Grinderman. The band was obviously having fun playing this raucous Krautbeat tune and it gives you an insight into the writing process where each musician rides the rails on new material. Adding elements and trying things in a live setting must be a thrill for a band used to playing relatively fixed music from city to city. I wonder though if new material is still being written. Can we expect a farewell EP?
A fantastic show leaving a huge legacy that future incarnations of Swans will have to live up to. That always been the case with Swans though, each version of the band epic and insurmountable. This show was two and half hours of shamanic magic that uplifted and cleansed the audience, and who knows what they'll bring to the rest of the tour. At other dates they've been playing the abrasive Amnesia from Love of Life (1992). A favourite amongst fans, it's probably worth the price of a ticket for that performance alone.
Setlist:
The Knot
Screen Shot
Cloud of Forgetting
Cloud of Unknowing
The Man Who Refused to be Unhappy
The Glowing Man
Photo: Falk Hagen. Not to be reproduced without express prior permission. Note: Photo does not depict the reviewed gig.