[dropcap style="font-size:100px; color:#992211;"]A[/dropcap]t the 2012 Cambridge Rock Festival, Maschine played as the opening band on main stage on Sunday.
Despite being a member short and playing as a four-piece they went down a storm to an audience whose average age was probably twice that of the band.
At the time they had no merch to sell, so anyone wanting to buy their music just had to wait. Almost exactly a year later, the band release their debut album, Rubidium.
[quote]contemporary progressive
rock at its best,
mixing metal, jazz
and rock in a
seamless blend[/quote]
From the spiralling guitar at the very beginning of the album the dominant sound is Luke Machin's fluid lead guitar. Luke handles the majority of the lead vocals, with keyboardist Georgia adding harmonies, and some very sparing use of so-called Cookie Monster for effect.
The album displays a remarkable variety over its seven tracks. The jazz-flavoured 'Cubixtro' features a dub-reggae section with some soulful vocals from Georgia. 'Invincible' with it's fluttering flute solos goes pastoral folk-prog. 'Venga' and the two-part album closer 'Eyes' combine atmospheric passages with full-on metal sections, both featuring some jaw-dropping soloing from Luke Machin.
Unlike some younger prog bands whose songcraft lags behind their instrumental ability, Maschine have the compositional skill to match their fearsome virtuosity. They don't go in for anything resembling conventional verse-chorus-middle-8 song structures, but their ambitious numbers show strong use of dynamics and a keen ear for melody.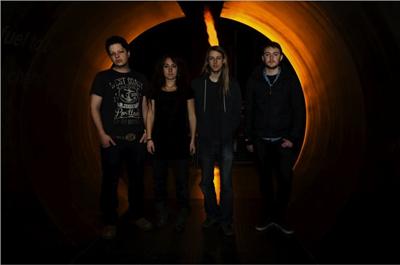 The album is full of extended instrumental passages. In the hands of a lesser band this sort of thing can easily turn into formless jams, but Maschine have honed the arrangements to make the whole thing flow beautifully. A great example is the build-and-release moment at the climax of 'Eyes' when a series of riff-based passages gives way to a beautifully expressive solo.
Rubidium is certainly an impressive piece of work for a début in a genre where bands usually don't start produce their best work until several albums into their career. It represents contemporary progressive rock at its best, mixing metal, jazz and rock in a seamless blend that, aside from the occasional nods to Frank Zappa and Opeth, doesn't betray any obvious influences, and manages to avoid sounding like a copy of anything else.
It's been a long wait for this album, but it's well worth that wait.