[dropcap style="font-size:100px; color:#992211;"]L[/dropcap]ast time Trebuchet met Martha Parsey it was at a Candlestar showcase of women artists.
During the months since she has had her works shown around the world and, through exposure, has had her confidence ennobled to the nth degree.
If 6 was 9 is a strong outing for Martha with her key pieces showing an artist in pursuit of self and style with a clear progression from her previous work toward a  unusual future. Parsey 's palette still has strongly sepia tonality and again dials into the mythic feminine figure, however there is a technical development in these works that we haven't seen before.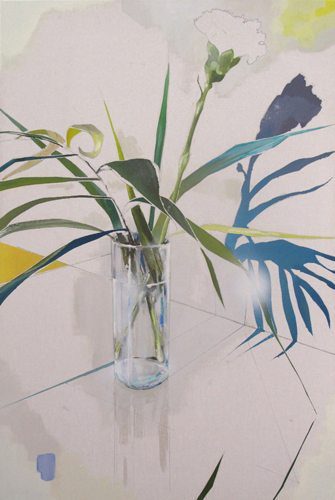 Carnation/White Room, 2012 Oil on canvas 35 ½ x 24 in / 90 x 60 cm
Where Parsey 's previous work posited a more two dimensional discursive frame, If 6 was 9 plays with perspective and dimensionality, where the layering of painting is not a true reflection of the procession of narrative objects. For instance, objects in the 'foreground' (which isn't a strictly defined place for Parsey) aren't the most painted (or even the last layer applied) and in some cases key objects are bare canvas (See Carnation/White Room).
[quote]almost comically contemplates death[/quote]
As alluded to in the exhibition title the major paintings of the show are reflections on dualities and perspectives. In A Stitch in Time we seem to be presented with a reflection on age where a child emerges from behind the sinuous leaves of flower to gaze at the central bereft adult, who almost comically contemplates death, to conclude the left-heavy compositional imbalance.
A Stitch in Time, 2012 Oil on canvas 55 x 71 in / 140 x 180 cm
In The Second Marriage the two female figures are intertwined, differentiated, and yet indistinct. We're not given full faces and the most active participant is a cigarette that burns out of the frame. In both paintings Parsey forces us to be aware that perception is being played with. We're part of the viewing game and common to all of Parsey 's subjects is a knowing pose which anonymises them as much as heralds them as symbolic signposts.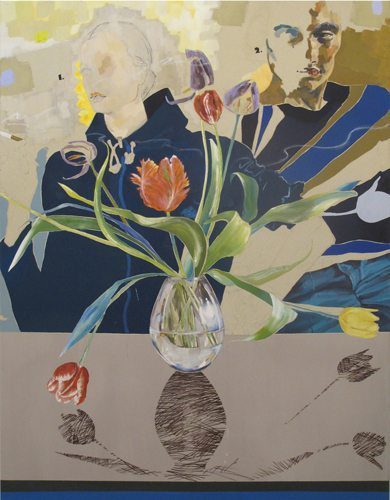 The Second Marriage 2012 Oil on canvas 71 x 55 in / 180 x 140 cm
However, we can't say that they are 'merely' symbols because they are the, perhaps empty, centres of their surreal universes.
In some of the smaller works we can still see the geometric key lines and distorting perspective so indicative of her earlier work. However, in her more recent works Parsey is now using regular objects (books, pencils and tables in the main) to the same effect. While this mutes the headrush acceleration of  'you have to look at this, like this' it creates a deeper dimension that draws the viewer in for longer. No bad thing.
And yet where there is the regular (dare we say man-made objects?) there is also the wild. Parsey's flowers are weird, precocious, bent and a bit wrong. They also exhibit a playfulness that one feels Parsey is allowing herself to enjoy, and if not quite dispelling the gallows humour of anger and melancholy in defiant works such as The Maids and Days without Years, then at least there is a sly will to power.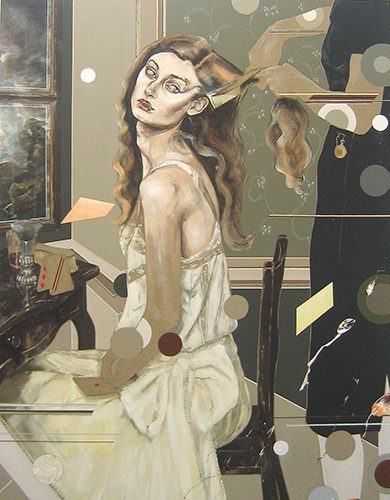 The Maids 2006 Oil on canvas 71 x 55 in/ 180 x 140cm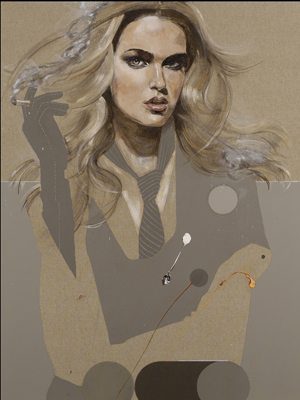 Days Without Years, 2007 Oil on canvas 47 x 35 ½ in / 120 x 90 cm
While it's hard to fully appreciate the Hendrix reference of If 6 was 9, and if the PR claim that the show 'is an exploration of visual mechanisms through colour, perspective, reflection, light and shadow' is a bit funny, the work itself is robust, convincing and time spent in its company is definite and rewarding. Highly recommended.
If 6 was 9 runs from 18th January – 16th February at the Eleven Gallery.
Eleven: 11 Eccleston Street, London, SW1W 9LX – +44 (0)20 7823 554
[button link="http://www.elevenfineart.com/index.asp" newwindow="yes"] Gallery Website[/button]