[dropcap style="font-size:100px; color:#992211;"]L[/dropcap]una Rossa started out as a Panic Room side project.
Initially a way of showcasing the acoustic side of Anne-Marie Helder's and Jon Edwards' music, in the manner of such things, Luna Rossa has taken on a life of it's own, leading to a follow-up album and a tour to promote it.
As with their début, Sleeping Pills and Lullabies, the emphasis is on Helder's vocals and acoustic guitar, and Edwards' piano, supported with guests in the form of Sarah Dean on Celtic harp, Andy Coughlan on double bass and Tim Hamill on guitar. A string quartet also puts in an appearance, albeit rather more briefly than on the first album.
The album kicks off with "Aurora", largely instrumental bar some wordless vocals towards the end, with piano taking the lead. Then"Secrets and Lies" is a classic Anne-Marie Helder ballad in the vein of her 2004 EP The Contact. The bluesy "Disappointment" sees Edwards switch to Fender Rhodes, and also features some excellent understated guitar from Tim Hamill. It even has a bass solo towards the end.
The shimmering "Flower In My Hair" quotes a very familiar traditional children's song, but the following number has to be the strangest song on the album. "Happy Little Song" is the obvious successor to Panic Room's "I Am A Cat", sounding for all the world like the theme song from a surreal 1970s childrens' TV show. This is a song that demands a surreal video.
"Tiny Demons" is the first of two covers on the album, and sees the return of Edwards' Fender Rhodes, giving a vibe reminiscent of Led Zeppelin's "No Quarter", and also sees an all-too-brief appearance of Helder's flute towards the end. Straight after than comes an undoubted highlight, "Fly Away", driven by Sarah Dean's celtic harp. The rich layered sound with the interplay of harp, guitar and piano makes it the closest thing on the album to anything by Panic Room.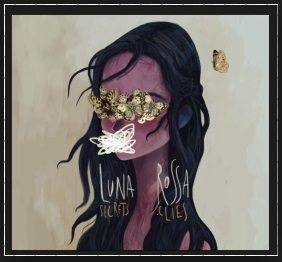 The second cover, "I've been wrong before", isn't quite as effective as the first. But if you cover Warren Zevon and it comes over as one of the weaker songs on the album, what does this say about the quality of your own writing? The album ends with the most emotionally powerful numbers on the record; "No Chords Left" is an achingly sad song, just Helder's vocal and Edwards' melancholy piano.
It's an album that feels like a logical progression from its predecessor; perhaps not quite as eclectic, but with a clearer musical identity. Again it defies easy genre pigeonholing, though it does show occasional hints of artists as varied as Goldfrapp and Renaissance.
Luna Rossa increasingly feels not so much "Panic Room unplugged" as a separate parallel band in its own right. Yes, with Anne-Marie and Jon as the writers the music is coming from the same place, and there is a bit of musical overlap, but the presentation is quite different. Luna Rossa is stripped-down, with some very raw heart-on-sleeve emotion, with the music revolving around and complementing Helder's always remarkable vocals.
Following on from Panic Room's Incarnate at the beginning of the year, Helder and Edwards have now delivered two excellent and very different albums in 2014.
[button link="http://www.lunarossa.co" newwindow="yes"] Luna Rossa[/button]