[dropcap style="font-size:100px; color:#992211;"]A[/dropcap] documentary feature
Dir: Sofia Olins 84mins With: Fatboy Slim, Keith Allen, Suggs and Kate Tempest
It's a Frankenstein story: man (Roy Gurvitz) creates monster (Lost Vagueness) which escapes his control and eventually destroys him.
Not being a muddy Glasto person, I only discovered the LV experience when they hit the road in 2004. The Coronet nights and the Proud Camden show stick firmly in my mind as profound and vibrant club experiences. Never have I seen the style tribes so expertly and warmly united: the Swing Crowd, Rockabilly children, Rave party left-overs, Burlesquers, Tree Huggers and Glam types all swarmed to LV's mobile party for dysfunctional grownups.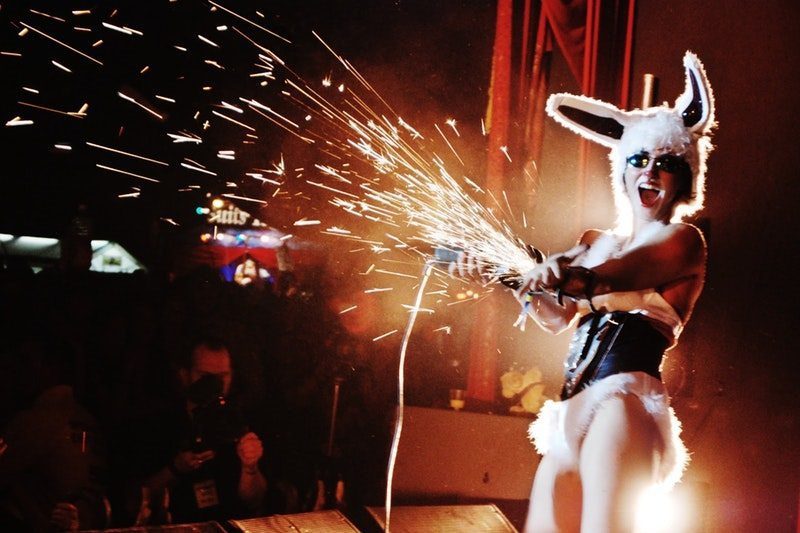 The film is strongest when it shows archive footage of the skilfully demented performers working in imaginative spaces that Roy and his talented team created for them. The audience positively glow as they gaze up at the Empress Stah pulling a string of pearls from her vagina while suspended from a trapeze.
Happy days.
Unfortunately the film is at its weakest dealing with Roy's personal narrative which, though problematic, (Jewish boy with domineering father/unhappy home life/rejection of values/time spent on the front lines of the anti-societal crusty movement) only drives the first half of the film in a compelling fashion.
The second half (Gurvitz saves the Glastonbury Festival single handed/LV becomes a success in its own right with predictable logistic and economic problems/Corporate money lures the radical minded team into ethical dilemmas/Fractures in the organisation with breakaway performers setting up rival ventures) is not detailed in a precise manner. As a result the film tails off into muddled repetition with no clear idea of who were the real architects of Roy's downfall.
The edit points the finger firmly at Roy himself but the facial expressions of his team, who have all gone on to greener pastures, show guilt and guarded remorse when discussing the matter. Reading between the lines I suspect that it was Glastonbury promoter Michael Eavis and his daughter who were the villains of the piece. Why did they allow the Edge City rebels onto the turf that Roy created? It was an obvious red rag to a bull on a mission, yet all concerned patronisingly blame Roy for seething with rage and finally losing it in public, which, given the circumstances, he does in a remarkably controlled fashion. It may be that it would not have been politic to alienate Eavis as he plays a major role in the film or perhaps the rebel faction simply refused to discuss it on camera. Either way it leaves a (vague) hole in the narrative which is never properly filled
There was an interesting and pertinent story to tell here about crazy left field ideas gaining traction in a corporate world but this film misses the mark.
One thing's for sure, as the director mentions in her voice over, without Lost Vagueness there would have been no Punchdrunk Theatre and no Bum Bum train or Secret Cinema. Well curated immersive entertainment with a wild-side edge is now firmly enshrined in popular culture and we are richer for it.
Roy may well have been a mono focused arsehole who dumped all his gifts in the sewer but I thank him for some small moments of intense pleasure. In this life you take what you can get.
BTW as indicated above there are some famous faces in the film but their contribution is largely redundant.
[button link="http://lostinvagueness.com/the-film" newwindow="yes"] Lost in Vagueness[/button]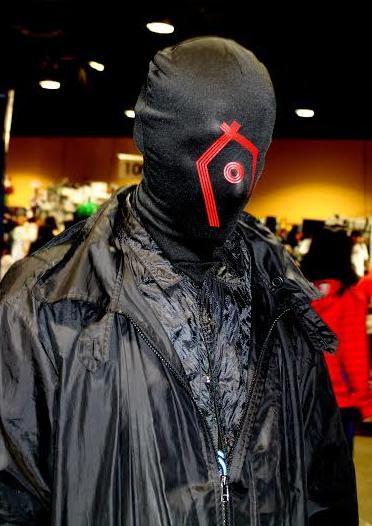 Having completed principal photography on phase one of the Sharks revival SWP is now preparing to edit the One Last Thrill feature documentary. Sharks themselves are 'dropping a big one' by releasing a double album Dark Beatles/White Temptations in April 2018.
In his spare time the author kayaks the muddy river Ouse and walks the South Downs which gently enfold his home town of Lewes.