[dropcap style="font-size:100px; color:#992211;"]LTNT[/dropcap] sit between the areas where journalists are hard-pressed to press.
The last button to button, the final hole to punch. They are not post-grunge, they are not Silverchair clones, they are part of the post-art musical push that is more akin to Reef than to Nirvana. This is music that knows it's function: looking good and rocking hard.
So seeing them in the studio playing to no one but their monitoring headphone could be the recipe for a sterile and weirdly quiet night in.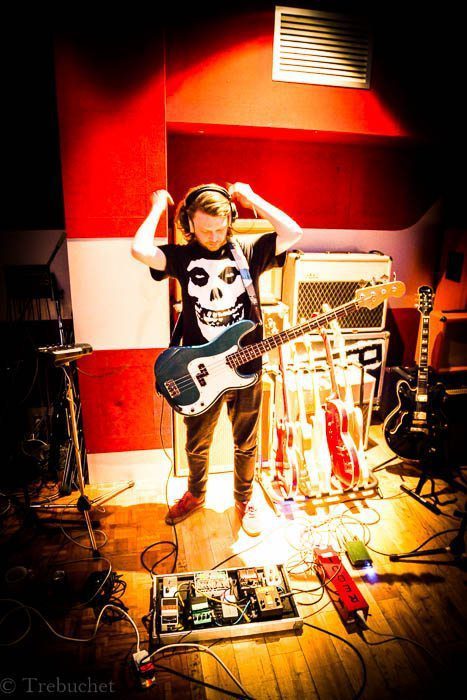 Journalists and record people pour into the hallowed Soho grounds that saw David Bowie record his 70s classics, and with a thrust drink, the band lay into a couple of rousing tracks. Seeing anyone perform is to see into the soul of a musician. Is it easy? Is there feeling? Is there expression. Is there release? Are they playing to a bunch of music critics tipsy on Pistonhead?
In front of the press, some musicians get red-light paralysis. Where formerly fantastic musicians suddenly clam up when faced with the prospect of 'being recorded', not so with LTNT. Diverse personalities they may be, but musically they have honed what they do to a level of classical precision. These guys know how to work with each other, and now while the lights of fame are warming up they're together, as a young band, facing a lot of expectation that LTNT could fail.
But then once those big chords start rolling in, when the verse melodies spark up and the choruses come together, it seems almost impossible that they'll do anything less than capture the imagination of those who love to have fun. If you like Rivals Sons and await the UK's answer to classic rock pushed forward, then stay on time and tuned.
LTNT
Studio session
Wednesday 20th May at Dean St. Studios, 59 Dean Street London