[dropcap style="font-size:100px; color:#992211;"]I[/dropcap] am a sucker for a baritone sax.
When it's played badly it sounds endearingly like an embarrassed elephant, but when it's played well there is nothing funkier on god's earth.  And when it's played well in a good Afrobeat band, it's even better.
The London Afrobeat Collective are a very good band.  All of the musicians are superb, they're tight as hell, and they write and play great songs.  And with the number of baritone solos on offer, I leave a very happy man.  There were a few problems with this gig, however, not least the weird cognitive dissonance set up by the venue itself.
Floridita looks like a cross between a 70s Las Vegas casino and a cruise liner.  Or, as my girlfriend put it when we walked down the stairs, "It's like being on The Love Boat".  But with no Robert Wagner, unfortunately.  The pillars are mirrored, there's a sweeping staircase that leads down to the bar area, and they sell Cusquena at an extortionate rate to people who look far too dressed up for the occasion.
The stage itself is also a bit weird.  Low and boxed in, it looks like it belongs in a social club, and the positioning means that the dancefloor blocks the view of all the swanky tables – who are presumably paying for the privilege of not being able to see a thing.
[quote]The baritone sax player looks like Don Johnson's sleazy British cousin[/quote]
The band themselves don't immediately help matters.  The guitarist/band leader is one of the least charismatic speakers between songs that I've ever seen, and his exhortations for the crowd to "make some noise" are delivered in a weirdly high pitched voice for a man who looks like an ex-rugby player.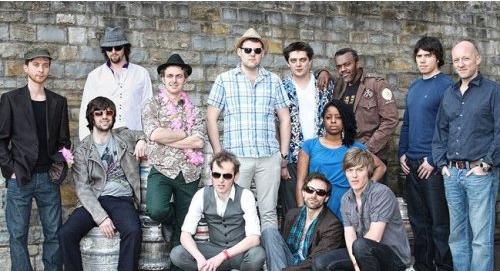 The rest of the band aren't much better.  The baritone sax player looks like Don Johnson's sleazy British cousin, the conga player looks like she doesn't want to be there (especially when she's asked to solo) and the rest are about as unprepossessing a bunch as you could hope to meet.  Fortunately, they're rescued a bit by the two singers, especially the superbly named "Funky", who injects some real stage presence into proceedings.
[quote]Suddenly, you start to realise that these guys can really play[/quote]
It is the arrival of the singers on stage that get things going after a perfectly adequate, but not very inspiring introduction.  Suddenly, you start to realise that these guys can really play, and the rest of the first set keeps up the pace.  It's a shame then, that when they come out for the second half, the guitarist tells us that they're going to "ease us back in gently".  This is exactly what no one wants, and instead of picking up the crowd by the scruff of the neck and getting them dancing again, it takes another few songs before people really get back into the swing of things.
London Afrobeat Collective play a lot of their own music, which is great, and a refreshing change from a lot of Afrobeat bands that you see.  They're also fantastic musicians, and all round this was an enjoyable gig.  But I'd much rather see them somewhere with a bit more atmosphere (New Empowered Church anyone?), and with a retooled set.
Do that, and throw in someone else to do the talking, and you'd have something really special.
London Afrobeat Collective played Floridita, Soho.