[dropcap style="font-size:100px; color:#992211;"]O[/dropcap]utside of the standard rooms of IDM, Metal, Plantcore or whatever darkness normally spills like death slick from our speakers Trebuchet rarely speaks about the other side of our record collection.
I warn you we're talking about Funk here.
In fairness, funk was rinsed in the 90s with the acid jazz moment and for many a music lover hasn't recovered as a contemporary musical form. I'm talking of course of OG strain funk not the many many hybrids that have filtered through in artists such as Daft Punk or Jay Z or whatever.
OG funk is marked by roots in jazz musicianship and the technical capabilities therein. And so how nice it is to hear a group like Lettuce playing a crushing set at Ronnie Scotts that shook the shit out of a party crowd who had lined up 200 deep in front of the venue for a rare sniff of the real stuff.
Lettuce are hardcore; [quote]it's hard to pick any particular
moments or players for highlight
when the general mean is so
far above average[/quote]replacing the jazz paunch with the funk punch their heavy grooves are less about flow than tight stacked combinations of counterpoint, attack and accent, all leading to a 16th bar finishing move of extreme finality. Cue cheers, musos shaking heads, smiling girls crushing forward bringing the FUNK.
Which for Lettuce smells like exertion and arousal, and sounds like applause, but contains more screaming and eye contact.
In a set packed with wonder it's hard to pick any particular moments or players for highlight when the general mean is so far above average. These guys are now some very in demand session players and also childhood friends so when they get together there's a level of interplay between all eight of them that gets you swivelling to see what you missed from one side of the stage to the other.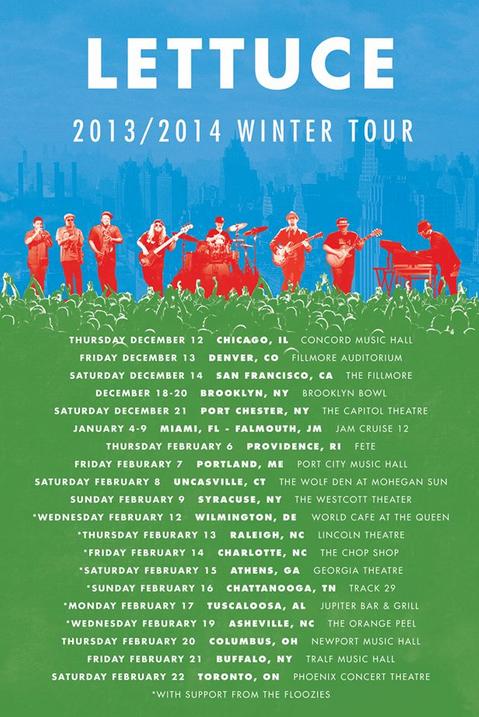 That said, being a guitar owner myself, Eric Krasno's playing is phenomenally original in a jazz context, weaving aspects of treated guitar, surf, bluegrass, noir and delta into the mix without breaking idiom or jarring the collective. All in all an astounding display of music and a great night, whatever your usual musical affiliations.
Breathtaking.
---
Lettuce are:
Eric Bloom – Trumpet, Ryan Zoidis – Sax, James Casey – Sax, Eric Krasno – Guitar, Adam Smirnoff – Guitar, Neal Evans – Keyboards, Erick Coomes – Bass, Adam Deitch – Drums
You can hear their live sets here: https://archive.org/details/Lettuce
Lettuce played Ronnie Scotts, London on 18th Jan 2014
[button link="http://lettucefunk.com/" newwindow="yes"] Lettuce Website[/button]

[Capacity of Ronnie Scotts is 240ish)