[dropcap style="font-size:100px; color:#992211;"]T[/dropcap]he Legendary Shack Shakers never miss and have wowed the hardy fools of the hip underground over the course of six energetic punk blues albums.
It is only the modern that ever becomes old-fashioned. – Oscar Wilde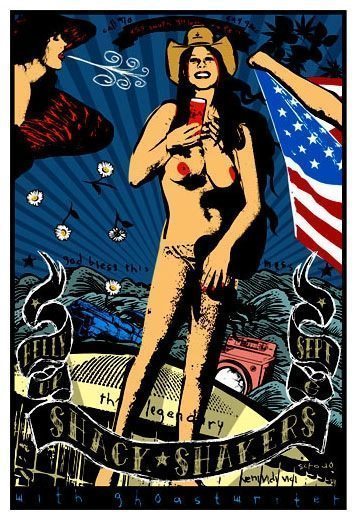 Featuring the charismatic southern iconoclast JD Wilkes and his devotion to chronicling the rural history of America, the band vibrate with the sounds of the traditional South. The core of the band's music lies in Mark Robertson's and Wilkes combined vision. Rockabilly, Punk, Blues, Country rhythms and gospel all fuse together into a riotous experience of pure energy.
…and if you haven't heard of them before, it isn't that they are unnoticed. Critical audiences, celebrity musicians (Robert Plant), trend watchers (and setters) have been straining at the hip about the band for at least a decade now. Where have you been? [quote]the central conviction that
pours from every cautionary chord,
blood pumping bass line,
and snare threatening shuffle[/quote]
The most important thing about Shackers is the central conviction that pours from every cautionary chord, blood pumping bass line, and snare threatening shuffle. They mean it, and are serious about making the best musical possible. Just as their message is so far removed from celebrity culture that it might well seem alien to Pop's morass of followers, their music is also inclusive, they know their culture and they know their craft.
Trebuchet: To me there was always a strain of the blues (worksongs; planation, rail and prison) that were defined by the rhythms of working, augmented by the associated sounds. Did you pick up on activities or sounds to make AgriDustrial?
JD Wilkes: Yes, the "train rhythm" drumbeat (as heard in the music of Johnny Cash and early Honky Tonk and Rockabilly) could be considered early "industrial" music.
There have always been farm and freight yard sounds that could be found subliminally informing blues and country music. In making "AgriDustrial" we just decided to explore that some more.
[quote]There have always been farm
and freight yard sounds
that could be found subliminally
informing blues and country[/quote]
Duane's (Denison) gutsy machine-like rhythms and licks put you in an crunchy, industrious head space. It was neat seeing it all come together, especially when gathering "found sounds" from places like blacksmith forges and train depots.
Trebuchet: There is some YouTube footage of you from 2010 that contains the most shack shaking I have ever seen… what made that show special?
J.D.Wilkes: Maybe it was the hometown crowd, maybe it was the fact they there were three hi-definition cameras there to document us.
I think there was also a fairly large batch of folks who'd made the trip down from my personal home town of Paducah KY. Perhaps I was laying it on a bit thick for their benefit too. Who knows? The band is super tight and was particularly so at that time when that record was fresh and we had a renewed hunger.
Trebuchet: You've mentioned Dock Boggs in other interviews. What have you taken from his music? And what do you think he'd added to the mix of contemporary music?
J.D.Wilkes: There's a side of me that just loves music done for the right reasons. As a true unschooled, amateur player he plays from a pure place, not one driven by money or fame.
He's also not what I'd call a bluegrass banjo picker, but a white blues man who happens to play banjo. Like Roscoe Holcomb and slew of others from those parts, he plays music that is both dark and beautiful. He sings from his soul and the inflections in his voice and playing are crude and visceral.
Also, like the black, Delta bluesmen, he invents strange, "crooked" tunings to create his music. Not for art-damaged, ironic reasons, but because, well… just because!
Trebuchet: "feed that ego and you starve the soul" – you say you write from the same place as artists like Robert Johnson and Dock Boggs, do you see more in common with those artists or more differences?

J.D.Wilkes:
I didn't have the hard luck life those Depression-era folks had. No one ever will again. But I do, like many others today, try to sing and write from the heart about what I know and what I've experienced.My religious background is akin to the old-timers'. Faith is a force of nature that still haunts peoples' lives today. I say that not to put down religion, or
Christianity
or what-have-you, but to honestly admit to the power it has to grab hold of one's conscience and one's
consciousNESS
.[quote]Faith is a force of
nature that still haunts
peoples' lives today[/quote]
Trebuchet: Your relationship to tent-gospel and spiritual pronouncements has been honed to a fine edge over each album, where does the anachronism end and commentary begin? Or is there no difference? Is one the tool and the other message?
J.D.Wilkes: It's not an anachronism in America. Lots of our current singing stars still came up singing in the choir as kids. Contemporary Christian Music does not represent a large portion of the country where people still come up singing the old Baptist hymnbook. Granted, the amount of people who are appreciative are fewer and fewer every year, but those old songs I sang with my family around the piano still bring a tear to my eye.
My commentary BEGINS, however, when charlatans abscond with the tithes and offerings and erect monstrous mega-church temples to themselves in a gross display of wealth… all while small towns and families struggle to survive.
[quote]charlatans abscond with the
tithes and offerings
and erect monstrous
mega-church temples to
themselves in a gross display
of wealth[/quote]
Trebuchet: Was there something you wanted to get across in the beginning of the band?
J.D.Wilkes: Not really. i just wanted to have fun and make money doing what I enjoyed. We were just a simple rockabilly band back then.
Trebuchet: Do you still feel like you want to do the same things with the band as you did earlier on?
J.D.Wilkes: More and more, I'd like to get back to the fun of those first years. I'd love for the Shack Shakers to become more uplifting of an experience again. No more feigning demon possession to make some heavy point about the Devil.
Trebuchet: Do you think the past (or past forms) is more relevant today than our fascination with the future. What specifically do you think the past can tell us?
J.D.Wilkes: I think anyone out there who gives a damn should interview their Depression-era grandparents and record their stories and songs. Baby Boomers dismissed their parents as "Archie Bunker" racists. Now in the eleventh hour they suddenly deem them as the "Greatest Generation." Too little, too late. But it's true, they have suffered more than I will ever know, what with WW2, the Dust Bowl and the Great Depression.
It's crucial for the folks my age to interview and spend time with their grandparents before it's all lost to the dust bins of history.
My wife's grandmother is English and was in London when the Germans shelled it. We're using an iPhone to record her singing the old songs she sang as child in the UK. That's how easy it is to get this stuff down before it's too late.
Trebuchet: How do you think that being aware of the past makes people stronger against the contemporary diversions that might enslave their interest?
J.D.Wilkes: I think you just said it better than I could.
Trebuchet: You have mentioned in other interviews how pieces of social disorder have affected you (Union Carbide nuclear spills and "Somethin' In The Water" ) to what extent do you mix social commentary with the rock and roll?
[quote]For the most part,
singers should shut their
yap and stick to making
people happy[/quote]
J.D.Wilkes: I never wanted to delve into that political folk scene. This particular song was a mere foray into the like. For the most part, singers should shut their yap and stick to making people happy… leaving the politics to the professionals. But I thought I'd touch on that particular issue since it seemed liked the media were covering up a toxic disaster in my own home town.
Trebuchet: What does this mean to you: ?Por que las sombres crecen mas largo?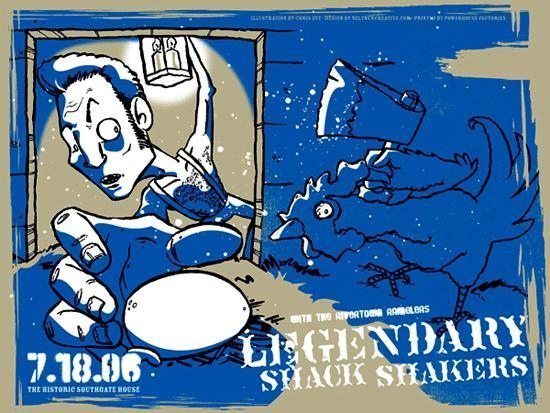 J.D.Wilkes: I don't know…what does it mean to you?
Trebuchet: What does being a Kentucky colonel mean to you?
J.D.Wilkes: Basically it means I'm a sort of ambassador of my home state. I was awarded the honor by the governor of Kentucky for my contributions to Kentucky music. I take it very seriously, perhaps more seriously now than I ever have before.
Trebuchet: What drew you to (or back to) Folk art and traditional musical forms?
J.D.Wilkes: My father's record collection contained albums from such folks as Lightnin' Hopkins, Sonny Terry and Brownie McGhee, Muddy Waters, The Dukes of Dixieland, and some random others. I was hooked at once. There was a glimmer of my southern heritage in those records, something that had been withheld from me by pop culture.
[quote]You get an awesome,
old-timey soundtrack but it
has to accompany some
scene about rape,
inbreeding and klan activity[/quote]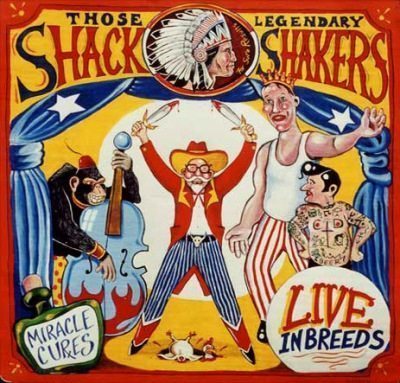 Now Hollywood and Madison Avenue market back at us the same culture they defrauded us out of, and we eat it up. But it's so devious and back-handed how movies like Deliverance and O Brother  [Where Art Thou] bestow our heritage back upon us. You get an awesome, old-timey soundtrack but it has to accompany some scene about rape, inbreeding and klan activity. Gee, thanks a lot!
But there I go again, getting preachy.
Trebuchet: The topic of race and traditional southern music are no longer automatically entwined (at least to outsiders). For instance, it seems the press doesn't feel the need to ask you about it every time. That hasn't always been the case, has it?
J.D.Wilkes: Not sure what the question is. Both blacks and whites have always played music in the south. Whites have played blues and blacks have played country and vice versa. From the Piedmont Sound to Rockabilly, it's always gotten mixed together into weird, awesome hybrids. Only musicologists and journalists seem to get bothered by that. Not tidy enough, or something.
Trebuchet: There are elements of Les Claypool's material in some of the band's sound. Apparently he's a fan. Is it mutual?
J.D.Wilkes: I have never listened to Primus, but I met Mr. Claypool at the very first performance of the Dirt Daubers, my other band. We came to London's Raindance Film Festival to show my southern music documentary "Seven Signs" and play a few tunes. He struck up a conversation after the show, said he loved it and a band was born.
Trebuchet: How do you make a traditional topic your own?
J.D.Wilkes: I guess you don't. By definition, it is something you share. That doesn't mean you can't contribute to the conversation, inform and enrich it. But it's never yours alone, I suppose.
Trebuchet: It's been written that Swampblood ended your 'tentshow' trilogy, agridustrial showed that you've still got legs in the band for more music, but where to now? Can you give us a hint as where the new material might pull from?
J.D.Wilkes: With the addition of our new/sub guitarist, Rod, we plan on touching base again on swamp music, since that plays to both his and my strengths.
Trebuchet: What does the future hold for the shack shakers?
J.D.Wilkes: More touring, more records, more shenanigans. I've got more documentaries to release, another comic book and a solo EP on vinyl. Stay tuned!
Trebuchet: What would you like people to take away from a Shack Shakers concert?
J.D.Wilkes: A good time and a blend of exhausting old-time revivals and good ole southern hospitality.
Trebuchet: Many thanks and we can't wait to see you in the UK!
J.D.Wilkes: Thanks! All the best!
The Legendary Shack Shakers Website.
2014 London Date – 27th October 100 Club tickets
[Originally published in 2012 replacing the 2014 JD Wilkes interview]