[dropcap style="font-size:100px; color:#992211;"]C[/dropcap]ontinuing to cover Krisis at the Bonington Gallery, Nottingham, Annie Jael Kwan of curators Something Human talks to selected artists about their upcoming involvement in the exhibition and event sequence.
On this occasion, it's one of our own. Long-term Trebuchet contributor Nicola Anthony explains her approach to this most topical of happenings.
---
As an artist who has lived and worked in the UK and Singapore, and have had the experience of both the European and Southeast Asian regions, what are your thoughts on the recent states of crisis in both places, and as an artist, how has this impacted your practice?
Nicola Anthony: The current moment in time seems to be on a precipice, whether we look at things socio-politically, environmentally, or on a very human level; our time is certainly one filled with crisis. There are so many troubling things in our world, and yet people go on: trying to adapt, many suffering, and others denying. This is a classic reaction to trauma – on an individual or mass level. Somehow human beings are wired to continue through adversity however they can, when instead we logically could be telling ourselves (as the Auden poem goes):
"The stars are not wanted now: put out every one;
Pack up the moon and dismantle the sun"
Through my artwork, I do not try to make political or cultural statements. Instead, I try to get to the essence of the issues, and somehow imbue my artwork with something of that feeling, that experience of that moment or emotion.
For the Krísis exhibition, you will show 50 skies : 50 scars, a six metre aerial installation, as a reflection on the notion of 'crisis'. Could you please tell us more about how your artwork reflects on this condition?
Nicola Anthony: Crisis is ineffable. It is frequently repressed or erased from our minds as our meddlesome brains clear paths to allow us to move forward. It is not a condition which can be summed up neatly. It is varied, difficult, and individual. After much consideration I decided to find a symbolic way to blend together the elements which can be experienced during crises – ruptures, scars, a cycle of time and duration, resulting in the repetition and normalisation of crisis.
Waving my arms and my nostrils around, I took my time to use my paper burning technique, for which I use incense sticks. (These to me are already heavily scented with ideas of spirituality, prayers, or simply freedom and hope). With this method I created 'scars' on the paper skin rather than writing a story as one might usually do on Chinese calligraphy paper.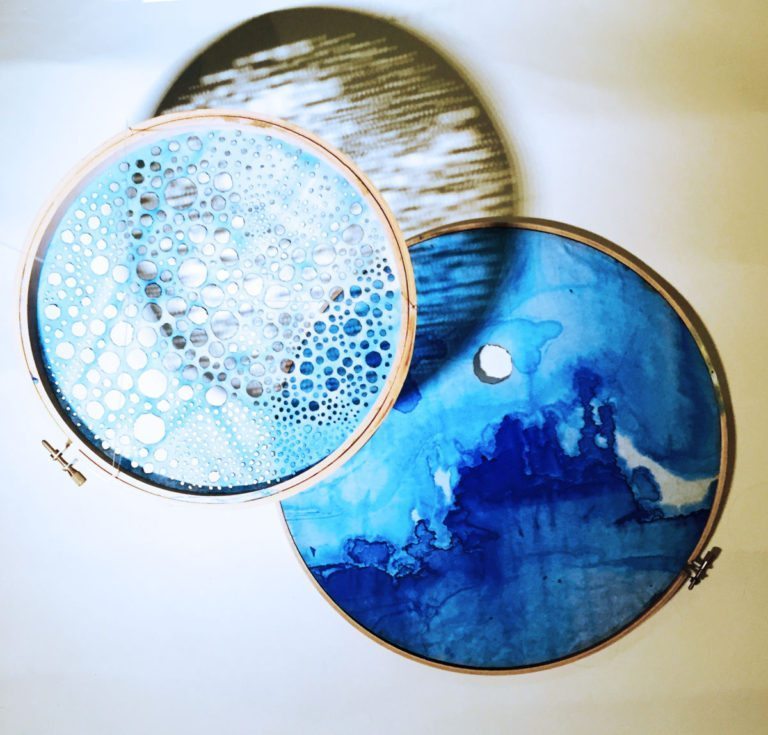 In some cultures, burning is the way to send offerings to the Gods or to the dead. In other cultures burning is synonymous with destruction and loss.
To hint towards time, I created the scars to exist in a linear progression, suspended overhead with their blue colour referencing the sky. I wanted to go a step further and actually capture some of the sky, as well as the movements of the sun (so significant in the daily cycle, the passing of time). To do this I crafted sunlight lenses inside the artwork, which filter beams of light through the glass window to create a shimmering patina on the paper surface.
50 skies : 50 scars is described as hand-burned incense drawing, watercolour ink on calligraphy paper, charred paper, charcoal, embroidery hoops and handmade sunlight lenses. In your work, you frequently use techniques that are time-consuming, delicate and require prolonged periods of concentration. Could you please tell us why you are drawn to create work with this kind of painstaking process?
That is a good question and one that I frequently ask myself…. I can say with certainty that I am drawn to that working process: it's not a conscious decision, more an instinctive one. I am constantly looking to bring meaning and significance to my materials and artworks. I feel that they should undergo a transformation whilst becoming an artwork – and in some cases the artist goes through a transformative process too. Even though my art is most often sculptural, there is a big element of performance in what happens behind the scenes in the 'the making of'.
The burning technique takes patience, can result in losing sections of drawing, setting my hair on fire, or scorching my wooden desk. The flame needs to be controlled. But the process of burning the paper skin can be almost meditative: synchronising with the breath; and filling the art studio with the redolent scent of sacred spaces; controlling the perforations.
Image: Nicola Anthony