[dropcap style="font-size:100px;color:#992211;"]I[/dropcap]n 1981, few households had computers, but that did not stop the German electronic music group Kraftwerk composing the proto-techno track, "It's More Fun to Compute/Home Computer".
With lyrics such as 'I programme my home computer, beam myself into the future', the hit tune was eerily prescient of contemporary life, even before lockdown fast-tracked our digital transformation. Now, to mark today's launch of Sprüth Magers Gallery's new website, Kraftwerk has created a newly edited video for a remix of the track from their live album 3-D The Catalogue (2017).
The video incorporates elements previously used by Kraftwerk, including a neon green animation of a computer, taken from the cover image of their classic 1981 album, Computer World.
Monika Sprüth, who co-founded her gallery with Philomene Magers in 1998, first met Ralf Hütter, the co- founder of Kraftwerk, while studying architecture in Dusseldorf in the 1960s. It was towards the end of that decade that Hütter and Florian Schneider formed the band Organisation, which went on to become Kraftwerk in 1970. Schneider, who left the group in around 2008, died at the end of April.
"I don't really recall how I met Ralf; we visited the same clubs and art actions around the Düsseldorf academy," Sprüth says. So, was their friendship immediate? "Probably not, but maybe yes."
From then on, Sprüth's relationship with Hütter evolved organically. Her gallery has now represented Kraftwerk for more than a decade, developing exhibitions with them in major art institutions including the Museum of Modern Art in New York, Tate Modern in London and Berlin's Neue Nationalgalerie.
As Sprüth puts it: "I never intended to open a gallery, but was always interested in culture and specifically in aspects of art and music that seemed to have a big impact on innovative ideas. As Ralf and Florian developed over the years into important pioneers of electronic music, it was only natural that we continued to have a discourse which then finally ended in a collaboration with the gallery."
Early on, the group denounced being described as a band. As Schneider said on the group's first US tour in 1975: "It's a concept: Die Mensch-Maschine, the human machine. We are not the band. I am me. Ralf is Ralf. Kraftwerk is a vehicle for our ideas."
Source: The Art Newspaper
Image: Kraftwerk, It's More Fun to Compute / Home Computer, film still Courtesy of Kraftwerk & Sprüth Magers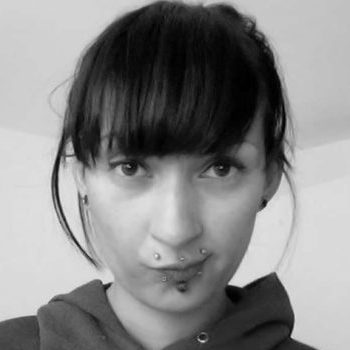 Naila Scargill is the publisher and editor of horror journal Exquisite Terror. Holding a broad editorial background, she has worked with an eclectic variety of content, ranging from film and the counterculture, to political news and finance.