[dropcap style="font-size:100px; color:#992211;"]M[/dropcap]eet an Australian artist who started playing guitar at eight, started writing her own music by twelve, quit school because she made a decent living playing pub gigs and has her first EP out at nineteen.
Kita Alexander's indie-pop album has been recognized by major Australian radio Triple J, the ARIA singles charts and featured in iTunes New Music spotlight. Kita has been writing in the US and working with big names such as Empire of the Sun and is now being co-managed by Lana Del Rey's team. Happily, this driven young singer/songwriter has the talent to match.
From surfing on the Australian coastline around Brisbane to stagehopping in central London, Kita Alexander spreads her infectious sound across international waters. Her appearance at Notting Hill Arts Club on February 3rd marked her first London gig. The small, dark intimate venue complemented her relaxed, laid-back performance, despite the venue being packed tighter than two coats of paint.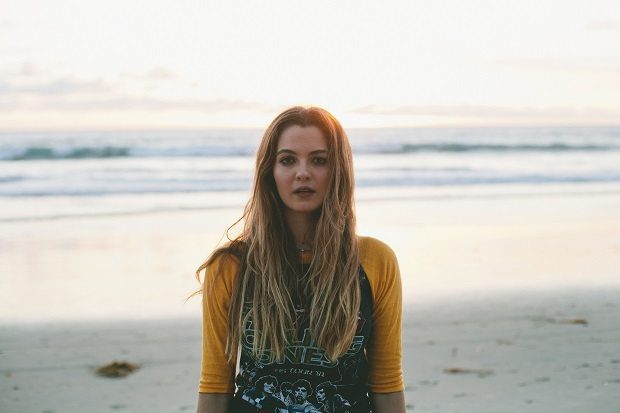 Onstage, our star was flanked by her drummer along with bass and rhythm guitarists, playing lead guitar herself. With a sound palpably chanelling the early 80's vibe of Tom Petty, Rodriguez, Patti Smith, Lou Reed and Joe Cocker layered atop a grunge power ballad feel, Alexander soon the audience dancing (and slightly head banging). Her husky voice and catchy melodies both soothed and uplifted the crowd, who cheered profusely between songs.
And if the top buns, floral button ups and general lack of poncey London grooming didn't give away the predominantly Australian crowd, hearing roars of "'Straya!" called out between songs really gave it away. It's safe to surmise that her music has reached the wide Australian youth contingent living in London.
Her EP consists of five songs so her set was quite short. The best received songs being 'Go Your Own Way' and 'High Tops'. Sadly the shortness of her performance left the crowd disappointed and wanting more. For a first playout of a first EP, it might be wise to look forward to what she has coming next!