[dropcap style="font-size:100px; color:#992211;"]I[/dropcap]nhabiting a role somewhere between prolix clergyman and post-punk prophet shaman, Jaz Coleman's regular stint as terror-inducing frontman with Killing Joke has seen frequent interruptions.
He just wanders off every now and again.
Catch the rare chance to hear words of out-world wisdom from the man first hand.
---
LETTERS FROM CYTHERA
THE LIVE SPOKEN WORD TOUR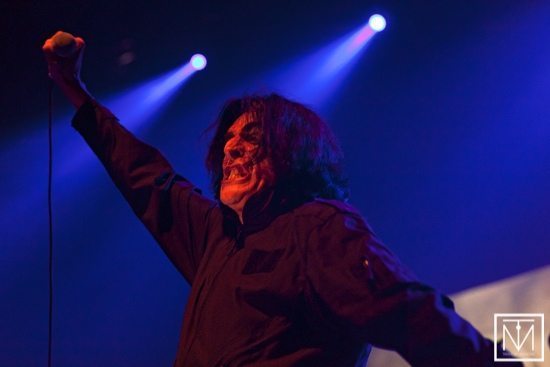 Very pleased to announce dates and tickets now on sale for "Letters From Cythera", hosting a series of evenings promoting the principles set out in the book.
If you're ready, sign up now at:
Wed, June 17 – London UK @ St Pancras Old Church TICKETS
Sun, July 19 – Southwold UK @ Latitude Festival TICKETS
Tues, July 21 – Brooklyn NY @ St Vitus TICKETS
Wed, July 22 – Cambridge MA @ The Middle East TICKETS
Fri, July 24 – Baltimore MD @ Metro Gallery TICKETS
Sat, July 25 – Cleveland OH @ Agora Ballroom TICKETS
Sun, July 26 – Chicago IL @ Empty Bottle TICKETS
Mon, July 27 – San Diego CA @ The Casbah TICKETS
Wed, July 29 – Los Angeles CA @ The Regent TICKETS
Thu, July 30 – San Francisco CA @ The Chapel TICKETS
Sat, Aug 1 – Seattle WA @ The Funhouse TICKETS
Sun, Aug 2 – Portland OR @ Dante's TICKETS
"Letters From Cythera" available now from AMAZON
Join Killing Joke on Facebook HERE
Photos: Carl Byron Batson. Not to be reproduced without express prior permission.
The aim of art is to represent not the outward appearance of things, but their inward significance. – Aristotle