[dropcap style="font-size:100px; color:#992211;"]A[/dropcap]lthough they headlined the Prog Magazine-sponsored "Stabbing A Dead Horse" tour in 2012 and have appeared on the bill of several progressive rock festivals including Summers End and most recently HRH Prog, Knifeworld are not exactly an old-school prog band.
They have feet in other camps. Certainly the healthy-sized crowd in the small north London venue was rather younger and more fashionable than a typical middle-aged prog audience, though were still quite a few of the London prog regulars present.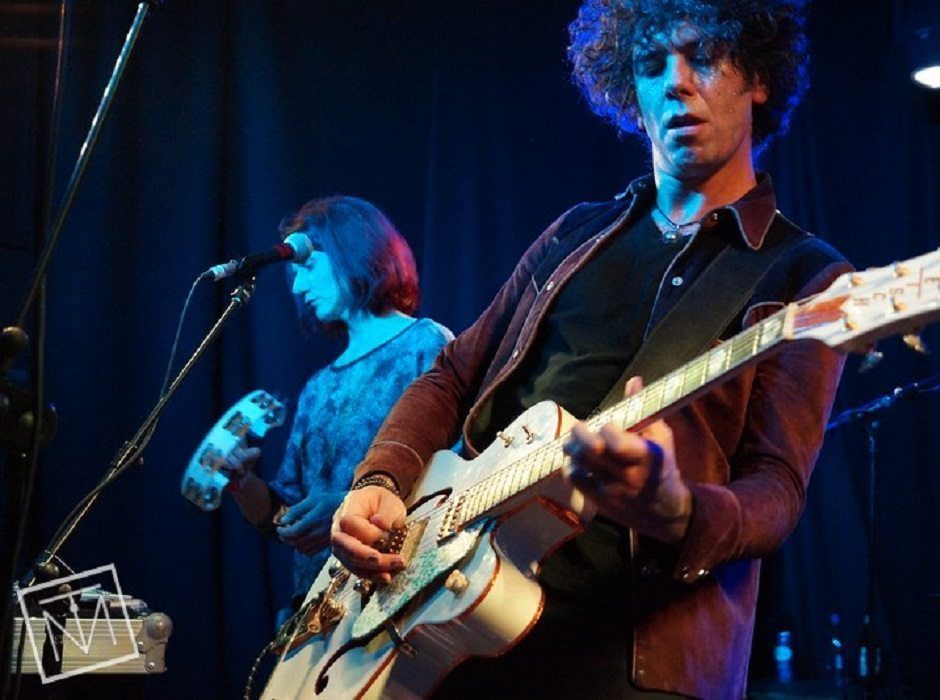 The first of two supports were Barrington: a power trio based around angular riffs with strong echoes of 80s King Crimson and some very muscular drumming. So much so that the stage by the kit was covered in feathers; unless there had been a fight between a pigeon and a cat which had ended badly for the pigeon, the drummer had burst the pillow inside the bass drum. The band did have one or two interesting ideas but ultimately came over very one-dimensional, and had little in the way of stage presence.
The second support, Cesaraians were an awful lot more entertaining; a bonkers six-piece with a keyboard-heavy sound, trumpet and violin replacing guitar, and a compelling frontman who understood stagecraft in a way most bands don't. Their music defies easy genre classification; there were elements of 80s new-wave as well as an occasional blues flourish, and an awful lot of rock'n'roll attitude. Not many support bands are this good, and it was good to see Kavus Torabi himself in the front row for a good part of the set.
Knifeworld were a sax player short (I was told this was purely a temporary absence), but the temporary reduction to a seven piece did little to diminish their sound. Armed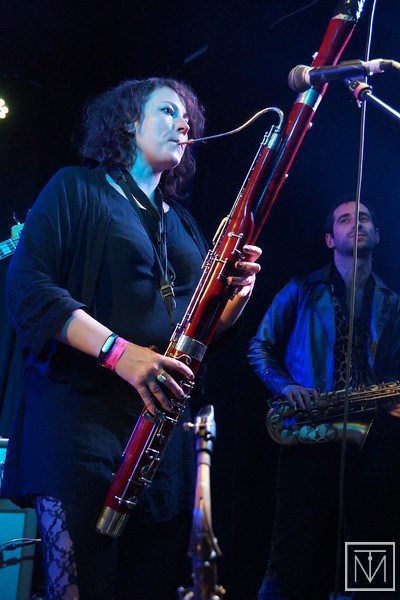 with his distinctive gold and white Gretsch guitar, Kavus Torabi led his band through a spellbinding set of psychedelic grooves, Zappa-style horn arrangements, intertwining guitar and bassoon lines, and layered vocal harmonies. One of Kavus' solos emphasised the Zappa vibe, very evocative of the great man himself.
The setlist drew heavily from their latest and best album, 2014's The Unravelling, along with highlights from their earlier discs and some new as-yet-unrecorded material. Even when a man short, the intricacies of the records come over strongly live. The whole set flowed as a seamless whole, making it hard to single out highlights (although the encore of "Me To The Future of You" was particularly mesmerising with Melanie Wood and Chloe Herrington's harmonies at the end).
It was all very heady stuff; regardless of how you try to classify them genre-wise there is nobody else quite like Knifeworld. They proved yet again that they really are quite a remarkable live band.