It is very common to hear people moaning about clichés, especially when it comes to our 'soul feeder' music.
Even Rock music, which once was a controversial movement against the grain, is sadly turning into an accumulation of bands with duplicate and repetitive sounds. Musical endeavor should be appreciated. However, amongst an overwhelming number of musical alternatives, it takes some effort to search and find a band that gives you a different sense of pleasure.
As part of the same process, it took me a while to discover Karnataka, as they have been going on, especially in the UK, for years! Listening to them for the first time, it was fairly easy to capture the different approach and vision in their music.
Interestingly enough, I have seen several descriptions of Karnataka's style: rock, progressive rock, folk and instrumental to name a few. I personally think that it would be unfair to classify Karnataka under a certain music genre. Their sound comprises of a good digestion of a wide range of influences.
Undoubtedly, though, Karnataka has a progressive rock edge with their clear guitar, vocal melodies and atmospheric keyboards. They have very powerful storyteller melodies that take you on a journey down the memory lane, or encourage the emergence of dreamlike scenes in the mind. If you are a musically open-minded person with a diverse taste, and welcome the wandering of the imagination, the chances are you will be attracted to Karnataka's unique sound.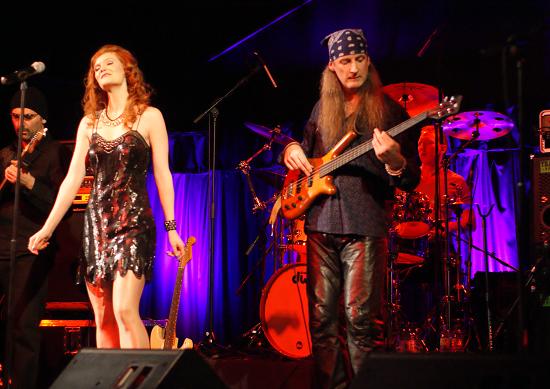 Ian Jones, the leader mind of the band, has kept Karnataka going since the 90's, showing a successful example of positive consistence. It is quite pleasant to see the reflection of this story of perseverance in their music. Listening to their albums chronologically, the sound goes through an organic process of maturation, the outcomes of which we are lucky to hear with the new line-up formed in 2011.
Finally, having performed a busy and successful UK tour in the last couple of months, Karnataka are finishing off the UK tour playing The Bush Hall in Shepherds Bush, London, 10th March. Attendance is highly recommended!
Ian Jones takes some time out to answer some questions from Trebuchet Magazine's Meltem Yumulgan:
---
Trebuchet: You had a busy tour schedule and you are right in the middle of it! Tell us about it so far.
Karnataka: Well, firstly, it's been great to get the band back out on the road after a lengthy break, and on a personal note, it's been the most enjoyable tour I've experienced! We've had a great response from the fans and it's been very encouraging to see lots of new faces at the shows. We made a concerted effort on this tour to cover as much of the country as possible and we've succeeded in visiting England, Scotland and Wales. It's also been good to try new venues and this tour has seen the band play mainly theatres and art centres, which has allowed us to tour with a bigger production.

Trebuchet: Having been through a lot of line-up changes, you are back with the same positive energy. What do power and perseverance mean to you?
Karnataka: I think if you are passionate about your art you have to be pretty bloody-minded and if you feel strongly enough about getting your music out there, you find a way! I guess I'm bloody-minded! To be honest, the band started out of a solo project to record an idea so I've always 'lead' the band in that respect and the whole direction has been one I've guided – for better or worse! I'm happy to compromise on many things in my life but never my music – you have to be a control freak!
I guess I'm bloody-minded!
I don't think any self-respecting artist, whatever it is they do, be it paint, sculpt, write etc. should be anything other than a control freak! I have to put everything on the line when I write.
Trebuchet: Are you trying to say anything particular with 'The Gathering Light'? What does 'the Light' stand for?
Karnataka: The 'Light' is a metaphor for the positive place you can reach, need to reach, if you've been through any sort of a crisis or difficult experience. I'm sure we've all been there one way or another. We also started writing just as the world financial crisis was kicking off and some of the album themes reflect the difficulties the crisis caused, and is still causing, so many people.
the album could be described as a 'concept' album! Is that still a dirty word in music critique circles?
It was the first time I had the album title before actually writing music and in that sense the album could be described as a 'concept' album! Is that still a dirty word in music critique circles?! The album takes you on a journey through various stages. The album begins with 'State Of Grace', a dark, brooding instrumental that explodes into a much more positive ending. It is very much about the realisation that life goes on… it's about 'wanting' to go on at a point in a crisis where you turn a corner and start to see the light at the end of the tunnel. The album ends with the title track 'The Gathering Light' and this is the end of the journey – the end of the transformation.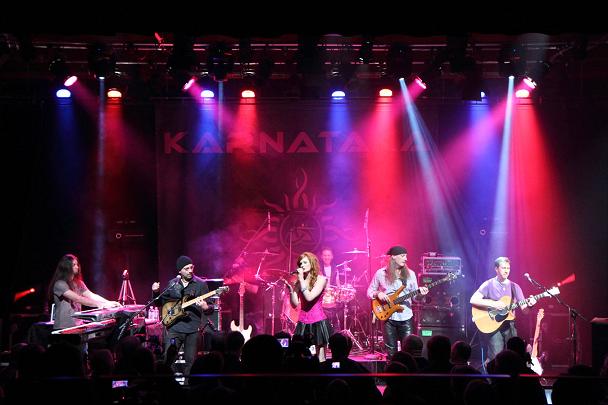 Trebuchet: Your music has so many different flavors in it; rock, folk, progressive, psychedelic. It is a lot of hard work. How do you accomplish infusing all these together?
Karnataka: It's not really a conscious effort to combine so many genres – I guess it simply a product of listening to a wide variety of music, keeping my ears open and letting the songs take whichever direction they want to take.
Too many 'prog' bands, in my opinion, become 'nostalgia' bands
They take on a life of their own and it's usually quite obvious to me early on in the writing process where a song wants to go. A lot of genres come with preconceptions and I often hear people saying 'you can't do that' because you're 'this sort of band'. I never listen! Progressive music should be exactly that – progressive! Too many 'prog' bands, in my opinion, become 'nostalgia' bands – they just try to recreate what they've heard before.
Of course, we're all influenced to some extent by what we hear and that's why I think it's important to be open to all types of music. You'll find 'progressive' music in every genre. Pop music is often scorned by 'serious' musicians but pop is still often the mother of invention and if you look at the original prog rock bands who came out of the sixties and seventies, they were all influenced to some extent by the pop bands of their day.
pop is still often the mother of invention
Trebuchet: Even though you are considered a folk band, musically it is not that easy fitting Karnataka into a certain category. What are your views on originality?
Karnataka: I'm not sure we're a folk band any more than we're a rock band, pop band, etc., and in that sense, we're difficult to pigeonhole – which is a good thing.
I think we have a 'sound' and that's not necessarily something that is easy to achieve. Being completely original is very difficult and there are few bands today that can lay claim to complete originality, but I think if you've managed to create your own sound you've achieved something.
Trebuchet: How can you create such a calm and peaceful yet determined sound? Does it come out as an escape from the hectic world, or are there such dream-like moments in life most of us are too blind to see?! Are you trying to highlight the peaceful bits in life or exalt the imagination?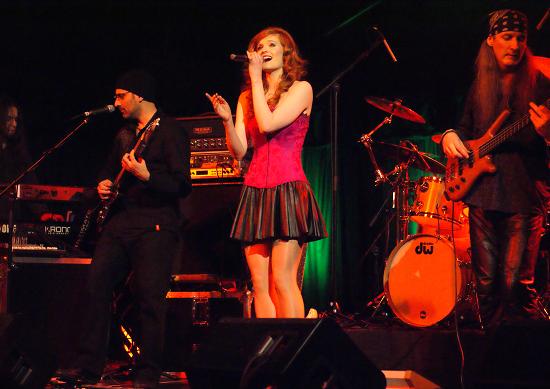 Karnataka: Great question! There is definitely an element of escapism in our music whether musically or lyrically, although we also deal with very simple, personal subjects as well. We are not the fairy tale type of band! I like both elements of life in the city and exploring open spaces – both have interesting things to offer and I think perhaps those same feelings are brought to the music. Life is not a flat line dynamically – at least mine isn't (!!), so to bring emotion to the music you need to have those same dynamics – you need the calm before the storm sometimes.
Working within longer form songs brings its own challenges. I think a listener should be just as captivated after ten minutes as they would be after a minute… a good song should hold the listener's attention all the way… when I write there is never a conscious decision to make a song 'this long' or 'that long' – the song tells you where it needs to go and if two minutes is enough then that is fine.
a good song should hold the listener's attention all the way
If something develops and works over fifteen minutes then that is fine too… it doesn't' mean one is necessarily better than the other… just different.
Trebuchet: Could you say your music is a mixture of some intellectual and emotional awareness? What musical, artistic or maybe even philosophical movements have you been nurtured by?
Karnataka: The music definitely combines both intellectual and emotional awareness. When I'm composing, an idea will form that usually triggers some sort of an emotional response and that starts to give me a direction musically and also lyrically.
Musically we're very open to experimenting with sound, textures, rhythms – we don't pigeonhole ourselves musically. We don't think 'we're this sort of band so we should use only these sorts of sounds'. Each band member brings their own influences too. We have a pretty diverse range of musical tastes between us – and that's a good thing!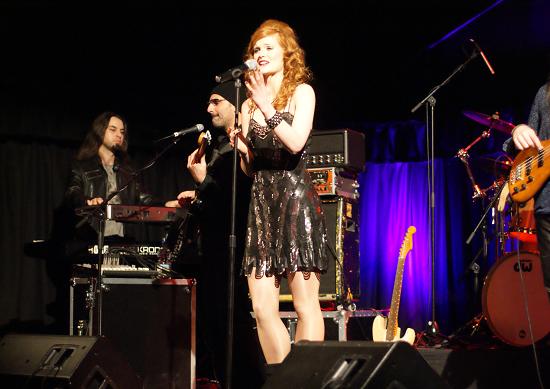 I think there are a lot of influences feeding into our music – not just the obvious ones that originate from the music we listen to, but probably subconscious things too. We're all absorbing sounds and rhythms all the time – not always musical – but I'm sure they are an influence all the same.
Lyrically, certainly on 'The Gathering Light', we brought quite personal subjects to the songs. I think they have to be personal in one way or another to really be able to express them.
Trebuchet: You are finishing the New Light Tour with a London show. Any special tricks or surprises for the last gig of the tour?
Karnataka: Well!! We had an extensive laser lighting show for the live DVD filming in Bury and we may have something very similar for London!! A taste of where we're taking the live visuals.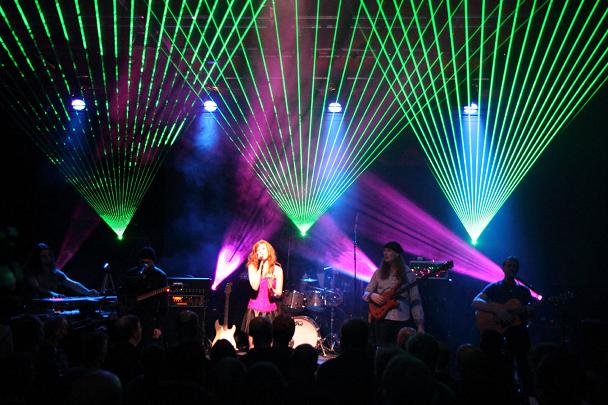 Trebuchet: What is next to follow for Karnataka fans in the foreseeable future?
Karnataka: We release a new live DVD/album filmed on this tour in the summer followed by a European tour starting in September. We are also working on new material which we'll be featuring in the set on the next tour.
Trebuchet: Any messages you would like to pass on to your fans/listeners out
there?
Karnataka: Thank you so much for your support! We hope to see some of you in London on Saturday! Check out the website www.karnataka.org.uk and www.facebook.com/KarnatakaOfficial for news!
Photos: Tim Hall, Geoff Arnold and Chris Walkden

Meltem is a London-based 'wanderer above the mist', whose biggest passion – a flame that never burns out – is Rock 'n' Roll. She contributes to the magical (for some!) world of Rock 'n' Roll by being a rock singer, a rock musician, and a rock songwriter. She has worked with great rock musicians from all over Europe. Her history as a rock musician consists of multiple rock covers, originals (rock), rock tribute bands and professional recording sessions. Where she dwelleth rock resides.