[dropcap style="font-size:100px; color:#992211;"]R[/dropcap]eally, really, really, really, really want the nugget of incandescent rock 'n' raunch, manic giggling, gutteral snarling everything-defying starstuff that is Iggy Pop to continue making new records and tearing up stages FOREVER.
But the way 2016's been on music icons so far, it does seem a bad idea (or a worse idea than usual) to miss him on this Spring's tour.
Tickets out today.
---
IGGY POP, JOSHUA HOMME, MATT HELDERS AND DEAN FERTITA TO PLAY LONDON'S ROYAL ALBERT HALL ON MAY 13th
TICKETS ON SALE TO THE PUBLIC 9.00am ON FRIDAY 29th JANUARY
http://www.livenation.co.uk/artist/iggy-pop-tickets
Its existence having been revealed to the world via an appearance on The Late Show with Stephen Colbert, it can now be announced that Iggy Pop's new album Post Pop Depression (Rekords Rekords/Caroline International/Loma Vista) will be supported by a very limited run of one-time-only live performances in specially selected venues. The Post Pop Depression tour will mark the sole occasion that the album line-up of Iggy, producer/ guitarist/ songwriter/ multi-instrumentalist/ bandleader Joshua Homme, Homme's Queens Of The Stone Age bandmate and Dead Weather-man Dean Fertita and Arctic Monkeys drummer Matt Helders—augmented by QOTSA multi-instrumentalist Troy Van Leeuwen and journeyman guitarist/bassist Matt Sweeney—will perform this material, as well as classics spanning Iggy's legendary solo career, in a live setting.
Tickets for Iggy's Post Pop Depression European tour will be on sale to the general public at 9.00am on Friday January 29th.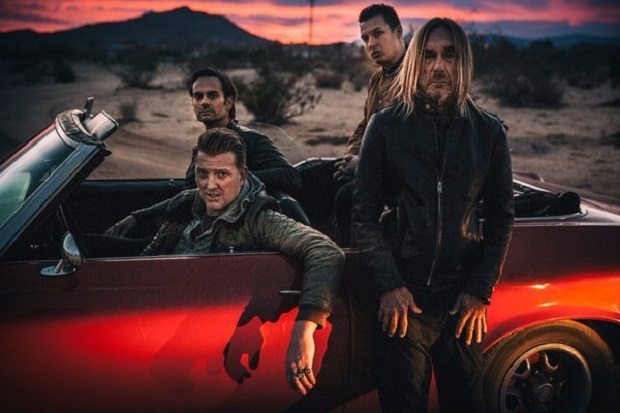 In the wake of the Late Show debut and release of first single "Gardenia and the Post Pop Depression pre-order going live, a second advance track "Break Into Your Heart" has been premiered. Both tracks will be delivered instantly with pre-order from iTunes. Iggy and the band's web exclusive performance of "Break Into Your Heart" previously witnessed only by the Late Show studio audience has also been unveiled HERE
Post Pop Depression is equal parts a dream come true for co-creator Homme as it is a record that defiantly takes its place in Iggy's storied discography alongside the twin towers of The Idiot and Lust For Life–two records and the mythic Berlin era of their creation canonized as much lyrically ("German Days") as sonically ("Sunday") on this new record. The album is a singular work that bears its creators' undeniable sonic DNA while sounding like nothing they've done before. It's a record that wouldn't exist without either Pop or Homme–and one that probably shouldn't in theory if you really think about it–but it does, and we and rock 'n' roll are all the better for it.
IGGY POP
POST POP DEPRESSION EUROPEAN TOUR DATES
05/04/16 – Stockholm, Sweden – Cirkus
05/05/16 – Copenhagen, Denmark – Falconer
05/07/16 – Berlin, Germany – Tempodrom
05/08/16 – Hamburg, Germany – Mehr! Theater
05/10/16 – Amsterdam, Netherlands – Heineken Music Hall
05/13/16 – London, UK – Royal Albert Hall
05/15/16 – Paris, France – Le Grand Rex
See http://postpopdepression.com for full tour dates and more information
The aim of art is to represent not the outward appearance of things, but their inward significance. – Aristotle