[dropcap style="font-size:100px; color:#992211;"]A[/dropcap]n exercise in excoriation, Disassociation is a sonic blast furnace to melt flesh from bone.
This is an impressive album by any measure, never mind that it's Birmingham blackened death metal duo Throes' first.
Opening track 'Sleepwalker' starts gently enough; the unwary could almost believe it was a post-rock album. Fuzzy samples mesh with bare, ponderous guitar work to build a sense of shifting unease, before the pair unleash a growling onslaught of blastbeats that sets the tone for the rest of the album.
Second track 'Exponent' leaves no such illusions. Like a mad dog, it goes straight for the throat. We're spared the niceties: it's grind from the word go. But the pair don't sacrifice musicality for brutality, either. Every riff and solo has a clear purpose, whether to create respite from the storm of sound, drive the dissonance, or just boot us up the behind.
Throes have crafted this album with meticulous attention to texture, a welcome relief in a genre that can make the error of equating creativity with technical wizardry. 'Hellion' starts agonisingly slowly, an angular, distorted guitar with mangled growls. Somehow – amazingly given the genre – it gives way to a stomping riff which is actually catchy, but the intensity is held at fever pitch by playing every note a juddering tremolo.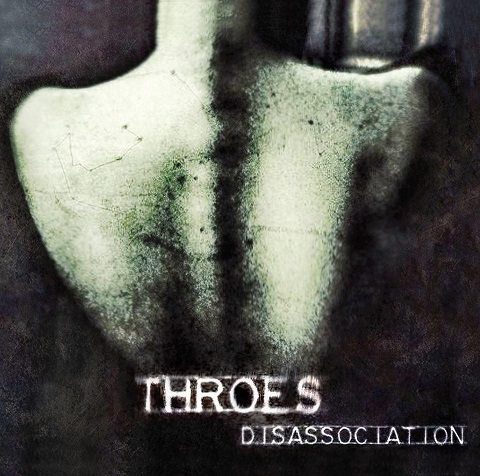 Throes consists of the concisely-named A. C. from fellow blackened death outfit Towers of Flesh and D. G from post metal group Fever Sea. Disassociation is well fleshed out with appearances from Prostitute Disfigurement's Myk Barber, Demonic Resurrection's Demonstealer and Zothique's Kenji Kuroda. The electronic noise elements mean this will probably appeal to fans of Strapping Young Lad and Ted Maul.
It's hard to believe this mighty, captivating album is the first by a band of just two. But being a Brummie two-piece puts them in good company: so are Anaal Nathrakh. Their frontmen even have the same beards.
Let's keep an eye on them, and hope they don't shave.