Powers that be: Will Brooks, hip hop's transgressor and previously dälek, steps into the light as iconAclass.
Hip hop that referenced musique concrete and My Bloody Valentine, dälek (rapper Will Brooks and producer Okto) cut a unique path through the hinterland of centre-left music. Critical praise, 6 albums, rapturous underground recognition and a solid decade of touring on the solo projects have started to appear.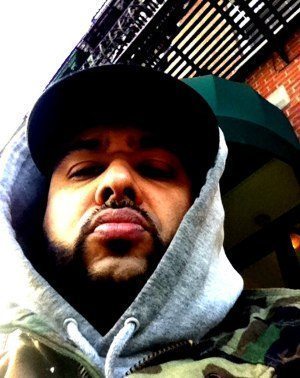 iconAclass features the pairing of Will Brooks and Dj Motiv and on 'On the Ones' LP and 'I Got It' EP we are presented with some seriously heavy beats, or Boom-bap, along with some seriously incendiary lyrics from Brooks. Where dälek's background courted the avant garde , iconAclass is a straighter mix, perhaps even more direct. Catching up prior to Supersonic festival, Will Brooks spoke to Trebuchet about this new direction.
Trebuchet: Has the chapter ended on dälek?
IconAclass: THE chapter? No, not at all. Perhaps a chapter, but Okto and I aren't closing the book on dälek at all. After almost 15 years of doing this we both wanted to take a break and work on different projects for a while. He is hard at work on his MRC Riddims project (I will be releasing an EP on Deadverse recordings next year). I am concentrating on iconAclass, and we are also working on film scores together (Lilith) and run Deadverse studios as well. So there are many more chapters to write in this book.
IconAclass is an angry proposition, 'Long Haul' seems directed at media voices; rappers and writers. How do you think they could do better?
Art needs to be art not a corporate product. Same with journalism, it needs to not be propaganda. It's pretty much that simple.
You mention Charlie Sheen a few times in your lyrics, what is/was it about the media frenzy that appeals to you?
I am always fascinated with these Non-stories that the media especially in the US run with and make such a big deal about. Meanwhile the real story, what really matters in this world, gets brushed under the carpet.
What does IconAclass stand for?
It's a play on the word 'iconoclast', which means one who attacks cherished beliefs or institutions. I think it describes me pretty well.
What inspires you lyrically? Are there any particular issues or topics that you find you keep returning to?
As simple as it sounds, life. I am inspired by the everyday struggle of the common man world wide. I guess issues such as the disease of organized religion, poverty, oppression, corporate greed…. These are all reccurring themes.
Why pretend we breaking bread when you hate my every fiber?
recognize these liar, offering hands soaked in blood of my kin
Below 20 hertz is where my anger begins – iconAclass, 'Long Haul'
IconAclass' production seems more classic hiphop than Dälek. Is that a distinction that you wanted to make with this new project?
Yeah, I just wanted to make a pure hip hop album that showcases what I love about hip hop.
The accolades you received from your work with Dälek sometimes appear to be double edged. On the one hand you were lauded for being groundbreaking and on the other it seemed people thought you'd moved too far from what they considered 'hip-hop'. What did you make of that experience?
I loved the experience. I always loved having kids who got into hip hop second hand tell me what is and isn't hip hop (laughs). It was amusing. I never really concerned myself with that. I know who I am. I know where I am from. I know what I am. No question.
Do you ever worry that people will miss the content of your lyrics?
I think the ability to find your own meaning in lyrics and hip hop is what makes it so appealing on a global level. The feel of it always comes through. So if it takes 20 listens for my lyrical content to sink in, it's all good.
What is the state of underground hip-hop in the states at the moment?
I think real hip hop is very much alive and well. Artists like Immortal Technique, Joell Ortiz, Slaughterhouse, Random Axe, Neek the Exotic & Large Professor, Death Grips, Oddateee, The Deadverse Massive, Subtitle, for example are killing it right now. There are a lot of great albums that keep coming out. I think these are very interesting times.
Is there an 'us and them' mentality between commercial artists and yourselves?
No I feel like there is an Us and Them mentality between good and bad music. I don't care how much it sells or doesn't sell, I'm more concerned with how hard it thumps.
Commercial hiphop doesn't seem to really respond to underground hiphop, it's like a topic that is definitely off the table, why do you think that is?
Well I think a lot of commercial music is just pop music regardless of genre, but there are still great songs that happen to be popular. I think Jay-Z is a good example of that. He still hip hop.
Circumstance supplants the mission
Obscene convenience leads to sloppy tacticians.
Where you end up is rarely envisioned
The trick is to constantly change your positions. – IconAclass, 'Built Hood'
What do you think of the concept of 'true hiphop'?
To quote KRS, "Rap is something you do. Hip Hop is something you live". Hip hop is a culture, and like any culture, it behoves you to know your history and build on it. Hip Hop has always been that [you can] "create greatness out of the crumbs that society tosses off it's plate", it's that "Make Lemonade from the rocks we are given"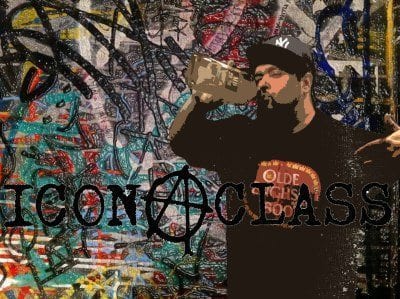 Do you consider yourself 'true hiphop'?
Really got to ask that? (laughs)
Whose work do you admire at the moment?
Immortal Technique, Joell Ortiz, Slaughterhouse, Random Axe, Death Grips, Neek the Exotic & Large Professor, Mobb Deep w/ Pete Rock, Flying Lotus, Ganjasufi, Subtitle, it's a long list.
What are you go-to records when you're at home?
Iron & Wine any record, Pete Rock 'Petestumentals', still listen to MBV, any JDilla, the Isley Brothers, Al Green, Raekwon.
What are your ambitions with IconAclass?
I want to build, tour, record more. I just love hip hop and love making music. I still got that hunger and passion.
How has the tour been so far? Have the responses been favourable or has the audience expectation that this will be dälek 2 been problematic?
The tour has been great. The response has been amazing. Still got dälek heads that are feeling it. Not all of course, but we are also gaining straight hip hop heads which is good too. My booking agent did a good job of putting us on more hip hop bills on this tour.
What can we expect for IconAclass at Supersonic 2011?
Expect that raw passion, that musical honesty that I'm known for. That will never change. On my word.
Many thanks and I look forward to seeing you there.
IconAclass will play supersonic festival 21-23rd of October in Birmingham.