[dropcap style="font-size:100px; color:#992211;"]M[/dropcap]oroccan born photographer Hassan Hajjaj was awarded the 2014 Pulse Prize at that year's Pulse New York art fair. And for good reason.
When I first discovered Hajjaj's photographs, I was instantly taken by his distinct use of bold and vibrant contrasts, which he achieves by dressing his subjects in and constructing backdrops made of mosaic patterned Islamic textiles. Also intriguing is Hajjaj's ability to capture an incredibly strong presence and street-smart confidence in his subjects, such as those who make up the "subculture of young Moroccan women who work as henna tattoo artists and traverse the city of his Marrakesh on motorbikes," as described in the New York Times.
In an interview Hajjaj did for MR Porter, he revealed that much of his inspiration comes from "the street and [that his intention is] to create something contemporary that identifies with the Arab world, but feels international," too. In his two-part series, My Rock Stars, for example, Hajjaj didn't focus his lens on musicians alone but on all the people who make up the eclecticism unique to the streets of his childhood home, such as "the snake charmer, [the] henna girl, [the] bad boy, [and the] male belly dancer," as reported in The Guardian.
Although Hajjaj has worked in a number of trades, he is completely self-taught. And not just in photography, but in fashion, furniture, and interior design to boot. Photography, however, appears to be a platform where he can fuse his many talents, which he's cultivated over the years from his immersion in "the club, hip-hop, and reggae scenes of London as well as by his Islamic heritage," as offered by Taymour Grahne Gallery.
Another influencing factor in Hajjaj's work are the portraits of commercial photographers Seydou Keita and Malick Sidibe, each of whom operated photography studios in Bamako in the eras preceding and following Mali's independence from France in the 1960's and are highly regarded for their contributions to "the development of studio portraiture in mid-twe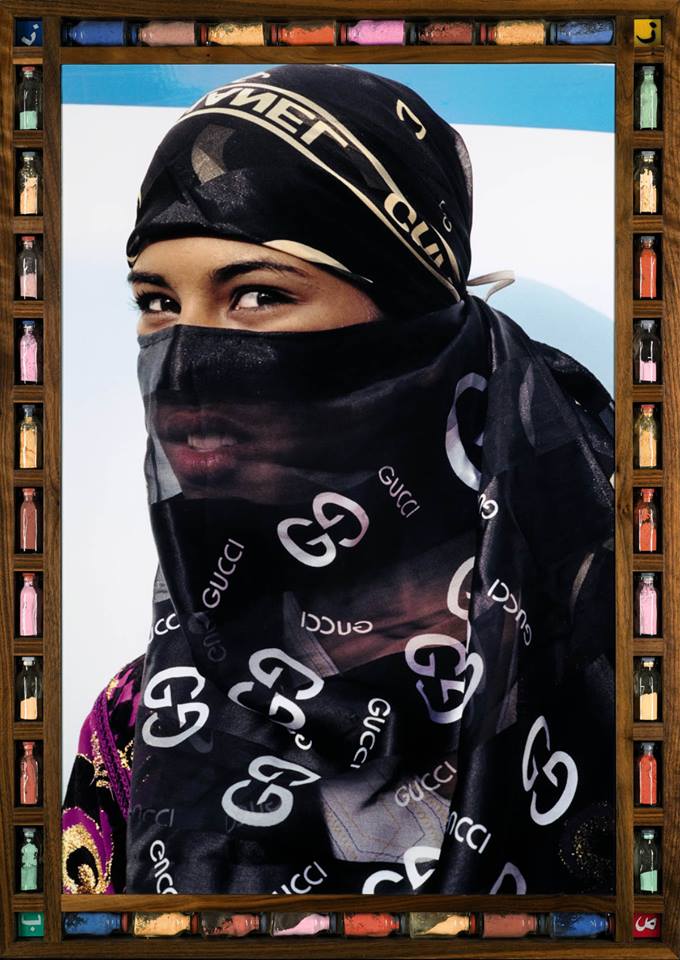 ntieth-century West Africa," as iterated by Michelle Lamuniere in the exhibition catalogue You Look Beautiful Like That: The Portrait Photographs of Seydou Keita and Malick Sidibe.
The most prominent similarity between the photography of Keita and Sidibe and of Hajjaj is the fusion of African and western influences. Keita and Sidibe understood the cultural significance of textiles as a form of expression and used it to their advantage. Not only did they use patterned fabrics as backdrops for their clients, but they found that in doing so, they could create what Lamuniere describes as a unique "explosion of pattern and design," namely when their sitters posed in either western-styled clothing or with modern-day props.
In the same vein, Hajjaj's photographs provide "an unexpectedly rich and seductive environment for [his] viewers," which he achieves by "juxtaposing the iconography of contemporary culture and consumerism with classical references," as offered in Nafas.
Unlike Keita and Sidibe, however, he goes a step further by including ready-made frames for his photographs. Each contains "a series of recessed spaces in which he places food and other products from Moroccan markets," as described in the Huffington Press. These, Hajjaj claims, are important. Not only are they intended draw his viewers in to inspect the details of his photographs, but the globally recognized items such as 7-Up and Coca Cola cans that he uses to fill the recessed spaces are symbolic of the burgeoning import market and how such has had an impact on the ever-changing narrative of African tradition.
[button link="https://www.facebook.com/hassanhajjajart/" newwindow="yes"] Hassan Hajjaj Facebook[/button]
Image: Hassan Hajjaj/Facebook/Public Domain