[dropcap style="font-size:100px; color:#992211;"]J[/dropcap]ames Elphick talks about his most recent event The Make Believe' Festival,  the power of collaborative arts, the possibilities of transmedia and why funerals are a good night out.
'How do you sleep at Night?'
'Well we do also run a coffin hire company'
I sat down- to what was the edge of my seat by the end of the conversation- with James Elphick Creative Director of Guerrilla Zoo, a platform for a revolving collective of artists, performers and musicians to create experiential focussed festivals, parties, exhibitions and events.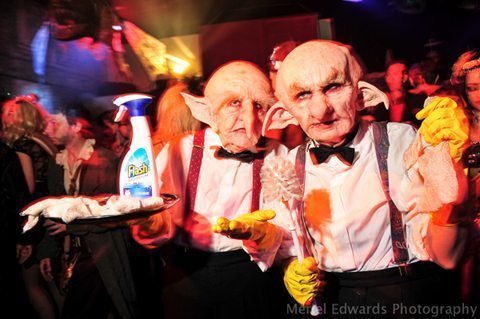 The first few attempts James and I made to schedule the interview we both stood each other up. Rather than dismissing each other as disinterested however, we persevered and the point of disconnection in fact became an icebreaker- as testimony to the legitimate excuse that we both have our fingers in a lot of creative pots.
Running around like the proverbial chicken is something that I can connect with only too well though, in my case, it is without the prospect of organising prosthetic goblins and funerals (more of that later).
It emerged that James and I had been tangoing our own interweaving narratives for a while now and, squeals of common anecdotes and mutual co-workers littered the mysterious hints and significant silences on James' part as he resisted my probing about top secret plans for the coming months (in retrospect perhaps he was throwing me one of the red herrings such as populate the interweaving narratives of his events).
Despite this rather apt aloofness however, we still managed to discuss the aftermath of The Make Believe Festival, when James was let loose upon his largest collaborative event yet in Central London, his firm belief in enlivening the monoliths of gallery, theatre and music venue by combining art forms, his visions for the development of immersive storytelling and audience-driven plots through trans media and interactive performance, and his recent ventures into supporting artisans and makers in the worlds he creates.
What follows is an edit of what was a wonderfully (and infuriatingly) digressive discussion
---
I've just been re-examining the Guerrilla Zoo website and am once again dazzled by the assembly of so many diverse, imaginative happenings to both inform and entertain. The most recent has been the Make Believe festival, which I understand is something of a culmination of all these avenues for you. Could you give me an idea of what visitors encountered?
James Elphick: Firstly the date we ran the festival coincided with May Day, traditionally associated with revelry and mystique – this is what I think the whole event captured, that playful, fantastical element. We invited the audience to step inside a world of storytelling filled with wandering minstrels, markets, treasure hunts, promenade performance and fiction brought to life. The whole thing was centred on how they interacted with the performers so that they could make their own narratives.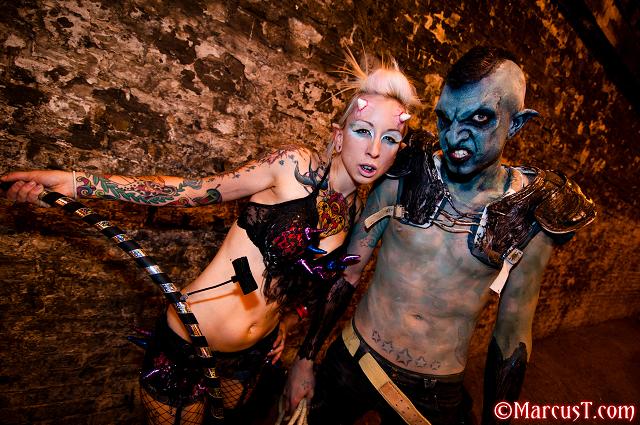 The festival opened with Clockwork Underworld- a collaboration with another on-going narrative driven project Clockwork Watch. The watch is based around pre-conceived narratives of the Steam-Punk genre- Could you tell me more about how that partnership fitted in with Make Believe?
It's the first time that I'd collaborated on an event with Yomi Ayeni, the founder of Clockwork Watch. It was part of a five year trans media project that encourages people to interact with the narrative of retro-futurist vision of Victorian England. Participants can contribute suggestions for new plots and characters, the best of which are incorporated into the ever-evolving story of the Steam-Punk genre.
The narratives are envisaged online, in promenade theatre events and in a series of graphic novels, the second of which- Breakaway was launched at Make Believe. The end goal is a feature film at the end of the five years.
The Victoriana theme really fitted in with the mysterious, fairytale-esque world of Make Believe, as well as the idea of stories evolving from audience participation- it seemed like the perfect fit. Followers of the watch get really involved in the narratives and designers and artists have even started making items in response to the Steam-Punk genre.
One jewellery designer in particular has been very successful with her Clockwork Watch inspired line. This idea tied in with what we were trying to do by incorporating artisans and artists into the festival at the market and within the sets, to create our own contained world.
For Make Believe the Watch hosted an evening of music, burlesque and exploratory theatre, encouraging people to scratch beneath the surface of the sets that we had built and to initiate new stories by interacting with the performers.
I can see how that complemented the exploratory elements of the Goblin Ball….
Yes we launched the Goblin King's Masquerade Ball in 2010, last year we held it at the Old Vic Tunnels.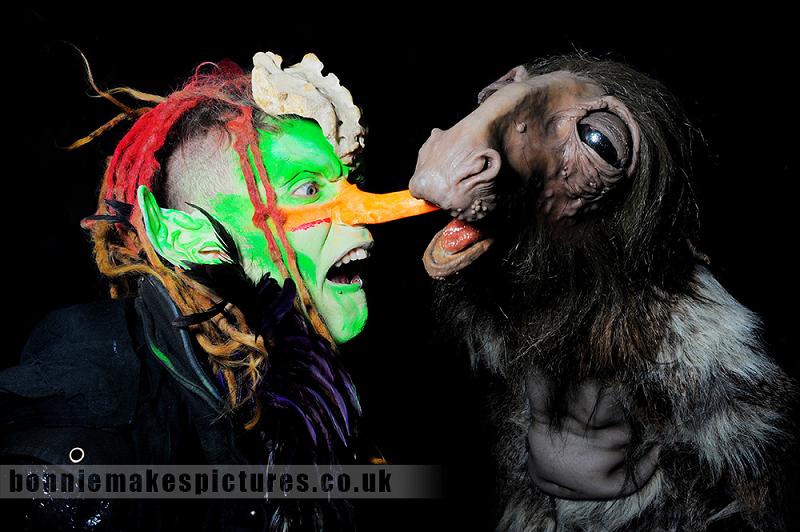 It's basically a masquerade ball but with the difference that, as well as live music and performance, guests are invited to lose themselves in a make believe world for the evening.
Depending on how they interact and engage themselves, completing tasks and games -such as fixing a 'Lovers Tryst' between a giant and an HP Lovecraftian character- their experiences of the party will be different. We even created a whole secret room with a promenade performance within that only a few people discovered.
We tried to make the event as visually stimulating as possible too by involving a host of talented designers and artists to create costumes and installations. We commissioned Civilised Mess to create some prosthetic goblins, which the make up artist from Harry Potter advised them on. They were so hyper-realistic you and seriously had to double take.
So it worked out well for the artists involved too?
Most definitely. Although not an exhibition, we sourced artists to create work which complimented the theme of the event and so the environment really showcased their work to its best advantage. Dan Gomer created a collection of monster heads for the bar and sold really well, so there was certainly a profitable element for the artists involved.
That's good to hear, was this the format of the market on the last day- objects, art and curiosities that had been sourced with the quirky, fantastical nature of the weekend in mind?
Yes the market was an opportunity to both appeal to younger audiences and to experiment with the idea we're developing to make the festival into a self-contained immersive world, complete with its own traders. The atmosphere was really great at the market with live music, minstrels, stalls and promenade street theatre- it opened the storytelling up to all age groups and the traders sold really well too.
I know you already have plans for the next Make Believe in 2014, is this how you see the festival developing, as an open platform for collaboration between art forms with different pockets of performance and creative expression under the umbrella narrative of Make Believe?
Well I can't give too much away but I like the idea of taking the festival to different locations and it being a kind of 'wandering story', picking up new performance groups and artists along the way.
[quote]I began to notice
the mundanity of
gigs and theatre
which were isolated
happenings[/quote]
And in terms of building upon the plots for the other parts of the festival?
We're definitely looking at creating more of a following in the lead up to the next festival by developing the narrative for the goblin ball in some surprise interim events – so that people can get involved with the story before the actual festival.
You'll have to wait and see though since it's top secret at the moment!
All very mysterious, I'm intrigued to know more now about the real life story that led up to Make Believe?
Well I'm originally a South Londoner and, having completed an art foundation, I specialised in animation. I then travelled for six months, which really opened my mind to new creative possibilities, after which I studied sound design and production.
In this time and, especially after travelling, I began to notice the mundanity of gigs and theatre which were isolated happenings. I thought how much more interesting they'd be if there were lots of different art forms interweaving throughout the evening that the audience could dip in and out of.
From this came the idea for a series of micro-festivals that I ran at Corsica Studios in Elephant and Castle. Those guys were really supportive at this developmental stage and helped to focus my ideas. The aim of the evenings was to break down the fourth wall and for people to engage at different levels with the performances. I've always tried to stay a step ahead and so collaborated with lots of different theatre companies and performers so that people experienced a variety of journeys.
So was that the premise behind Guerrilla Zoo? To create a platform form which different creative groups could perform and make work?
Yes. I started Guerrilla Zoo over 10 years ago, working with live artists and musicians. The focus wasn't just on events and parties but also provocative exhibitions with an experiential element.
One of the highlights in 2009 was Modern Panic, an exhibition inspired by the 60s Panic movement founded by, amongst others, Alejandro Jodorowsky in Paris 1962.  The group concentrated on chaotic and surreal performance art with violent theatrical events designed to be shocking.
Modern Panic evolved from a show we did entitled Panic, held in 2009 as part of a Season of Jodorowsky. Panic featured the founding fathers of the Panic Movement alongside new challenging artists.
At 84 Jodorowsky's just premiered his first film in 23 years The Dance of Reality at Cannes. It's a very personal magic-realist memoir of his father, Jaime Jodorowsky, shot in his idiosyncratic dream-like absurdity. It's been well received so far for the poignancy, which shone through the bizarre mythologizing.
For the shows we select 50-60 artists, from an open call for submissions, whose work fits with the controversial nature of the original Panic movement. We try to include a cross section of work from the beautiful to the surreal to the shocking.
In true Panic style we also open the exhibition with an evening of live art and performance. We developed this performative element further in a more regular series- the Panic Sermons. In the true spirit of the 60s group they aim to be chaotic by nature and include everything from erotic dance to contortionists. In both the exhibitions and the sermons we want to keep people thinking long after they've left and to experience the shows in different ways through the use of different mediums and expression.
Incidentally, applications are now open for the November Modern Panic and are free to artists working in any medium and from any country.
There certainly seems to be a trend for pushing the boundaries of the status quo in your events, are there really no holds barred?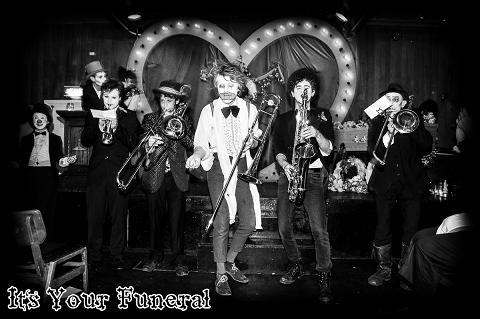 We definitely aim to place people in circumstances that are challenging as well as entertaining. I'm currently working with Charlie Buckitt from the Late Night Shop Cabaret on a series of cabaret evenings called It's Your Funeral. It's based around tragi-comedy concept of a New Orleans jazz style funeral experience. Every second Thursday of the month we invite an audience to join us as we lay to rest a recognisable character.
Again, we tap into the idea of sharing stories and breathing fresh ideas into slightly macabre tales that form the basis of Make Believe. There's also a few surprises in store since, a few unsuspecting individuals will be kidnapped during the evening and placed in their own coffin from which they can watch themselves being given the final send off in surrounding mirrors.
That sounds utterly terrifying,… how do you sleep at night?
You should come to our next funeral, it's happening at Bethnal Green Working Man's Club on Thursday July 11th.
In terms of sleeping- we do run a coffin hire company too, for theatrical purposes that is!
---
As I put down the phone I reflected on the interview. Usually I walk away from a conversation with scribbled notes and a head full of questions I should have asked. From this one? I had an invitation to my funeral.
See the Guerilla Zoo website for updates on forthcoming events and further information.
Missed the Make Believe Festival? A spin off version of the festival will be taking place at Secret Garden Party between 25th-28th July.