So here we are, camped out in the Brecon Beacons for the weekend (18-19 August) to see what the Green Man Festival, on its tenth anniversary, and the spiritual winds of Wales would blow our way.  A most pagan festival, with the giant Green Man effigy made of branches and twigs dominating the site – at least symbolically.
A representation of the cycle of natural growth and rebirth, it gets burned down at the end of the festival. The site was even blessed by Druids before the event – including the deed-polled, modern-day King Arthur himself –to bring good energy and vibrations to all who come to party in the lush valley.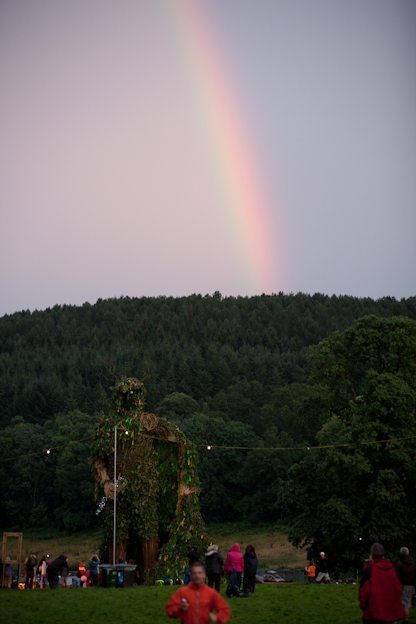 After missing a few acts on Friday due to M4 traffic and rain, we finally make it to the main stage where Mogwai are headlining. Hearts beat warmly as the mass are smothered in digital dots of sound, laser lights and bursts of disturbed frequencies. Transported through pulsating auric fields to another translucent universe, the stage is a spaceship lit up in darkness, as we move through the glistening marshland. Psychedelic grunge reverbs through the crowd, drums whistle and, in a floating malaise, the scene is set for the rest of the festival.

On the Far Out stage across the way meanwhile it's The Bees. It's almost impossible to define these headlining Isle of Wighters. Although the musical underpinning is that choppy, insistent, sketchy ska beat, it's overlaid with all sorts of things from jazz and soul to Latin and folk-rock. The most striking thing about the band is the high level of musicianship with at least a couple of members being multi-instrumentalists – and the horn playing in particular is exceptional.
It is a pretty mellow feel to the festival generally, as you just go with the flow from one stage to the next and indeed we find ourselves drifting into the Walled Garden Bar where the deejay spins some northern soul, and people try to glide like it's Wigan Casino, but in the mud.
A couple more ciders and back to where the Bees did the business to witness another fine set by that Trouser Jazzman, Mr Scruff. The visuals feature line drawings of records spinning into the distance and speakers resemble a pounding heartbeat. It all feels open and vulnerable as the former shelf-stacking turntablist smashes it in his usual festival style.
We slump down at a bench in the Far Out bar to be joined by tipsy strangers, chatty and considerate folk. It must be the Welsh contingent, along with the countryside vibes and the spiritual cleansing of the druids.
The next day, after breakfast (a fiver for a full English) we pop into the Literature Tent to find music hack Barney Hoskyns giving a talk on his latest book on Led Zeppelin. Most interesting of all is how he gained access – or not – to their inner circle; a fascinating tale in itself of secret arrangements, meetings, notebooks, requests and chance encounters. Barney's done some fine descriptive writing here and some lovely, crafted prose.
Musically, a pleasant way to start Saturday morning is a set by Withered Hand, aka Scottish acoustic singer-songwriter Dan Wilson. Backed by cello and violin, the tunes, with their warm, emotional underlay, were given an appreciative reception by the crowd.
Then it's off for Perce Creek Family Jug Band. There's nothing quite like a bit of knees-up, groovin' hillbilly bliss at a festival. The singer in places sounds like Dolly Parton or Michele Shocked and the bass was jumping, as were the banjo, trombone, washboard, kazoo, ukulele, melodica and – phew – even the saw. Mainly upbeat and rocky, the tunes had titles like 'Listen to Your Heart' and 'Baby Don't be So Cold Hearted.'
Even though it sounds like they are from the wilds of Texas or Tennessee, the band actually originate from Oz. Five boxes of CDs are shifted within 15 minutes of the set ending.
Another crowd-pleaser was an artist who actually is from Texas, Rodney Branigan. He played the Chai Wallah tent, displaying some ninja wizardry on the guitar and mandolin. Branigan's story-telling lyrics are in the grand US tradition and his music crosses folk, rock, country and soul – with blues always a strong backbone. Playing two guitars at the same time before throwing them up in the air and catching them to carry on playing, were jaw-dropping musical gymnastics.
Branigan is a massive crowd-pleaser, as attested by the number of – admittedly female – fans who queued up for CDs afterwards.  He's heading over to India and then doing his own tour in the States later this year, but before that he's putting the finishing touches to his new album 2.0.  "The root of the songs is me playing guitar and percussion at the same time," he tells Trebuchet after the show. "And then we put the vocals on top of it – the core of it is one-man band."
We make the most of the sunlight which has just emerged – pow! – with a vengeance and see half of Green Man suddenly lying on the grass chewing the cud.
Dressed in a Beetlejuice-style outfit, Beth Jeans Houghton and her band produced a sumptuous, full-bloodied symphonic sound topped by the singer's ethereal vocals. Backed up by four-part harmonies the set ranged from Western Swing-style mariachi to country-tinged rockabilly. Houghton  (pronounced "How-ton") does come over as very down-to-earth Geordie lass in her giggly between-song banter, but the sound was a little too maximalist in places – certainly more Baroque than Bauhaus. That was to the detriment of her lyrics, which got buried under the weight of the arrangements.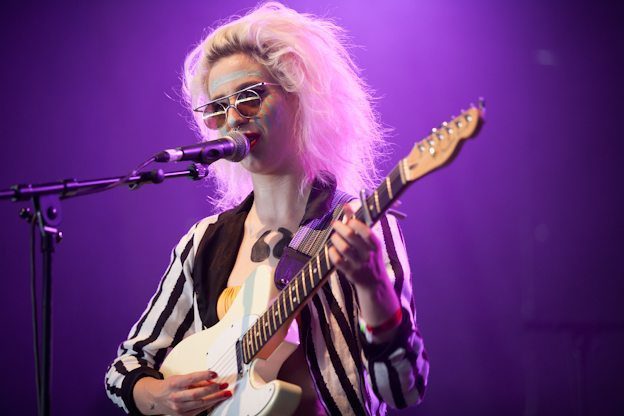 Michaal Kiwanuka was one of those 'hotly-tipped' artists of last year – and we all know (Little Boots anyone?), how that can be equivalent to being 'slowly poisoned'.
However, the joy of Kiwanuka is that he does what he does with little pretension. Back on the main stage, he is here to play some laid-back acoustic soul and that's what he does. He loves Hendrix and duly pays homage with a Jimi tune in his set – the Voodoo Chile's beautifully understated 'Waterfalls'. There are no jump-up numbers, no obvious festival anthems, but we don't want that from him right now in the blazing sun.
This is a time to rest, recuperate. We want Gil Scott Heron, we want Terry Callier, and with his first single 'Tell Me A Tale' alongside languid tracks off his debut album, Kiwanuka delivers.
So, there we are standing idly by one of the 'roads' on the site when a couple of cars drive past, with darkened windows and we realise it's Van Morrison. A man in the back vehicle waves 'I'm here' and, unbelievably, within a couple of minutes 'Brown Eyed Girl' is heard booming from the stage.
Van the Man is on form tonight, passionate and fun, loveable and, yes, even cuddly. He looks like a 'hug a hood' American gangster in his black trilby, dark suit and shades, there is a feel of 1950s' Chicago blues and News York jazz bars. He is out to dispel the well-embedded myth that he is the Moodiest Man in Showbusiness and proceeded to deliver a blinding set which mixed up his earlier r'n'b days both solo and with Them ('Here Comes The Night', 'Baby Please Don't Go') with his more recent compositions.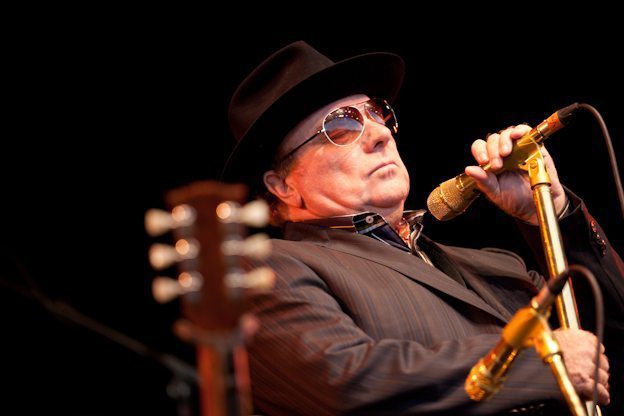 After a rousing crowd sing-along to 'Jackie Wilson Said', The Man himself pronounces: "If anyone says he's a grumpy old git, they should be hung drawn and quartered!"
Highlights were re-workings of 'The Way Young Lovers Do' and 'Ballerina' from possibly the greatest album ever made: Astral Weeks. Lights shine and his mic lights up golden glowing in the night, people light and melt and smoulder, they wither and writhe, the moves are smooth and not tight. We are puppets on his string, seduced, as we hear some of the most important songs that have shaped our lives and culture today.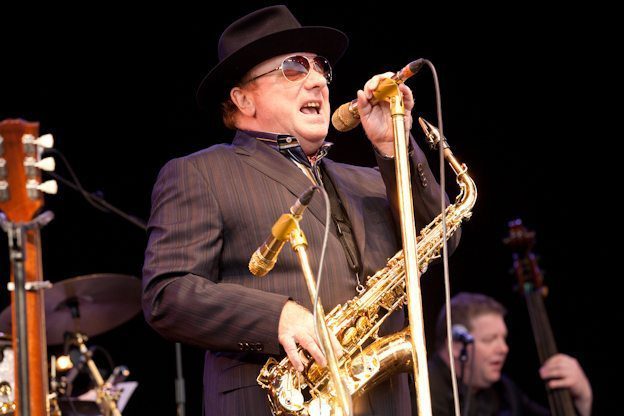 The revelation however, was a new track delivered with a grit, passion and energy which astounded. The track – off the new album Born To Sing: 'No Plan B' – seemed to be a harsh critique of rampant capitalism, bankers' greed, money-grabbing and short-term gain. It alone suggests the new record, out on legendary jazz label Blue Note, will be his best for ages.
With the traditional sing-along ended the show, by the time the last chord of 'Gloria' rang out, Van was already in his car speeding away, probably to his Wiltshire residence, but hopefully satisfied with a stunning performance which left the crowd bemused, slightly confused, pleased and beaming.
Later, a little tired of mud-wrestling, we take refuge with a friend in a ceramics tent surrounded by beautiful earthenware pottery and bearing goblets of red wine. All ergonomic and organic, we are reminded of a world before money took precedence and we could appreciate things directly. A moment for discussing the way things are and the way they should be, the possible end of capitalism, as wealth is being hoarded by those at the top – as they think of more ways to accumulate it there is none left to grow. We are left with a wall of money, in the hands of the few.
We discuss the end-of-a-civilisation zeitgeist, eco turmoil, Monsanto, the demonisation of the working classes – how the unemployed and poor are made to feel like culprits of the current economic turmoil while the truth is corporate and high-end tax-evaders leave a far bigger hole in the economy than people cheating on benefits (and billions aren't claimed anyway). How money can be an addiction, and as a possible cause more ills than other drugs, we may need to start a few treatment centres for those who cannot share or redistribute, and who suffer from this power-sustaining greed.
Metronomy drift in the background with electro guitar acoustic rock.  'Everything goes my way,' echo vocals similar to Portishead, a feel of Human League as the digitalization surrounds us, very constrained, mediated. Pretty rather than beautiful. The vocals and harmonies are impressive throughout the set, particularly Anna Prior's, although those of Gbenga Adelekan impress the most.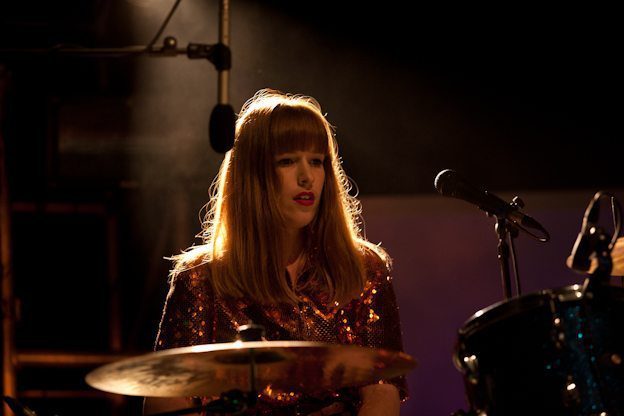 The crowd has a groove on, and is ecstatic at each song.  The band are still always just getting there, but never quite kicking in. Lots of electronic beasts, crunchy basslines, and it's nice to see more brass as Oscar Cash takes to the saxophone. The clean-cut middle class kids are a dignified Gossip/Go Team with a flounce of Scissor Sisters.
The world starts to open up with 'Trouble', almost cabaret, two people scared of hurting each other again. They got their hearts tied up in 'Corrine', more jazzy, the drummer's Beth Gibons-style vocals.  The electronic feel whirrs and the stretched digital effects could be Kraftwerk-influenced, clean and detached.  'English Riviera' kicks in but doesn't entirely kick off, despite the Fred Judian celebration.
The Tallest Man on Earth apparently do an impressive set and Tom Williams and the Boat are busy producing beautiful sounds, a bit like the Waterboys with Jarvis Cocker on lead vocals. It's folk rock with violins, guitars and is feisty and alive. Occasionally there is a feeling they might break out into 'The Whole of the Moon' as if it was embedded in their very fabric whilst still in their mothers' womb. A gorgeous and captivating set, nourishing. This is the ergonomic we were looking for, better than a coffee!
Others who rocked the house included Disraeli and the Small Gods with their Gaelic hip-hoppy, ska-pop wrapped up in social commentary. And, of course, Dexys with their wholesale rendition of their incredible new album, One Day I'm Going To Soar.
It was a bit of a stock car racing experience leaving the car park, again loads of good bands on Sunday to see, but, afraid of getting stuck in the mud, we left before we got too stuck in.
What with hugging around the Green Man and reading people's wishes on little mailing labels around the tree, this has been a pleasant valley, bucolic, neo-druidic experience. Thoughts of love, to be good at everything, and most strikingly, to progress as humanity, Green Man is bigger than the sum of its parts.
It is, above all, humble and not attention-seeking: this is without doubt its greatest appeal.
---
Samantha Chamberlaine, with additional reporting by Gareth Thomas
Photos: Kristian Xaviour