[dropcap style="font-size:100px; color:#992211;"]I[/dropcap] came to Southern California to meet and photograph surf nubiles in their natural habitat, only to find myself in the company of tattooed men enjoying two-dollar tacos on what turns out to be Bike Nite Tuesday.
I have never driven a motor vehicle so their toolbox banter tends to drift by on the offshore breeze, but I am impressed by the sculptural quality of their stripped-down machines and their dedication to the European Café Racer style rather than the commercialized myth of the fat-ass Harley.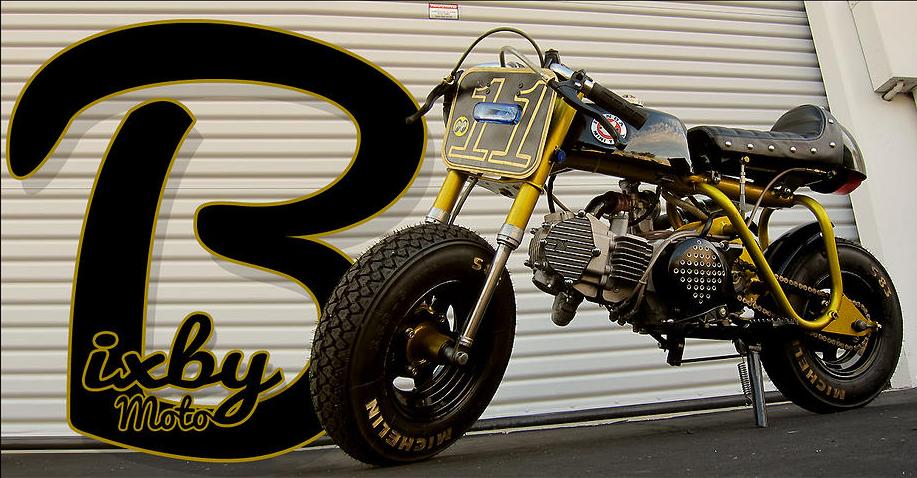 The chat turns to grudging respect for the men of the moment here in Orange County: Andrew Hopkins and Brody Cox of Bixby Moto.
– 'They won some kind of award for a midget bike'
– 'Now they're in an international competition and still act like kids on Ritalin'
– 'Those guys redefine precision stupid'
With recommendations like that I had to track down the Bixby Boys for an interview, and found them at Scooter Solution where they earn a dollar selling and repairing low priced Chinese-made motor scooters.
---
Andrew does the talking while Brody cuts a Captain Marvel-style lightning-flash stencil from cork and applies it to a custom frame.
SWP: Tell me all about the big contest you won and how it led to an even bigger contest..
Andrew Hopkins:  To be truthful we built the bike as an inside joke. A thumb in the air to every motorcycle cool guy trope we've ever come across. Most projects start with a vision in sight and we had none of that.
We found a mini bike frame in a dumpster and went from there. Mostly an exercise in poor judgment, anything that made us laugh got put into the blender. We knew it was perfection the first time we took it out. Children seemed to treat us as peers and their parents half-hazard questioned our sanity.
SWP: And the bike is street-legal. Give me all the gory technical details in case anybody cares.
Andrew Hopkins: We live in California and the laws are very strict. The frame we started with was not road legal. We cut the frame off in the front and lovingly grafted a late model bike with proper legal spec to pass under the radar. That's about as far as we got. They issued us the plates and we have been accruing tickets since.
Novelty stuff like "lack of headlight" and "missing turn indicators'.  We're not crazy… it has a tail light, we use hand signals.
SWP: What happened to Death Dealer One?
Andrew Hopkins: Death Dealer One still lives, it was the second mini bike I built. It has wheelbarrow size tires and goes 85mph. We took video to prove it, people seem to look right through me when I describe it. Its primary function is to take the piss out of bikes twice its size and ten times the price.
I can't speak about said owners' endowment sizes, I have yet to prove my theory.
SWP: And the glittering prizes on offer for this kind of endeavor?
[quote]I don't care about looking
cool. Once you get that
out of the way it's hard
not to have fun and be goofy[/quote]
Andrew Hopkins: We entered the bike in two speedway style races (a big dirt circle track and a load of left turns) so far. One first place trophy and a second place. Both times we crashed at the end, it's becoming our signature.
After that we entered it into a dog and pony type contest with judges and beer on tap. We went up against 40 other bikes and came out with another first place trophy. We were flabbergasted…. For that we won a prize motorcycle and we are currently chopping it up for the worse. It is now in the global portion of the contest.
SWP: Any good reason for the gibberish-fuelled antics on your video clips?
Andrew Hopkins: If anybody makes it this far into the interview I'd be amazed. My generation doesn't have and attention span and I don't care about looking cool. Once you get that out of the way it's hard not to have fun and be goofy.
SWP: Thanks for your time guys.
Andrew grins and Brody takes a bite out of a day old doughnut. You can vote for them and the Death Dealer Two online at (www.deuscustoms.com/bikebuildoff/vote/entrant/124/)
---
Over the last thirty years I have seen California sacrifice much of its obsessive lifestyle culture on the altar of rising property values, and witnessed the ongoing Disneyfication of its glorious coastline, so it is a pleasure to see two highly disciplined young men restoring some of this State's old time values by applying a great deal of time and effort to something both trivial and meaningless.
Bixby Moto – specializing in motorized entertainment since the moon landing..
[button link="http://www.facebook.com/bixbymoto" newwindow="yes"] Bixby Moto Facebook[/button]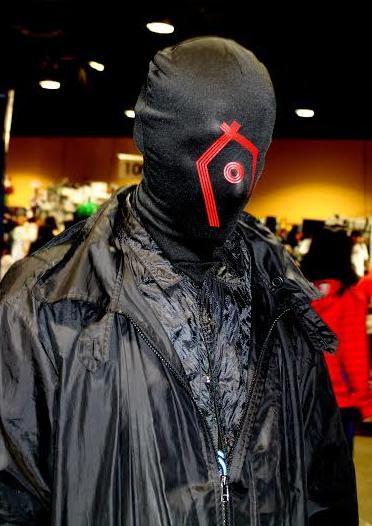 Having completed principal photography on phase one of the Sharks revival SWP is now preparing to edit the One Last Thrill feature documentary. Sharks themselves are 'dropping a big one' by releasing a double album Dark Beatles/White Temptations in April 2018.
In his spare time the author kayaks the muddy river Ouse and walks the South Downs which gently enfold his home town of Lewes.