[dropcap style="font-size:100px; color:#992211;"]T[/dropcap]he Frieze London International Art Fair has been taking place every October in Regent's Park for the last fifteen years.
More than 160 leading galleries from 31 countries showcase ambitious presentations by emerging and established artists, enhanced by a curated non-profit programme of artist commissions, films and talks.
New for 2017, Ralph Rugoff (Hayward Gallery, London) curated Frieze Talks for the first time, exploring artists'response to an age of 'alternative facts', with speakers and performers including
Dominique Gonzalez-Foerster and Nástio Mosquito.
Frieze London once more coincides with Frieze Masters and Frieze Sculpture in Regent's Park, together forming the heart of Frieze Week, one of the most significant dates in London's cultural calendar.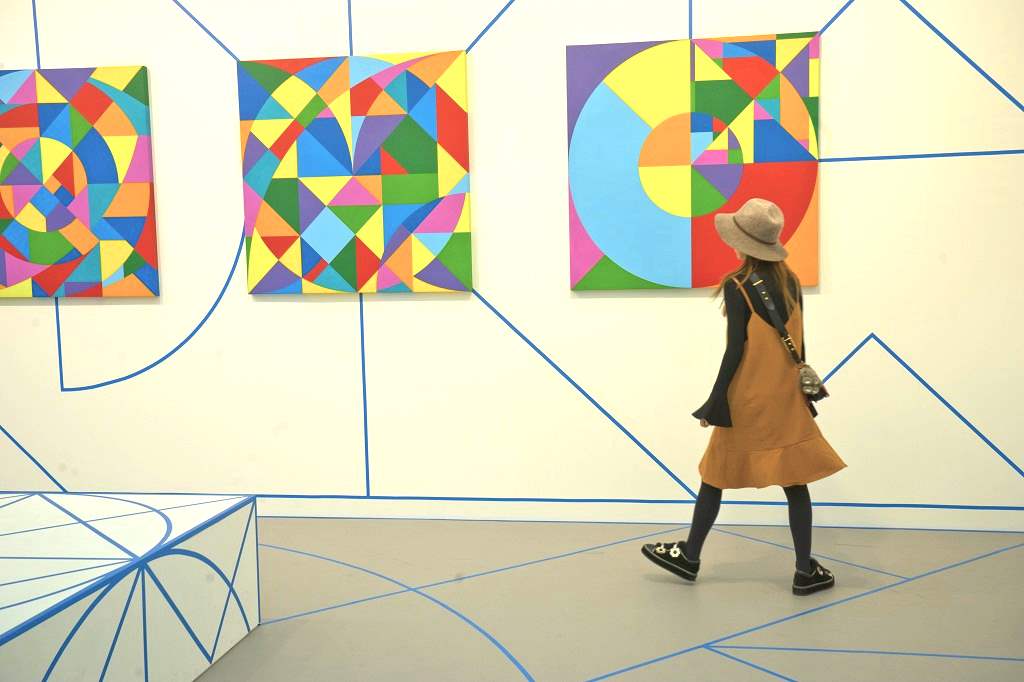 From its first edition in 2002, the Fair focused only on contemporary art and living artists, but, for the fourth consecutive year, it incorporated a separate section showing classic works. This, the Frieze Masters, was housed in a separate structure a short walk across the park towards Camden Town.
The event attracts more than over 70,000 visitors every year, including those with an interest in the art world such as curators, artists, collectors, gallerists and critics, as well as the general public. Some visit as first-time collectors of art whilst others view the fair more as an exhibition, enjoying the experience as a cultural day out.
The Sculpture Park, located within a five-minute walk of the main site at Regent's Park, is an important component of the fair. It exhibits new works by both established and emerging artists represented the exhibitors. Curator Clare Lilley, of Yorkshire Sculpture Park fame, selected the pieces on display, which included significant works by Sir Anthony Caro, John Chamberlain, Urs Fischer, Takuro Kuwata, Alicja Kwade, Eduardo Paolozzi, Ugo Rondinone and Sarah Sze, among others.
I started my tour of this multi-packed event in the beautiful surroundings of the English Garden, where a series of sculptures scattered at random in this public space surprised the public with its sheer diversity. You can't fail to be impressed by Numen, by Thomas Price, the youngest artist exhibiting at this event, who contributed two startling heads of African men cast in aluminium and placed on top of white marble plinths. The eyes of the subjects are kept at the right level to build up a very direct relationship with the viewer.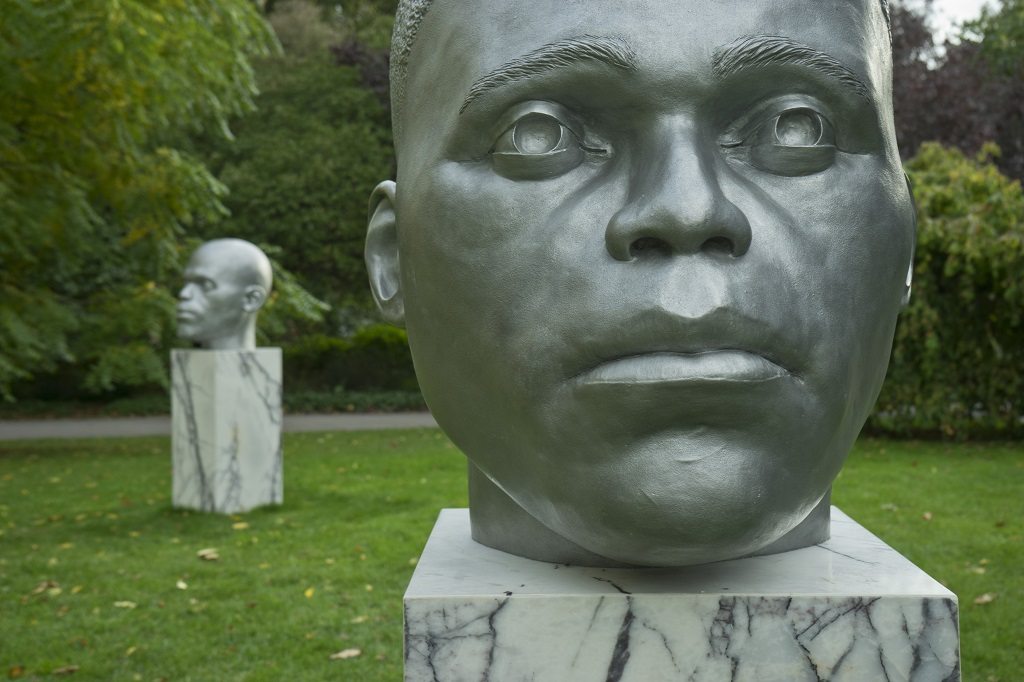 Inside the canopy of the fair, one of the main sections this year was definitely the one pertaining to sex work, entitled: Feminist Art & Radical Politics. It featured nine solo presentations of women artists working at the extreme edges of feminist practice during the 1970s and '80s, all sharing a focus on explicit sexual iconography combined with radical political agency. It was selected by independent curator and scholar Alison M. Gingeras, who commented during the introductory talk: 'This special section of Frieze pays homage to artists who transgressed sexual mores, gender norms and the tyranny of political correctness and were frequently the object of censorship in their day. Sex Work also highlights the seminal role galleries have played in exhibiting the radical women artists who were not easily assimilated into mainstream narratives of feminist art.'
One of my favourite sets from the section was by the Austrian artist Renate Bertlmann, represented by the Fitzrovia gallery's Richard Saltoun. Through her fetishist collection of dildos, condoms and pacifiers, she actively confronts social stereotypes assigned to our genders.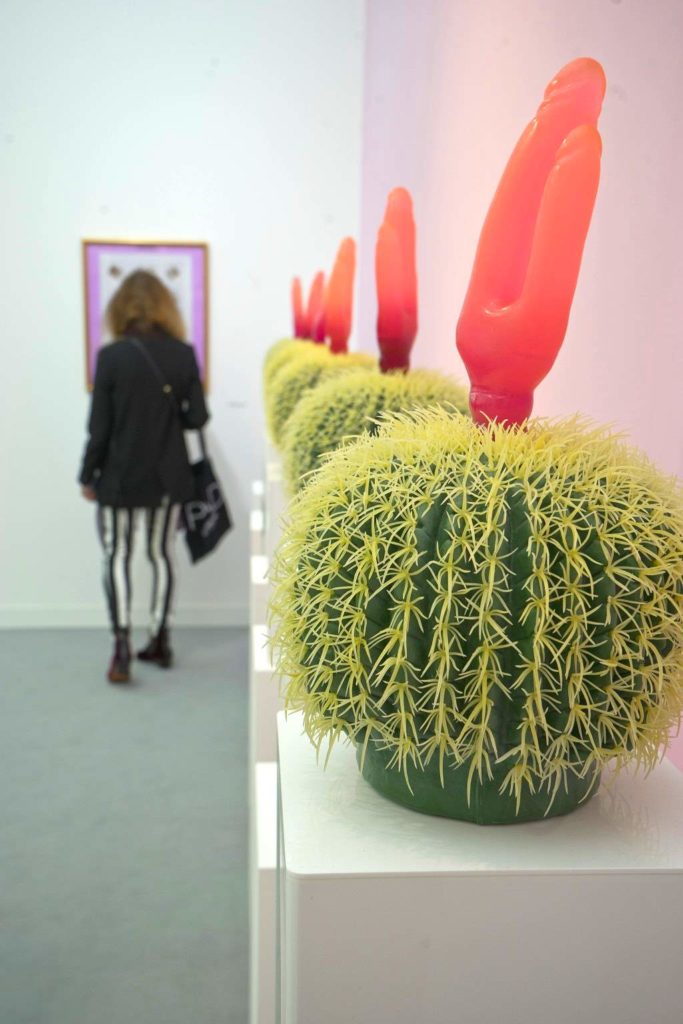 The layout of the assemblage leads the visitor through a maze of voluptuous erotica that has the effect of subverting our expectations.
Polish artist Natalia LL was a key figure in the neo-avant-garde scene in her country during the communist era, when she faced persistent moral censorship. She is now a revered figure in the international scene, spearheaded by her iconic images of young women indulging in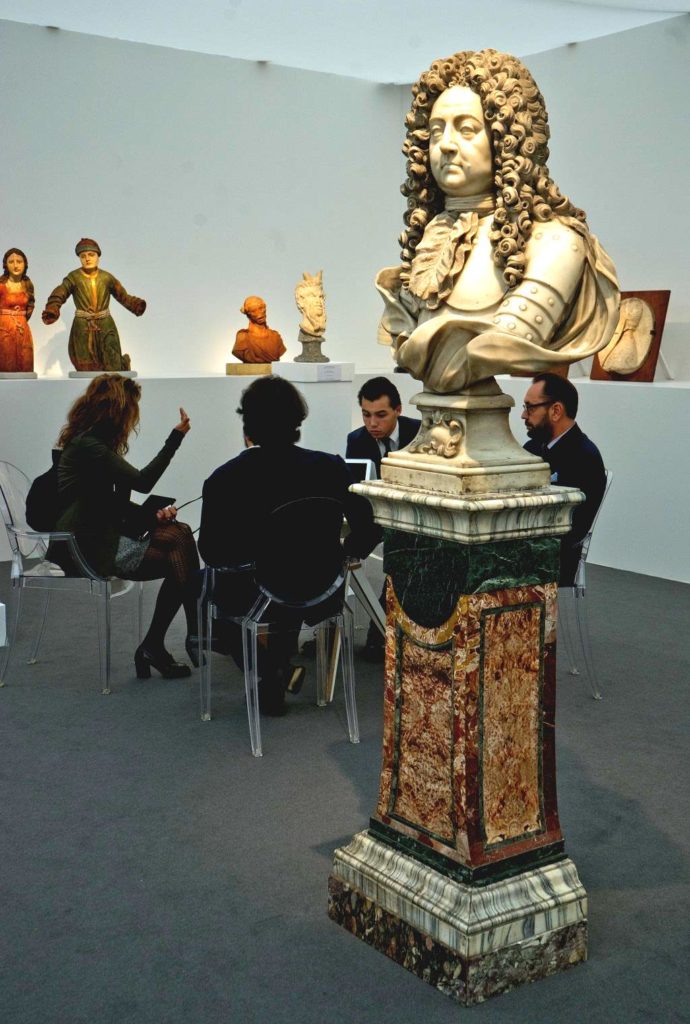 phallic foodstuffs, a repetitive selection of prints on the wall complemented by a old TV screen mirroring the actions of the stills, as part of her 'Consumer Art' series.
A pleasant 15-minute walk from the main fair across a park adorned by golden autumnal leaves led to the Frieze Masters, now in its sixth edition, bringing to London more than 130 dealers of international renown. The show comprised artworks spanning ancient and tribal art, Old Master paintings, medieval sculpture, 20th-century masters and rediscovered avant-garde artists. The daily talks with global artists and curators opened up new perspectives across art history.
Classic oeuvres by Picasso, Miro and De Chirico shared the busy space with more contemporary work by the likes of Basquiat and Wayne Thiebaud, as well as old folios going back to the 12th century and a relief from ancient Persepolis. It's unsurprising that the Masters has become the meeting point for wealthy collectors from around the world.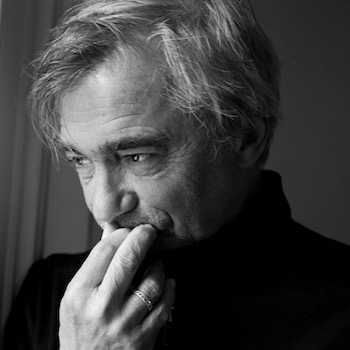 Julio Etchart is a documentary photographer, poet and artist.