[dropcap style="font-size:100px; color:#992211;"]H[/dropcap]ackney's Oslo provides the destination for the mysterious and enigmatic beast that is Tav Falco.
Amongst all the classic Falco tracks, his very latest Command Performance album stood to be showcased at this achingly hip East London venue.
The eclectic Command Performance has been spinning constantly on our turntable ever since we prised a promo' copy from the sharp suited king of cool's silver skull-ringed hands at the London showing of Urania Descending last September. Yep, Tav Falco makes films too, but tonight it was all about the music.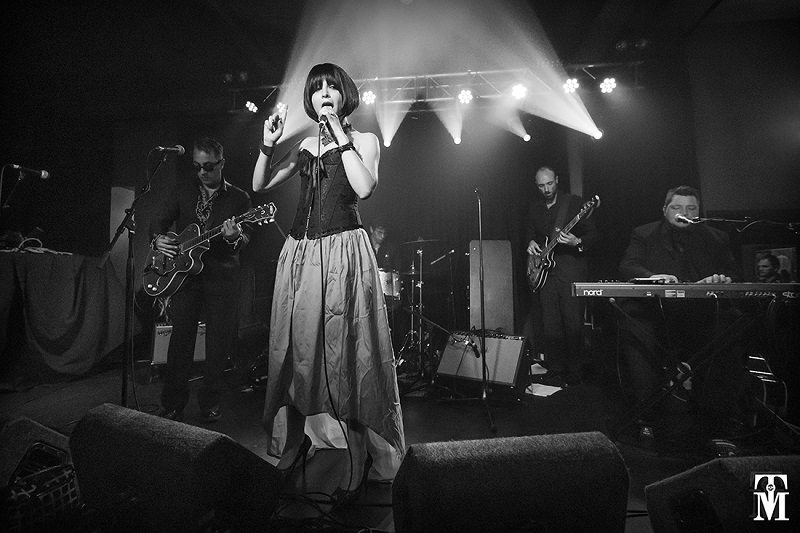 Raven-haired Barbara 'B.B' Saba glides onto the Hackney stage like a character from a fairytale; backed by Mario Monterosso, Lorenzo Francocci, Light Palone and Francesco D'Agnolo. This Italian ensemble is opening proceedings as B.B and The Red Cats. Their musicianship is masterful and B.B belts out a faultless vocal over the foot-stomping hip-swivelling rockabilly country-blues.
These cats were also to be Falco's chosen burning Panthers on this night, and the swelling crowd had been well and truly fired up for the mystical Memphis maestro, who had proceeded to crawl on stage from the wings like a slithering king snake. Well, what did you expect?
He sings, he dances, he swivels his hips, all whilst making his Hofner scream and moan with an effortless touch. Falco captivates the crowd like a smooth talking carnival barker. He throws out kicks, swings the microphone stand wildly and gyrates and thrusts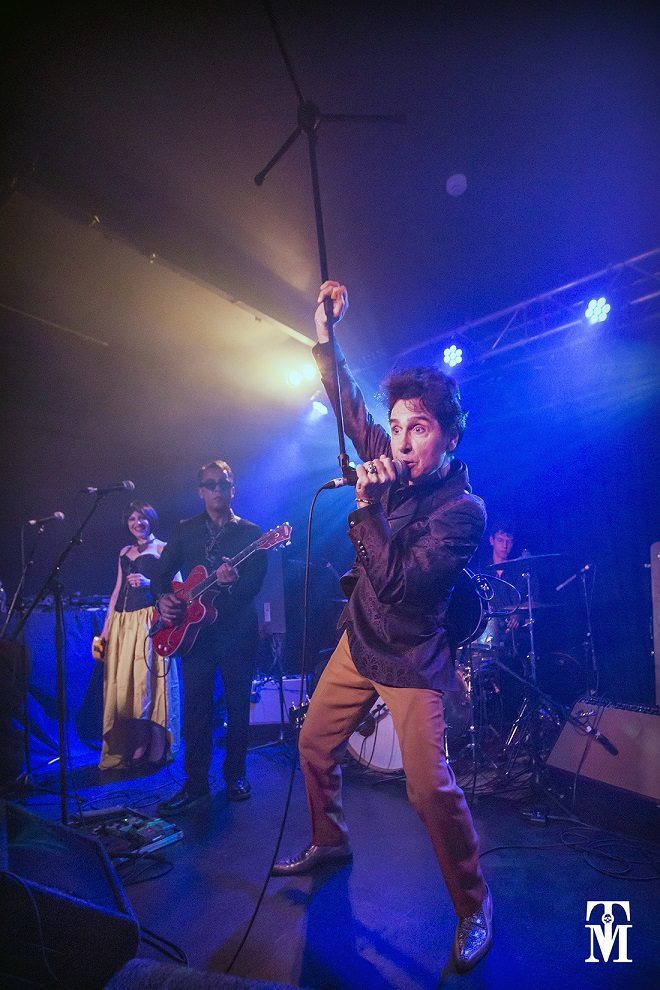 insanely to the calls of 'sexy beast'. Lithe and lean, Tav Falco plays up to the calls, draws the crowd in deeper and deeper, a true rock and roll performer putting on a true rock and roll show.
Tav lashes out with a mix ranging from swamp-blues, funk, lounge and rockabilly to straight up rock and roll. Tracks new and old are raucously received in equal measure and the germ of original psychobilly could still be heard.
This crowd love Falco and Falco loves them back. He poses and postures, treats the audience to some fancy tango moves, and writhes on his back as if possessed. If 'Bangkok' didn't make you want to writhe along with him, Falco's fabulous rendition of Charlie Feathers' 'Jungle Fever made you want to do the 'gator 'til the early hours.
If you missed this tour you have most certainly missed a slice of rock and roll history.
Words and images copyright Carl Byron Batson

Photographer, published poet, former party animal, body builder, grave robber
to the stars and renowned chainsaw juggler, Carl can often be spotted on his
Harley Davidson pretending to be in Terminator 2. He is also frequently seen in
the press pits of old London town, camera in hand, avoiding being hit by bottles
of wee and crippling his opposition with secret Kung Fu moves.