Japanese director Sion Sono has something of a cult following, however if Guilty of Romance is a viewer's first experience of him, s/he could be forgiven for pondering exactly why this is. This is not to say that the film is bad as such, rather it lacks the direction you'd expect of a filmmaker who's been in the game for over 25 years.
a numb derrière was a perfectly acceptable price to pay
Sono's Hate trilogy began in 2008, when he unleashed the wonderful Love Exposure upon us. A veritable opus at but three minutes shy of four hours long. Ambitious, but it was pulled off with ease; a numb derrière was a perfectly acceptable price to pay for what is sheer privilege to see. Follow-up Cold Fish (2010) felt a tad drawn out, despite a relatively short run-time of 145 minutes, but lead actor Mitsuru Fukikoshi carried the story well, and there was good reason to eagerly anticipate Sono's third instalment.
the expected strong imagery is not as prominent as implied
The problem is, we're still waiting. Guilty of Romance, aside from the aforementioned lack of direction, is too distant from its relatives; other than the base thread of 'hate', Love Exposure and Cold Fish were linked by a dysfunctional family theme, which is absent here. Also, disappointingly, the expected strong imagery is not as prominent as implied, our cover image a mere whisper within the film itself.
Told in chapters and via a non-linear method, the story opens with the discovery of a murder in a derelict apartment in a love hotel district. A particularly grisly killing, the body has been dismembered and attached to a mannequin. As detective Kazuko (Miki Mizuno) pieces together the case, we follow two very different women, tied together by their double lives as respectable members of society and active participants in the sex industry.
access to his body is doled out as the occasional treat
Our central character, Izumi (Megumi Kagurazaka), is a loyal wife to a famous writer. It's a lonely life, her days solely spent keeping their home in order, indeed her introductory scene sees her husband issue praise for improvement in her servitude. Unaffectionate and distant, access to his body is doled out as the occasional treat, but so conditioned is Izumi in her role as the perfect wife, she confesses to her journal a disgust at herself for wanting to do 'something' during what's left of her twenties; her husband should surely be enough. When she lands a job at the delicatessen of their local supermarket, he quips his permission by reference to Ibsen's Doll's House, in a nice little forecast of the story's path — a path albeit somewhat darker than that particular tale.
loveless sex should always be paid for
Too timid to be much good at attracting customers, Izumi is surprised when approached by a model scout. Her first shoot sees her treated like a queen, in a contrast to what she is used to from her cold husband, and here the shift in her psychology begins. This is complete when she is befriended by Mitsuko (Makoto Togashi), a university lecturer who leads a double life as a prostitute, whose motto is that loveless sex should always be paid for, that sex combined with money helps one focus.
lack of balance
This concept, of validating oneself via sexual means, is the true driving factor behind Guilty of Romance, although it's not necessarily a cautionary tale — while Izumi is eventually hurt due to her newfound confidence, the truth reveals itself to her. And this strand of the story is told superbly. What lets down the film as a whole is a lack of balance. Promoting itself as a tale of three women's lives interlinked, it makes no sense to see as little as what we do of Kazuko, learning nothing of her life outside of investigating the murder. And, while the body/mannequin scenario is clearly intended as a statement: that confidence isn't real when based on sex alone, this doesn't quite gel with the fact that Izumi's sexual dabbling ultimately frees her of her shackles to her husband.
As such, Guilty of Romance is terribly flawed, and probably won't stand up to repeat viewings.
Guilty of Romance is out today on DVD and Blu-ray
Images: Eureka Entertainment
---
Naila Scargill is editor and publisher of Exquisite Terror, an academic take on the filmic horror genre.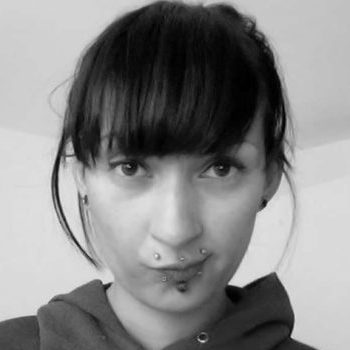 Naila Scargill is the publisher and editor of horror journal Exquisite Terror. Holding a broad editorial background, she has worked with an eclectic variety of content, ranging from film and the counterculture, to political news and finance.