[dropcap style="font-size:100px; color:#992211;"]W[/dropcap]
hat's your favourite equinox?
Are you a leaping greenshoot gamboller, revelling in the vernal equinoctal point as the sap rises, the days lengthen, the very essence of life and regeneration wafts through the air on clouds of effervescent pollen?
Or are you an autumnal rambler, called by the siren fruitfulness of russet plenty and drawn over the southern horizon by the primal wanderlust of nights drawing in and morning harvest mists promising time for one last foray?
Trick question! Nobody cares about equinoxes! It's the SOLSTICE that matters. Get yourself a big bag of flour and get down to Fields of the Nephilim for the winter and summer solstices, praise the sun.
---
PROPHECY: MMXVI
A CELEBRATION OF THE SOLSTICES
O2 FORUM, KENTISH TOWN, LONDON
SUMMER – 20th JUNE
O2 SHEPHERDS BUSH EMPIRE, LONDON
WINTER – 21st DECEMBER
Legendary gothic-rock heroes Fields Of The Nephilim follow their prophetic new single with two exclusive UK appearances chosen to coincide with marking the Solstice. For the first occasion, the Nephilim will perform at O2 Forum, Kentish Town on the Summer Solstice of 20th June.
This follows their performance there last December when they ignited a new chapter with one of the most energising and intense live shows of their 30-year history to a spellbound audience.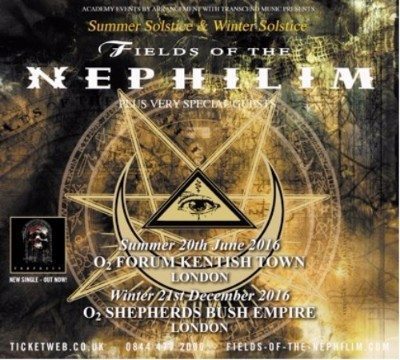 In recognition of the Winter Solstice six months later, they return to O2 Shepherds Bush Empire on the 21st of December for what promises to be a spectacular celebration of the reincarnation of the sun!
The band will perform carefully constructed sets based on significant tracks from specific albums relevant to each occasion as well as showcasing things as yet unseen.
These concerts follow the release last month of 'Prophecy', the first single from Fields of the Nephilim for more than a decade. 'Prophecy' is available on iTunes  and can be heard in full HERE.
With other international events also being unveiled within 2016, the New Gold Dawn that followers of the Nephilim have awaited will soon come to pass.
Tickets available from ticketweb.co.uk, Friday 22 April at 9am. £30.00 adv + booking fee. Limited VIP packages available.
The aim of art is to represent not the outward appearance of things, but their inward significance. – Aristotle