[dropcap style="font-size:100px; color:#992211;"]E[/dropcap]
ssence showcases work by emerging artists Lara Woolley and Susan Zeppellini, co-founders of Base Art Studio.
The artworks are expressed with figurative ceramics, painting and photography, exploring themes such as magical realism and mysticism through to the macabre and grotesque.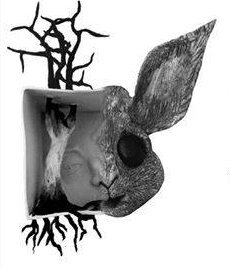 Lara Woolley's artwork is a response to the treatment of animals and the suffering they endure at the hands of mankind. She creates sculptures of animal forms, unsettling and macabre, often with jutting ribcages and protruding hearts.  The grotesque appearance is juxtaposed with the seemingly endearing facial expressions showing viewers the sentient being behind the suffering.
Susan Zeppellini was born in São Paulo, Brazil and lives in Wales. Her artworks explore folklore, religion, magic, cult and religious sect. Reflecting the superstition and mysticism which endure in Brazilian culture, Zeppelini's intention is to create a world where nothing is relative, where space and time can be questioned, where the fantastic lives next to reality and at the same time collide.
The exhibition marks the first time the two artists have combined their work.
November 24th – December 6th, Oriel Bach, Swansea.
[button link=" http://www.orielbach.com/" newwindow="yes"] Oriel Bach[/button]
The aim of art is to represent not the outward appearance of things, but their inward significance. – Aristotle