[dropcap style="font-size:100px; color:#992211;"]E[/dropcap]lvana. Well, what can you say about an Elvis tribute band playing Nirvana songs?
They did what it said on the tin and it was every bit as frickin' awesome as their name suggests. Like cheese and onion, Sid and Nancy or Adolf and Eva, rock 'n' roll and grunge are two things that just unexpectedly fit. Elvis was a tad shorter in stature than we remembered, but he sure was big on stage presence as he bounced around in white jumpsuit and Converse.
Singalongs were encouraged and pretty much unavoidable, the audience responded to E with total enthusiasm. There were frenzied females and men proclaiming it was the best thing they'd ever seen, both sexes very visibly aroused by the snarls and gyrations on stage, and sometimes off.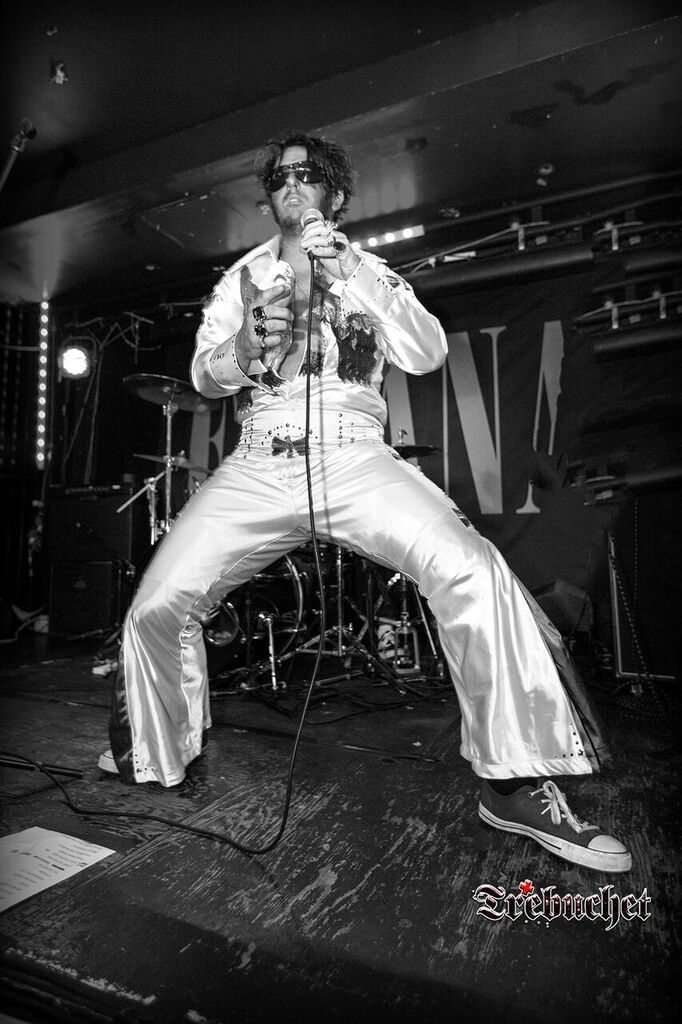 There were a few partial classic Elvis tunes blended in for good measure, but almost all the Nirvana classics were dealt with. The Man Who Sold The World was delivered to us in a way you could never imagine. Elvis doing Nirvana, doing Bowie, what an absolute trip of a gift.
But where was the big one? They're bound to end on Smells Like Teen Spirit, I thought, but it didn't happen. Oh well, they're saving it for the encore surely, I thought, frothed by that point as I was in keenly-anticipated and fast-accumulating delayed gratification. Nope. It was only when they started packing away their instruments that I realised it wasn't happening, the peak was cruelly denied me.
I was left hanging but despite that one small need not being met it was surely still one of the best shows of 2016. We all felt the true power of E and it was hotter than the Georgia asphalt or, as our photographer said, more fun than masturbating in your girlfriend's hair.
Photos by Carl Byron Batson. Not to be reproduced without express prior permission.