[dropcap style="font-size:100px;color:#992211;"]H[/dropcap]
uxley-Parlour Gallery present Cosmati Floor and Wax Fruit, the first solo exhibition of works by London-based painter Ella Walker.
The Glasgow School of Art graduate has already gained widespread recognition and had works shown at EMBASSY in Edinburgh, Christie's in London, and in the 2019 Great Women Artist's residency at Palazzo Monti in Brescia, Italy.
Walker's practice combines painting, drawing and fresco. Inspired by medieval narrative and costume, her highly stylised works often directly reference Renaissance and medieval iconography. The new body of work, produced in 2019 and 2020, draws on a collected archive of varied imagery, and explores notions of stage, spectacle, desire and design. The exhibition will include both large and small-scale works, as well as a series of banner-style canvases and a fresco-like site-specific mural.
Walker is interested in performative spaces, both public and private, and her compositions look to rituals of procession and pilgrimage and yet are alive with a rich and hedonistic carnival atmosphere. Walker's paintings recast female subjects from both literary and art historical sources into new environments, and given both agency and power in the reclamation of their stories. Harnessing the viewer's gaze, Walker's protagonists are in turn confrontational, seductive and playful.
Stating the works are "lyrical in their creation", Walker works intuitively, building her paintings through layers of thin brushstrokes and repeated marks to create a textured surface. Formal devices in the paintings, including translucent curtains and veils of smoke, disrupt the narrative of her work, while pattern and colour further disrupt and complicate the structure and storytelling of her work. Bodies overlap, writhe and contort themselves within the shallow space of the pictorial frame, their highly ornamented figures shifting and stirring within their stage-like setting.
Cosmati Floor and Wax Fruit runs at Huxley-Parlour Gallery from 19 March – 18 April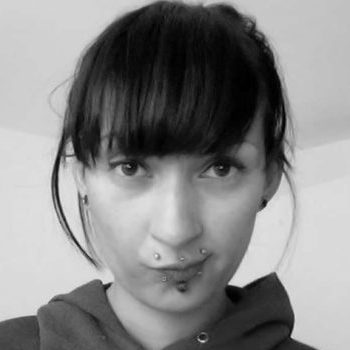 Naila Scargill is the publisher and editor of horror journal Exquisite Terror. Holding a broad editorial background, she has worked with an eclectic variety of content, ranging from film and the counterculture, to political news and finance.