[dropcap style="font-size:100px;color:#992211;"]C[/dropcap]
adogan Contemporary present yes I said Yes, a solo exhibition featuring new works by acclaimed American artist Elise Ansel.
Central to Ansel's project is her practice of translating Old Master paintings into a contemporary pictorial language through the lens of feminine subjectivity. She uses an idiom of energetic gestural abstraction to mine historical imagery for colour and narrative structure, abstracting and interrupting the representational content, in order to excavate and transform meanings and messages embedded in the works from which her paintings spring.
Comprised of over 15 paintings, the exhibition includes responses to masterpieces such as Titian's Rape of Europa (1560–62). Ansel transforms scenes of violence against women into images of consensual pleasure. "Painters of that era used mythological content to explore eroticism," Ansel says. "My attack is on sexism, not on sex. My intent is to reclaim the erotic energy and discard the violent coercion. In Titian's painting, the strength of the male aggressor is re-enforced by the agency of the male painter. I reverse the polarity. The heretofore silent object (of the male gaze) is granted agency and becomes the subject, the author of the narrative, which she has the power to change."
At face value Ansel's work is not overtly political or feminist but by applying her contemporary female perspective to centuries-old male works of art, Ansel addresses art history's hegemonic and often misogynistic narrative, as well as the continued gender inequality in our society. Says the artist: "I flip the orientation and use abstraction to interrupt a destructive narrative and transform it into a revel of colour, movement and asymmetrical balance, building on what's already there to create something new."
yes I said Yes runs at Cadogan Contemporary from 1 – 18 October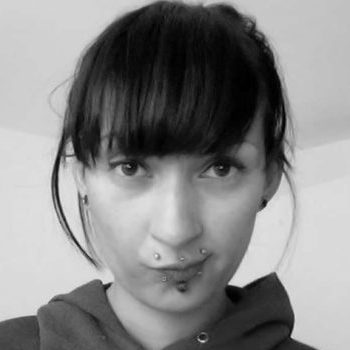 Naila Scargill is the publisher and editor of horror journal Exquisite Terror. Holding a broad editorial background, she has worked with an eclectic variety of content, ranging from film and the counterculture, to political news and finance.