[dropcap style="font-size:100px; color:#992211;"]O[/dropcap]verseeing the residential arm of SHH Architects, David Spence is the 'S' in an architectural partnership creating elegant spaces and buildings which strive to be both functional and fun.
Alongside Graham Harris and Neil Hogan, Spence is a RIBA certified chartered architect who hails from a family which lives and breathes the profession (he is of the third generation to follow the trade). Eradicating 'architectural acne'; calling out the miserly ambitions of a profit-centric approach to residential developments; and rightly reminding us of the near-magical structural qualities of concrete, David Spence answers Trebuchet's questions in a manner which demands a fresh evaluation of the preconceptions we all carry with us with regard to the design and function of our built environment. Bravo!
---
What is the best compliment your work has received & why did it mean a lot to you?
When we presented our Wimbledon 26,500 square foot new build, contemporary, private residence to the planning committee at Merton council (which rather worryingly included three architects on the panel) and they said SHH should enter the design for an award when it is completed!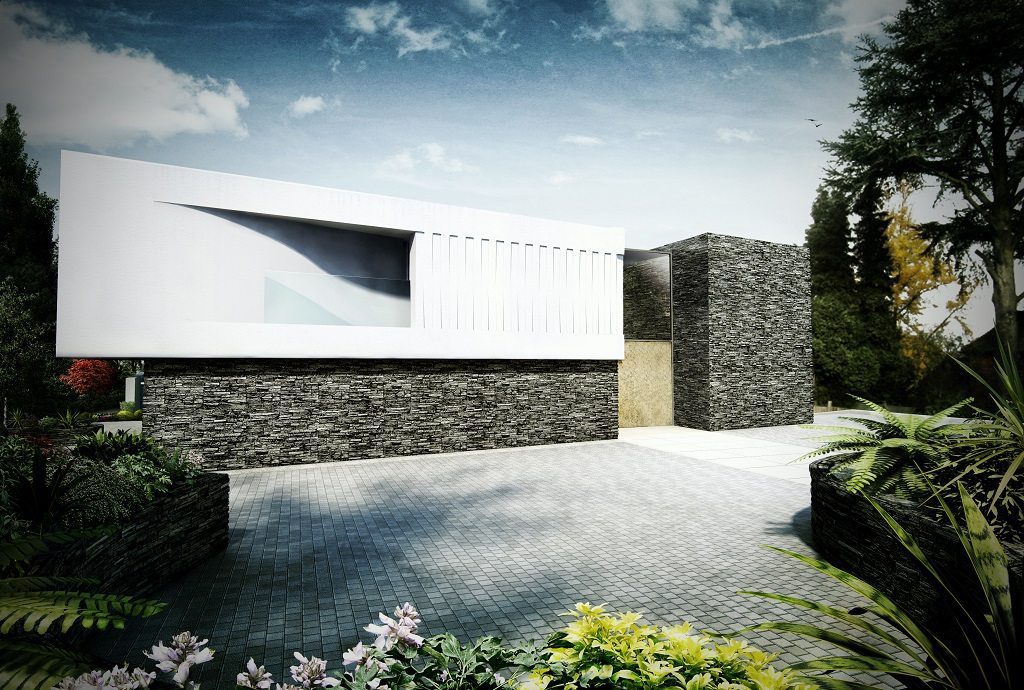 What's your favourite building?
It's very popular and for so many reasons. A timeless, sublime piece of residential architecture, where man and nature balance in perfect harmony: Falling Water by Frank Lloyd Wright.
Tell us about the biggest and smallest thing you have designed.
Biggest: A 48,000 square foot home (palace!) for the Royal family of the Kingdom of Bahrain
Smallest: When SHH was starting out, a contemporary house in Pilgrims Lane, Hampstead, London for which we were shortlisted for the Manser Medal (which celebrates the best one-off houses in the UK).
Is creating something iconic always the goal & if not why?
Not really. Creating something beautiful and functional is always the goal in architecture. An iconic piece of design tends to be driven by a specific brief or the ego of the designer.
Can we ever reconcile our need for building shelters with our emotional requirement for green spaces?
Green spaces have a proven sustained positive effect on all our lives. They are a great benefit to our environment. They filter pollutants and dust from the air, provide shade and reduce erosion of soil into our waterways. In urban locations where land is of essence, green spaces are often only provided when as required by the regulations. It is the harsh reality of economics that dictates what balance there is between building mass and the provision of green space. We often try to integrate greenery into builds when we can such as the green roof we created at our Fitzroy Farm project.
Does your architecture have its own voice?
As with most designers, we strive to make our houses different, beautiful and functional. It may seem obvious, but even the most beautiful of buildings will never work if they don't fulfil their function. The key to design success is in the plan and the sections, how spaces flow into, and between, themselves.

What gives our buildings and houses their own voice is how they operate and feel through the elements of space, geometry, light and the materials and textures.
We think our black house, The Grande House in St James, London, echoes all these principals.
….
The full version of this interview will appear in the printed edition of Trebuchet Magazine available to pre-order here.
Images courtesy of SHH Architects.

Sean Keenan used to write. Now he edits, and gets very annoyed about the word 'ethereal'. Likely to bite anyone using the form 'I'm loving….'. Don't start him on the misuse of three-dot ellipses.
Divides his time between mid-Spain and South-West France, like one of those bucktoothed, fur-clad minor-aristocracy ogresses you see in Hello magazine, only without the naff chandeliers.
Twitter: @seaninspain