[dropcap style="font-size:100px; color:#992211;"]I[/dropcap]n 1954, Aldous Huxley published The Doors of Perception, a collection of personal essays including several about his experiences taking mescaline.
As explained by Amy Jones for The Double Negative, Huxley looked to hallucinogens as a way to access "the limits of the mind and [open] it up to experiences and interpretations of the world around us."
Initially, Huxley was pilloried for proposing such radical ideas. Yet as US involvement in Vietnam grew alongside the fight for civil rights throughout the following decade, many started to embrace Huxley's philosophy as a means to access a heightened sense of awareness in the face of political unrest.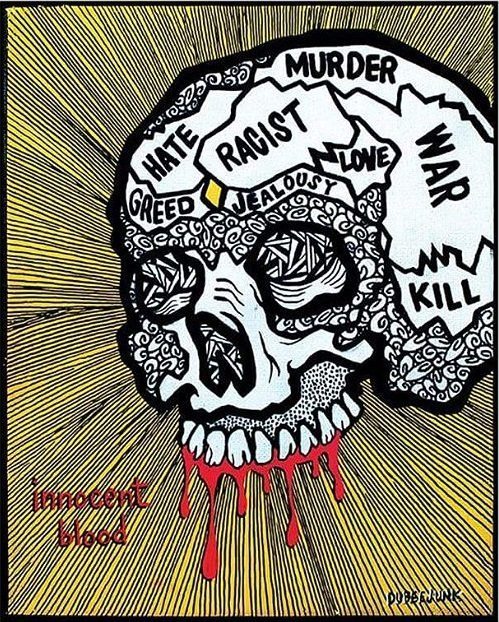 Despite the connotation that has long existed between psychedelia and drug use, the creative endeavors that came from this counterculture are what remain most emblematic of the movement and, as of recently, have found their way back into pop culture. In the foreword of Juxtapoz Psychedelic, Hannah Stouffer suggests that the reason for this comes from one of two sources: either "a sense of nostalgia for a once rebellious and idealistic time, or [the] desire to reincorporate [the movement's core] principles into our lives" since, much like the Baby Boomers who came of age in the 1960s, today's Millennials have grown up in a tumultuous era marked by a prevailing uncertainty about the future.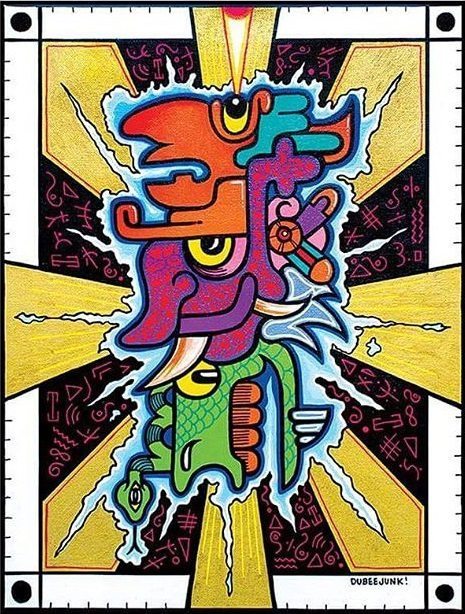 Whether a political agenda is at the heart of Erick Yanez's art-making process, I cannot say, but there is no denying that his work is defined by the visual motifs that commonly characterize psychedelic art, such as Art Nouveau-inspired curvilinear shapes, Op Art-inspired geometrical abstractions, and Pop Art-inspired vivid and contrasting palettes of color.
I first met Yanez (a.k.a. Dubeejunk) last while covering an exhibition in which his work was featured. He had just started working on larger canvases. Prior to the show, he had been working almost exclusively on blank packing-stickers no larger than a smart phone. What began as black and white doodled scrawls done during his down time at work evolved over time into dreamy distorted landscapes that began to embody a mystical quality, similar in style to the works of Oliver Hibert and Skinner, among others.
At the urging of his friends and fellow artist Darby Krow (with whom he often collaborates), Yanez began to take his work more seriously and has since been turning out a steady stream of work. Since then, his work has been exhibited at a number of Californian venues including Vapegoat Gallery, The Boshin Gallery, RIT Gallery, The Vex, The Inn Gallery, The Airliner, Mr. T's, The M-Bar, L.A. Vapor Lounge, and 2nd Street Cigar Lounge.
What proves most inspiring about Yanez's work is the attitude he takes when approaching a new project. None of his work is preconceived. Rather, he allows his pen to take the lead, and in doing so, he doesn't just activate his subconscious, but he embraces the true sentiments of psychedelia by letting down his inhibitions and allowing his mind to explore new avenues of thought.