[dropcap style="font-size:100px; color:#992211;"]A[/dropcap] longstanding staple of Los Feliz, L.A., Ye Rustic Inn  is one of the few businesses that has managed to withstand the radical transformation of the neighborhood over the past two decades.
Established in 1971, the bar has not changed. Walking through its door is like walking into a time capsule. Classic rock plays on the jukebox, neon signage glows on its walls, and faux leather booths that run parallel to the bar surround brown Formica tabletops.
Directly next door and in what once housed the bar's unused wares sits The Inn Gallery, which offers a completely different experience. Motivated by nothing other than a pure love for art, Jana Pitlova, Ye Rustic Inn's manager, saw an opportunity and asked her employer if she could transform the storage space into a gallery to showcase the work of local artists.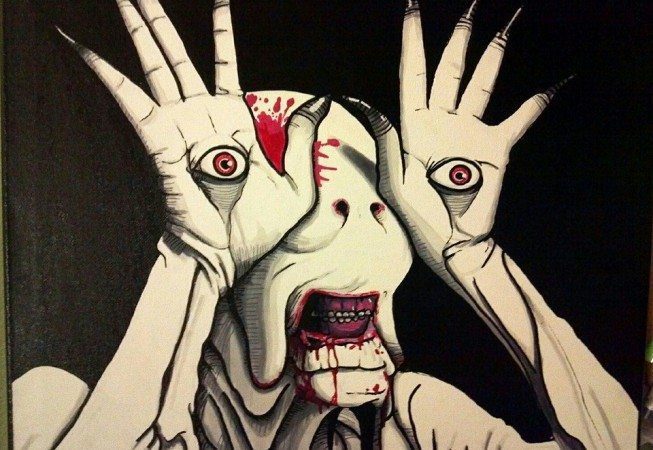 Darby Krow, 'Eyes to See'
Dubbed by the Boshin Gallery as "one of the most promising artists in Los Angeles today," Darby Krow is one of the many talented artists included in the gallery's fourth showcase. His in-your-face iconic imagery which he creates by mixing ink, acrylic and oil together on canvas is anything but forgettable.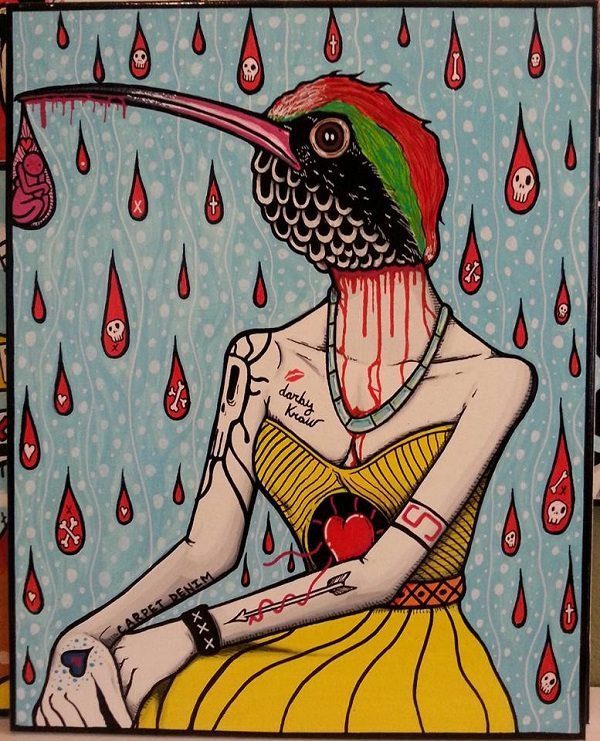 Initially known for working in a limited palette of red, white and black, his newer pieces demonstrate a distinct change in direction. Greens, oranges and even pinks are appearing with more frequency in his art and as a result Krow's already bold and distinguishable style is becoming that much more intense.
At the exhibition opening, I had the opportunity to speak with Krow and in doing so was awestruck by the amount of work he says he turns out per week. He spends approximately fifteen hours a day making art and estimates that he's produced about 450 pieces in the last year and a half. Needless to say, the guy is prolific and his overall attitude inspiring: "I'm happiest when creating, I love learning new things and pushing myself. I'm fueled by anxiety and a need to create. If I'm not painting or playing music, I [just] don't feel right."
[button link="http://www.darbykrow.com" newwindow="yes"] Darby Krow[/button]