[dropcap style="font-size:100px; color:#992211;"]D[/dropcap]avide Carbone is one of several Italian-born, Berlin-based techno producers but while he may have been drawn to city for similar reasons to his compatriots, the results of his work there are absolutely specific and individual.
In the [psychological] case of this dual release, it is the work of his creative "evil twin", Honzo. Das Unheimliche is an ambitious and unusual mini LP in two formats, a techno-oriented 12" and a more abstract/noisy cassette version. Codex Europa spoke to Carbone and/or his alter-ego to learn more about the background to the project.
What is your stylistic/cultural background?
I was experiencing a lack of certain cultural input in the place where I was born, where I couldn't really find the right stimulations. Since [a] young age I had the need to move away, explore and meet new people. As a teenager I choose to join a music class with some friends, then I moved to the north of Italy to study Psychology and as soon as I finished I moved to Berlin to work on the labels and focus 100% on my life. I'm 28 years old and my background is continuously evolving. I'm mostly shaped by experiences; especially friendships, electronic music with all his nuances and study of Psychology.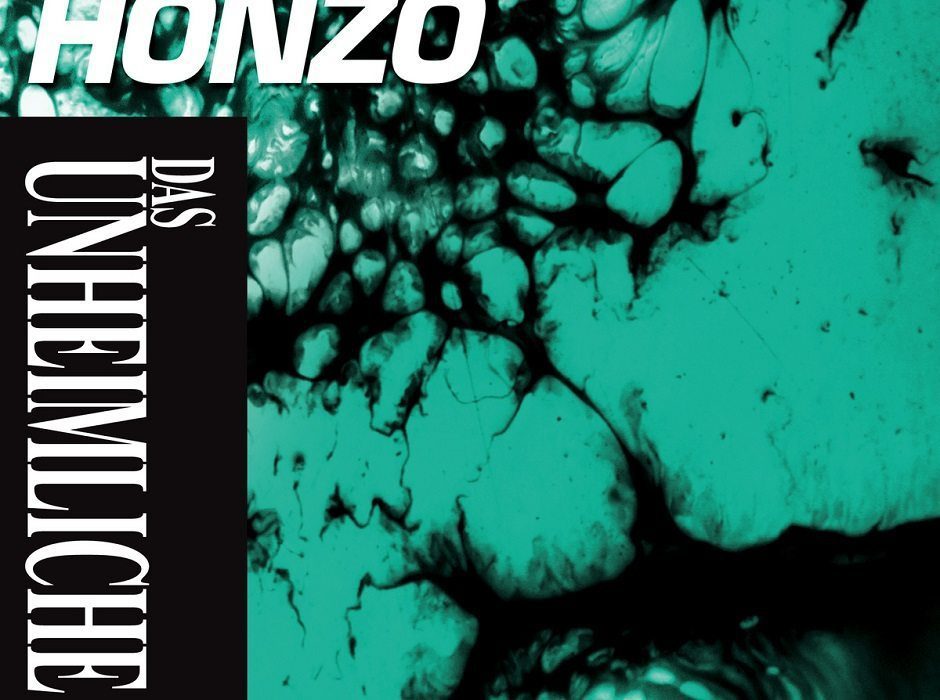 What are your influences, both within techno and beyond?
My influences mostly comes from the UK electronic music (Techno, IDM, Ethno-electronica), Dutch Acid Techno and a bit of Detroit music, most of it comes from the 90's. I can mention some of my favourites: Jeff mills from Detroit, Brian Eno, Muslimgauze, Autechre, AFX, Surgeon, Regis and many others from the UK, I-F, Unit Moebius from Holland, Monojunk from Finland.
Honestly, I think that the influence of an artist is also related to frequencies, regardless of the genre and to the way that the artists make their productions, at least for myself.
Actually Techno, Electronic or other genres are just labels that allow us to quickly categorize and recognize it in our mind. I don't think my Techno sounds the same as what contemporary producers are now making or what usually lately is called Techno. It's not worse or better than the others, it is just different, it reflects who I am.
Your music is described as " post-apocalyptic" – could you tell us more about this and how you translate this sense of hopelessness into techno?
I really like that people define my music like this but I don't think we can already call it "post". I think music is going to change a lot, it's getting harder, faster and with more elements inside, compared with the last 15 years, the good music is returning to the game, this 90's hard vibe is coming back… and I do like it a lot. When all this will be stabilized we can call it "POST"….
How far ahead are these " post-apocalyptic" scenarios in your view? Are they actually reflections of the present or do you have more distant apocalypses in mind?
I think they are the reflection of the present. Since I started to make music I have always had this will to establish a solid crew, with one vision and one aim. In the beginning it was frustrating because it was hard to find the right people and make it happen, but recently we were able to create a very solid Techno crew with Ascion, Gaja, Lucindo, AnD, Shapednoise, Violet Poison and Mike Parker. It's not about money or the -to be famous- kind of thing, music is about friendship, mentality, community and sharing. We make it for love! I have grown up in the most shitty musical period. After the 90's, the first decade of the 2000s was quite bad in comparison.
When hi-technology arrived in the music production, we witnessed the biggest expansion of music makers. At the same time, the digital market was growing and it was ready to flood the world with billions of labels and new "artists". That was good for some aspects but like all the good things we were not able to properly manage it.
I love the physical format, I am into the digital as well, but I think there is a point where the artist must give a different importance to his work, they cannot overwhelm the market with billions of releases. I mean not all the tracks are good and people must not see music as consumer goods only!
Music should be more regarded under the Quality aspect rather than the Quantity. There is plenty of temporary music out there right now. The format does not matter but the intentions of the producers do. They must give the right value to their own artistic goals.
If the Artist is looking at tracks just with a consumer eye, the track will "expire" after a month. If your intentions are poor and just related to make money or to try to become famous, they will fall as soon as you release, like goods at the supermarkets!
If the present world is in a pre-apocalyptic state, did (some) techno actually contribute to this by uncritically celebrating unrestrained technological progress?
I'm sure yes, the changes come from little things and we will recognize it only when they will become bigger.
You have an interest in psychology and this release seems to refer to Freud's concept of Das Unheimliche (the uncanny) – how does this interest influence or manifest in the music?
I have [had] a strong interest in Human Psychology since I was young. The LP title refers to Freud's concept but I don't want it to be a Freudian manifesto. I've always been fascinated by the concept of the uncanny and the first time I've studied it was in Freud's writings on art and literature. [It was] for this reason I choose to title the LP like this. My aim is to find something that could fit with psychology, music and the figure of Honzo, as I did on my first EP D. Carbone meets Honzo – in a Bipolar Disorder. If you look at the titles there are also references to Lacan and Jung.
I would like to explain some interrelation between me and the titles of the tracks:
Honzo is my double (Il doppio). He is the twin of myself (Gemello di me stesso). Sometimes I desire to be Honzo, sometimes D. Carbone, sometimes just Davide in a continuous desire to be the other one (Il desiderio dell'altro). The desire of being something inanimate makes me fall in the "Uncanny Valley", this feeling is stranger and familiar at same time (Estraneo e Familiare). The unconscious desire come up like unconscious noise (Rumori Inconsci). I love Honzo and I feel it through other personalities, so the only way to be safe is to live each personality in the present moment.
It is the only way I feel at home.
What do you imagine the psychological effects of your work may be on your listeners? Is your music intended to be somehow therapeutic or cathartic or does this matter, is it just an exorcism of personal fears?
While I'm making music is like going somewhere else with my mind. I'm usually alone with my emotions and I can focus on. It is like letting fall the social mask, giving myself to the people without any defence. My music is not intended to be therapeutic or cathartic for everyone, of course. I feel it as cathartic while I am producing and therapeutic when I listen to it. My music is reflecting myself, my life, my problems and my difficulties but at same time my will. Honzo's music has different psychological aspects inside and it could works as therapy for some people that have similar feelings.
Which other current artists do you think are doing similar work?
I don't want be arrogant but I think no one is doing music like Honzo. I don't say it is a better or worse output, it is just different. I'm not making only Techno, noise or whatever, I don't want Honzo to be gender-labelled. I want people to recognize my music. You can listen to my Secret Thirteen live-set podcast, I tried to develop it with continuous time range changes and switching between straight, broken and less beat, offering different music sensations. It's a Feelings-Based project and not a Target-Based project
Artist: Honzo
Title: Das Unheimliche
Label: Haunter Records
12" / Cassette Tape SPCTR002 // HR010