[dropcap style="font-size:100px; color:#992211;"]K[/dropcap]
inks co-founder, guitarist, and singer Dave Davies is not an easy man to pin down for an interview.
For Kinks fans, talking to the indomitable spirit known as Dave is the Holy Grail of interviews. But it's more like talking to Tim the Enchanter from Monty Python and the Holy Grail, except that he's wearing a natty fedora adorned with a Sikh symbol instead of horned headgear, he's wielding a Gibson instead of a magic staff, and you are permitted to ask – rather than answer – these questions (of the five provided, two of them are predetermined by Tim… I mean, Dave). Only then can you cross the Gorge of Eternal Peril.
After the Kinks' last album To the Bone in 1994 Dave's solo work at first was few and far between (very early solo work, outtakes, live albums, collaborations, and finally I Will Be Me, a studio album consisting of all new material), due to his perfectionism as well as unforeseen health issues. Then there was an outburst of creativity in a few short years, resulting in Rippin' Up Time and, most recently, Rippin' Up Time in New York City: Live at the City Winery, a live offering from last year.
The live album, part TARDIS and part sonic Back to the Future, is heavy on Kinks songs (I'm Not Like Everybody Else, I Need You, Creepin' Jean, Susannah's Still Alive, See My Friend, Strangers, Death of a Clown, Living on a Thin Line, Flowers in the Rain, You Really Got Me, All Day and All of the Night, Where Have All the Good Times Gone) and light on solo work (King of Karaoke, Front Room, Rippin' Up Time), but meticulously supported by a tight, young backing band.
All this from a man whose inspirations include Big Bill Broonzy, Chuck Berry, Mike Picker, George Formby, the Ventures, Burt Whedon, Duane Eddy, jazz greats Barney Kessel and Tal Farlow, Rick Nelson, Lonnie Donegan, James Burton, Eddie Cochran, Leadbelly, and anonymous purveyors of American country twang.
In contrast to brother Ray's laid-back, grand old man solo Storytellers mode, Dave still wants to rock.
Dave kindly took time out of his recent solo tour to answer a few (okay, five) questions about his life and career.
Trebuchet: Since you've had such a wonderful burst of creativity over the last few years and have been able to record your solo work your way without having to negotiate or compromise with band members, do you feel like less of a "team player" now?
Dave Davies: Of course not. I feel more of a team player when I have interaction with my band and producers.
Trebuchet: You included Kinks songs "Susannah's Still Alive" and "I'm Not Like Everybody Else" on Rippin' Up New York City. How do you feel differently about those two songs at this stage of your life?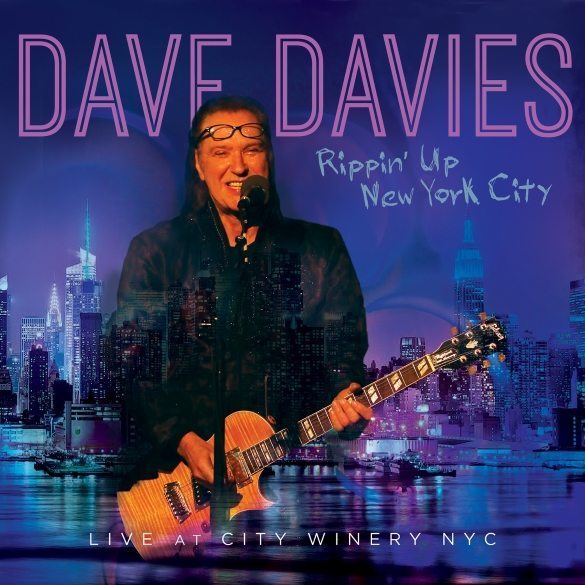 Dave Davies: I can do them in a heavier fashion. They're good songs to play live on stage.
Trebuchet: What inspired you to switch from Gibsons to Teles and then back?
Dave Davies: I have switched back to playing mostly Gibsons. I play a Gibson Nighthawk now. I like the variety of tones I can get out of it and the crunch. I play a Gibson Songwriter Deluxe cutaway acoustic. It's beautiful to use on stage. It handles really well.
Trebuchet: As the innovator of the raunchy power chord (maybe the inventor), were you inspired by The Ventures to play that part of a chord (root + 5th) instead of full chords or did you get the idea from a different guitar player?
Dave Davies: The Ventures' rhythm guitarist was an inspiration to me, and I invented the guitar sound on "You Really Got Me" when I slashed the cone on my Elpico amplifier in a fit of rage. The Ventures chord was a root, a fifth and the next octave up, the G on the D string. Yes, it was influential but I didn't copy it. It inspired me to work out my own way of playing.
Trebuchet: About the upcoming tour, you're playing some historic theatres like the Stone Pony. What do you like best about venues like that and the Wilbur or the Egg? How are they different from similarly sized venues in the UK?
Dave Davies: All the shows I picked because I liked the intimacy of the rooms. They all went great, and we had a lot of fun. The Stone Pony was a great show and great small club to play. The Uptown in Napa had a great sound, and they obviously looked after the place.
Dave Davies' last scheduled tour date of the year will be on 18th December at Islington Assembly Hall in London