[dropcap style="font-size:100px; color:#992211;"]D[/dropcap]arren MacPherson is a contemporary artist pushing the boundaries of fine art and interspersing them with modern imagery.
From Korean and Japanese Pop culture to graffiti, tattoos and comic books, MacPherson's inspiration is varied and results in unique expressions of what modernity is.
"I'm totally drawn to urban decay and the beauty found within it. I went to New York about seven years ago and found myself photographing lots of doors and old walls that had years of graffiti showing through, layer upon layer.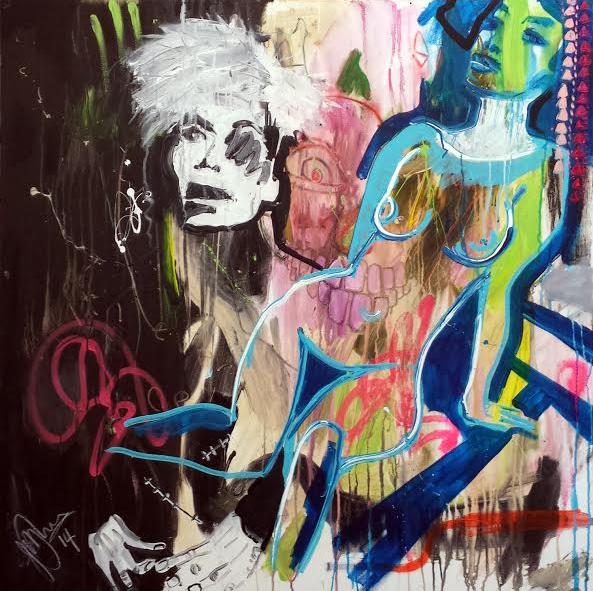 Darren MacPherson, 'Andy Warhol Ate My Geisha'
It struck me as beautiful but I also felt the history of it, so many individuals making their mark, whether it was a well thought out stencil or sprayed piece, or just a tag over someone's paste up. It all felt relevant, it felt like I was viewing a lifetime through those layers."
Paint something on, take some away
Elaborating on his varied style, the West London-based artist comments, "I try to capture this in my painting; paint something on, take some away, paint some more on and so on.
However it's still important to me that there is some technique involved, hence the tattoos and more 'painterly' elements of my work; I always feel a need to challenge myself in painting new and different references, although they all relate to me personally."
MacPherson often incorporates femme fatale characters in his artworks. They pose seductively at times, whilst others demonstrate pure amusement, or curiosity, or contempt. Speaking about his painterly harem, MacPherson muses, "I guess I haven't really considered them as femme fatales, although I can see the connotations, some people asked early in my painting career, why I always painted women and my answer was simple; that I found the line of a female infinitely more interesting than the line of a male."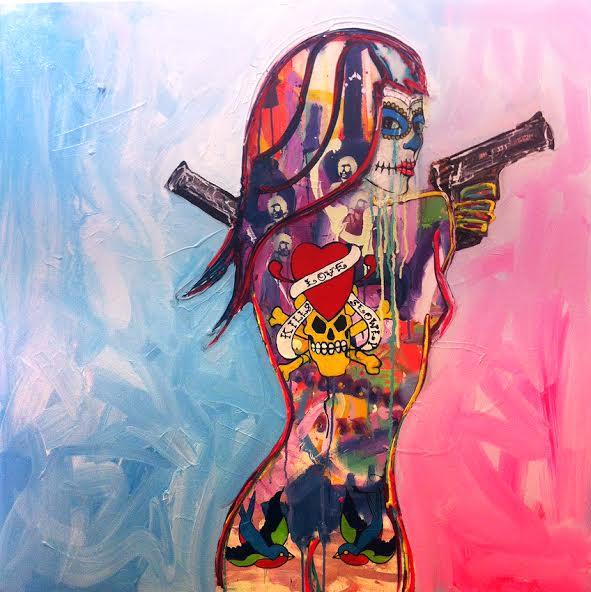 Darren MacPherson, 'El Amor Dia de la Muerte'
Speaking about the way in which he displays these colourful characters, MachPherson states, "I'm inspired by strong women and have always tried to convey a sense of strength and independence in the female forms I've painted. Whether I achieve that is not for me to say, but hopefully I do, but maybe that's where the 'femme fatale' label derives."
Nudity/Erotica?
Although some of MacPherson's nudes appear to use [quote]It's never about the figure,
always about the painting.
I know some people will
view it as erotica but I
can't control that[/quote]the established visual language of erotica at a time when the commodification and codification of women's bodies seems to be a facet of mainstream media, he claims this is not the case,
"I don't see it as erotica, I've always aimed for my painting not to be over-sexualized. It's more about the line and the form and the paint thereafter, the figure is a vehicle to represent the paint, the colour, the texture. It's never about the figure, always about the painting. I know some people will view it as erotica but I can't control that, nudes have appeared in paintings for centuries, even the old masters represented nudity but not necessarily erotica."
MacPherson's signature style often results in a visual extravaganza of bold colours clashing together to create vivid visual circuses, often incorporating tattoos, make-up and layering acrylic and spray paint, causing a medley of textures. "I consciously use every technique that I possibly can or am capable of achieving; and if I cant achieve it, I'll keep trying until I do. I used to paint much more sombre, traditional pieces but I wasn't happy with that, I wanted to break out of that boring and stressful way of working and go for something much more powerful, emotional and expressionistic" says MacPherson.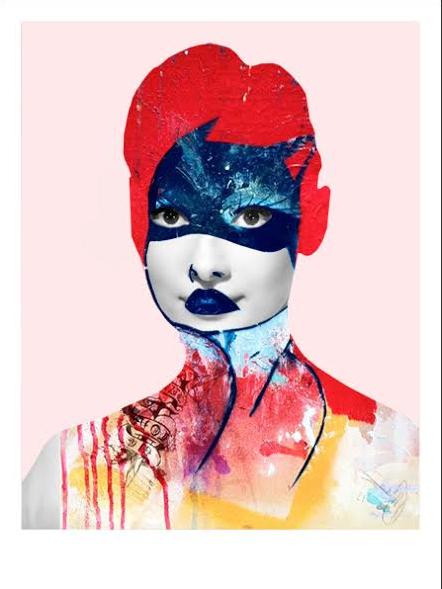 Darren MacPherson 'Don't Believe the Hep…Yo'
What is also evident in his work is the use of stenciling, creating yet another dimension to his works. "I use some hand cut stencils, and lots of spray paint, but do try to keep my main style to a painterly one. I love the texture of impasto style painting and the way colour can meld and bind together; I have completed many abstract pieces in the past that just involve colours blending together."
First Create Chaos
MacPherson notes one of his influences as Richard Diebenkorn, referencing that the Twentieth Century American painter once said "If you get an image, destroy it." Admitting that he first creates chaos, before he starts planning his works, MacPherson likens Diebenkorn's statement to his own practice "Studying Diebenkorn I take this to mean that if you are not fully satisfied with it, keep working it over, don't just remove it or totally paint over it, but work it into the painting until it comes alive."
Noteable in MacPherson's works are his quirky titles that really tell a story, MacPherson explains his use of these attention grabbing headlines, "Titles are really important, I know some galleries that don't display the title and every artist I've met has commented on how important to them the title of a piece is. I don't think it necessarily relates to the piece but more to the artist; what influenced that work, how were they feeling at that particular time."
Continuing, he explains one of his comic titles "'The Return Of Ghostdog' nods a head to mainstream Japanese culture but in the form of a savvy, centered character from a movie called Ghostdog: The Way Of The Samurai. The figure in the piece isn't necessarily a direct representation of that character but more like 'Ghostdog 2.0'."
Not only referencing different cultures in his work, MacPherson also pays heed to films. With his paintings such as 'El Amor Dia De La Muerta' being inspired by seductive gangster films, the artist notes the role moving image takes in his process, "It plays a big part for me, I acknowledge that. I have even taken stills from movies and worked the image into a painting. My piece 'An Inconsequential Truth' was inspired by a still I took from an REM video,
I changed certain elements but the impact the song and the music video had on me were profound and that continues to be the case with movies now."
Continuing, the film-loving painter states, "Movies are moving art forms and we as artists can learn so much from productions and transfer that into our own chosen discipline."
Contemporary collectors
Having established himself on the emerging art scene, and having shown at a number of London based galleries such as Cultivate Gallery and Salon Gallery, MacPherson talks about how his practice has been launched into the art market, and his rise to being considered hot property by contemporary collectors, "I've been involved with some terrific exhibition spaces and been on the receiving end of some incredible mentoring over the last three years. Presently, DegreeArt have been able to take my work to a new and different level, they have some incredible artists on their books and that can only push me and make my painting processes better and better."
Continuing on his work with the online art gallery, MacPherson also notes previous experiences when he was invited to paint one of the gallery walls at their east London show space "…it was a liberating experience as I don't view myself as any sort of street artist or a live painter, so to have that opportunity was great."
Concluding on his experiences so far, MacPherson deliberates "My advice to any graduating or aspiring artist is to take whatever opportunities come their way, just get your work out there."
[button link="http://www.degreeart.com/users/darren-macpherson" newwindow="yes"] DegreeArt/DarrenMacPherson[/button]