[dropcap style="font-size:100px; colour:#992211;"]C[/dropcap]ambridge Folk Festival 2018 poured the perfect mix with the extended weekend getting off to a flying start on Thursday with the fast and wild trashgrass of Whiskey Shivers. With a lead singer sporting a full-on small town Americana mullet and an appearance in Pitch Perfect 3 under their cowhide belts, their cheeky punk-infused bluegrass got the early-comers whooping, hollering and pulling some moves. As the festival drew to a close on Sunday evening, those left standing were treated with a choice between folk raving to the Peatbog Faeries on the main stage or listening in awe to the ethereal heartfelt crooning of Beth Nielsen Chapman on the second stage, a voice that conveys both the depths of personal tragedy and the exuberance of a life lived to the full.
And therein lies the strength of Cambridge Folk Festival. Far more than a meeting of beardy real ale connoisseurs with mandolins,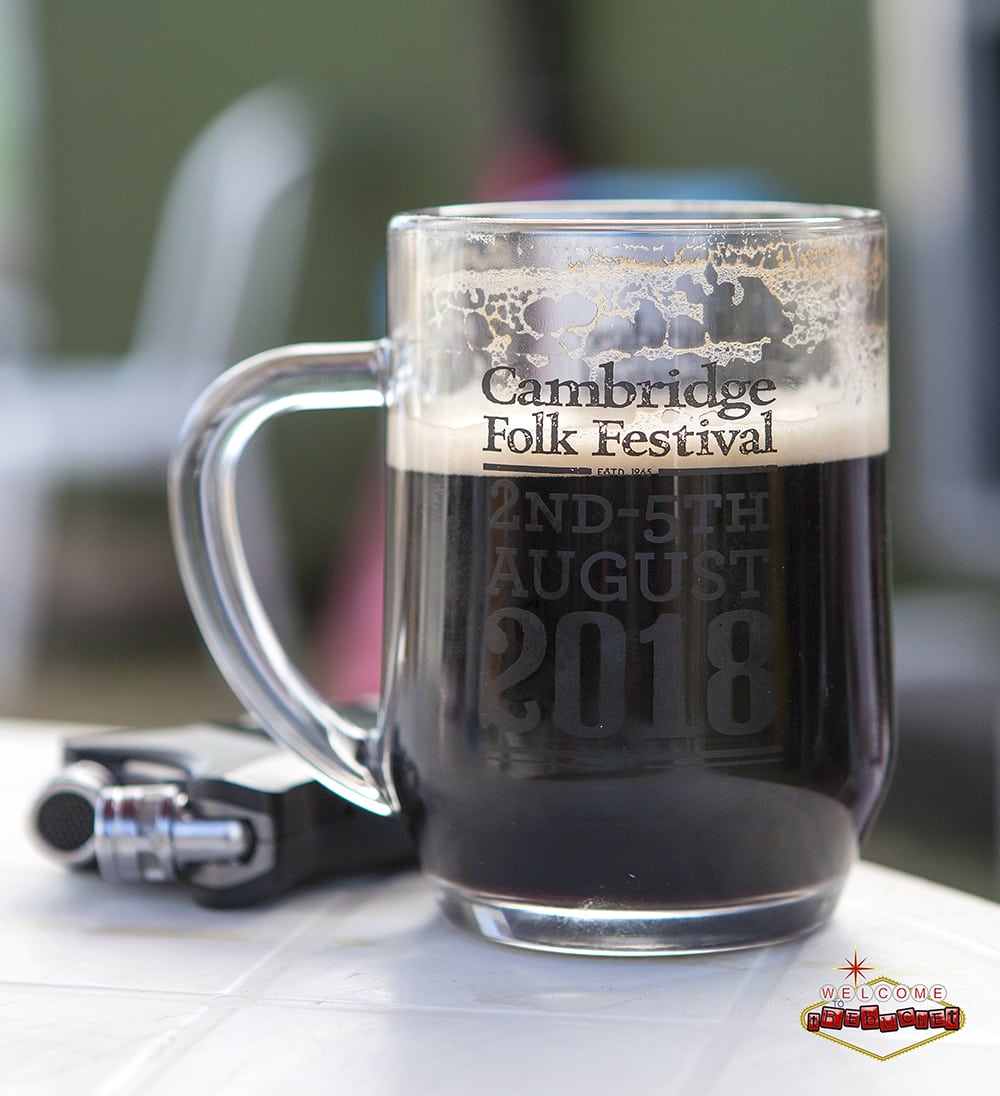 although they are not neglected, the festival encompasses folk music in all its traditional and contemporary forms, whilst pushing the boundaries and opening up new audiences. From grandparents and grandchildren having a go at the workshops, or just relaxing in the sun, to eighteenth birthday celebrations, the festival is large enough to attract established headliners while creating space for promising newcomers but small enough to retain its accessibility and friendly atmosphere. With four stages plus numerous workshops, activities and jam sessions, the only problem was an excess of choice.
"Couples held on tightly to each other and stole kisses under the stars as icon Patti Smith blasted out Because the Night"
Not everyone was there for the duration and plenty of day-trippers came down to swell the numbers for First Aid Kit on Friday and Patti Smith on Saturday. With some skilful scheduling, the headliners were on second from last enabling their fans to leave in time for the last train. As the Swedish sisters, First Aid Kit launched into Rebel Heart, it was clear that their blend of folk vocal harmonies with dark indie and rock, combined with a cool, assured stage presence, is taking the genre forward to a new and diverse fan base. Their cover of Kate Bush's Running Up that Hill fitted perfectly with their intense, quirky style.
Couples held on tightly to each other and stole kisses under the stars as icon Patti Smith blasted out Because the Night, a performance that silenced the doubters and showed that none of her punk attitude has faded, at one stage lambasting the crew with "Turn the smoke off! Seriously, I'm not Metallica. Get rid of the fucking smoke!"
This year's guest curator was Rhiannon Giddens, who not only played an exhausting number of sets herself, showcasing her talents vocally, as well as on banjo and violin, but put together an impressive line-up of her chosen artists. Particular highlights were folk legend Peggy Seeger, a fascinating performer personally, politically and musically; the formidably talented banjo player and singer; Kaia Kater, who invited a nervous couple on stage to waltz to one number; and the passionately joyous Americana folk of Birds of Chicago.
For those wanting to cut some rug, dancing opportunities were plentiful. The sparkly shoed St Paul and the Broken Bones closed Friday night with their theatrical Alabama style soul. The following day, Darren Eedens and the Slim Pickins, who had moved up from the Club Tent last year to Stage 2 this year, got the crowd on their feet and jumping around with an outstanding performance of banjo-driven bluegrass. It wasn't only the punters' toes tapping though with two East Coast Canadian bands bringing the foot percussion in very different ways. French speaking multi-instrumental trio Vishten had foot tapping boards to enhance their rhythms, while Gordie Mackeeman and His Rhythm Boys incorporated tap dancing into an energetic set that mashed up bluegrass, folk, swing and rockabilly into a potent blend. Fiddler Gordie could also be spotted around the site entertaining passers-by with some impromptu tapping and crazy rotating leg swings.
Although most of the acts hailed from Europe or North America,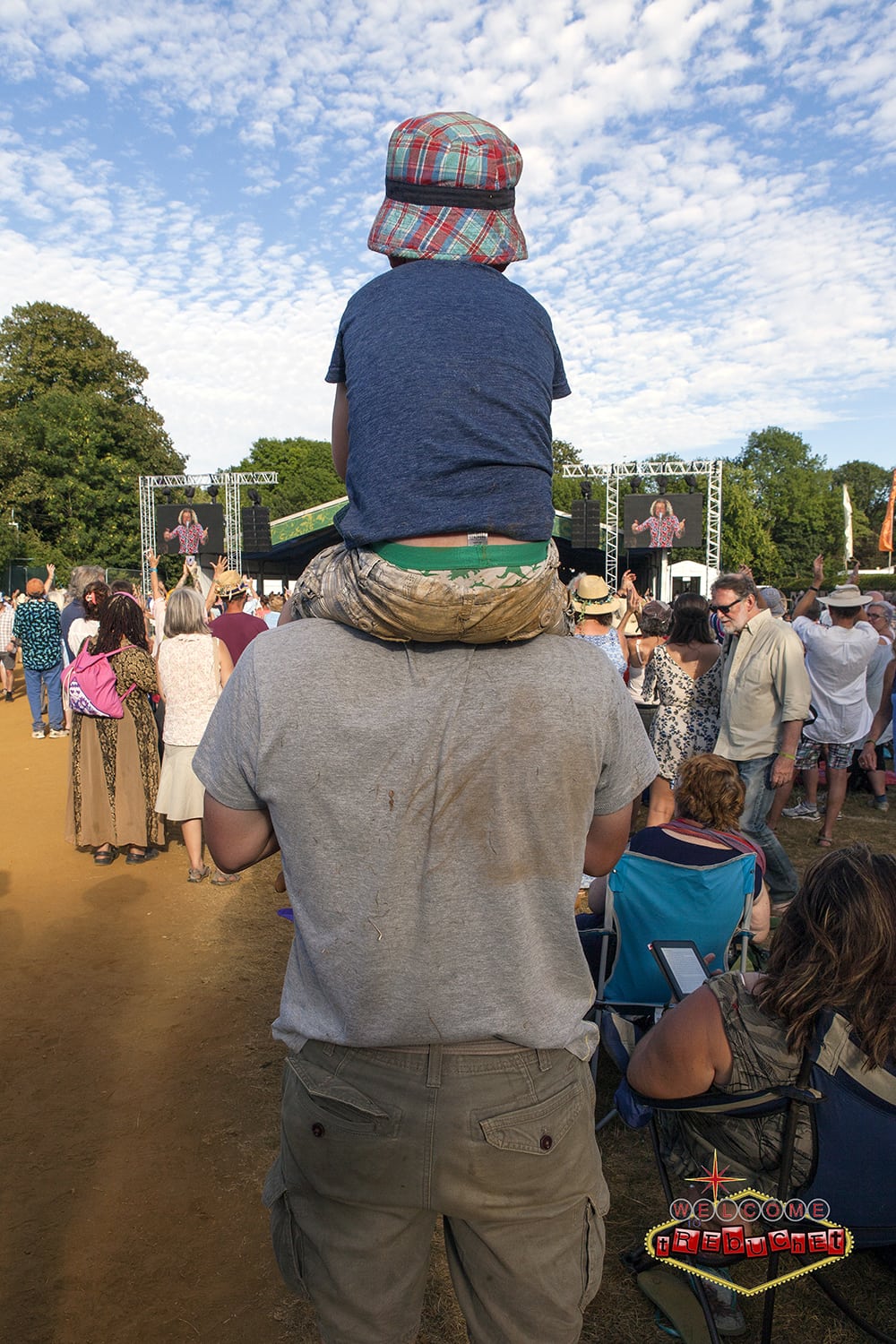 there was a strong showing from down under. With a burning intensity, William Crighton plundered the darkest reaches of his soul through songs of obsessive love, abuse and religion, delivered without disguising his Australian accent and at times without even using the mic. Well-humoured female foursome, All Our Exes Live in Texas, bemoaned the fact that their exes were actually in a folk band in Sydney. Their heavenly four-part singing of intelligent and thoughtful lyrics, together with ukulele, guitar, accordion and mandolin was a recipe for perfect indie folk pop. On a similar musical note, US four-piece boyband, Darlingside came to our attention at Cambridge two years ago when they were suddenly promoted to the main stage following an artist illness, after they had blown away the second stage. They made a triumphant return to the festival with their gorgeous, soft Simon and Garfunkel-esque harmonies perfect for a sunny Saturday afternoon. Speaking of which, newcomer duo O&O charmed The Den with a cover of Mrs Robinson amidst their own harmonious Americana.
The furious fiddling of the The Poozies, combined with their accomplished harpist and bouncy guitarist, sporting the brightest smile of the weekend, demonstrated that there is plenty of life in Scottish and Gaelic music and that traditional styles are constantly open to new interpretations. Songhoy Blues, originally from Mali, blended traditional African rhythms with Hendrix-style guitars to create their own trademark sound. For banjo lovers, the highlight of the weekend had to be virtuosos Damien O'Kane and Ron Block, whose fusion of the Irish and American styles provided inspiration to the next generation of pickers. A younger act also breathing new life into the folk genre is soft-spoken piper, Brighde Chaimbeul, originally from the Isle of Skye and winner of the 2016 BBC Young Folk Award, who returned to Cambridge to play two storming sets. Having travelled in Bulgaria and worked with pipers there since her last appearance, her music displays a richness and maturity beyond her years – surely a star of the future destined to bring her instrument to a wider audience. She was preceded on the main stage by a confident and skilled performance by the National Youth Folk Ensemble; all aged 14-18 years old, who left us with no doubt that the future of folk music is in safe hands.
There was no denying the power of the classic folk acts though. Legends and Grammy award winners Rosanne Cash and Janis Ian both played strong and emotional sets, while John Prine showed that he still has what it takes to transfix an entire field of people as the sun set. Eliza Carthy and the Wayward Band, as ever, took the main stage by storm with their infectious energy and enthusiasm, with Eliza entertaining the crowd with a few jumping jacks and stretches as they were setting up. Indeed humour and positivity permeated the entire festival.
On the final night, a chorus of "Oh, Jeremy Corbyn," broke out in between a couple of Peatbog Faeries' tracks and throughout the weekend many of the performers, both young and old, weaved in civil rights and political themes. Of course, folk music throughout the ages has acted both as a documentary history of lived experiences and as a call to arms. Representing the former, Stick in The Wheel graduated to the main stage with their rhythm-driven English folk tales, recounting working-class history throughout the centuries from the hardships caused by enclosure to the 2011 riots, showing the enduring relevance of folk music as social commentary. The hilariously witty and beautifully gravelled voiced Irish Mythen made the schoolgirl error of referring to Brexit, to which one of the crowd shouted, "That's democracy," which led to further mutterings, leading to her joking that she would retire to the back of the stage for a bit and return to play Kum Ba Yah after everyone had fought it out. Given that this was Sunday morning shortly after The Archers had been broadcast to the early risers and on a glass-free site however, there was no cause for concern other than a few pointed looks.
Sometimes, as we get slightly older, one wonders if music can affect you the way that it did when you were a teenager; as it did when you first attended a festival and stood amidst a sunburnt crowd, both part of the collective and lost in your own world experiencing the unadulterated force of a guitar and voice that makes your heart soar and your eyes well up. Everyone has their own special Cambridge moments but I had two eye wiping experiences that restored my faith in the power of live music to make a connection, from artists who truly give something of themselves in their performances. On Thursday night, protest singer Grace Petrie captivated the second stage with her ability to touch a raw nerve by articulating injustice, inequality, love, loss and hope with humour as well as passion and commitment. Also on the second stage, this time on Saturday night and overlapping with Patti Smith, John Moreland's raspy yet fragile vocal tones floated over his understated guitar picking and strumming, laying bare his vulnerabilities and demons in a spellbindingly unfeigned performance.
It's not easy to sum up such an eclectic and full weekend but as Cambridge Live Operations Director Neil Jones commented, "Cambridge Folk Festival 2018 has been an overwhelming success. We have been blessed with some stunning weather and some truly memorable musical moments on and off stage. We have been so honoured to have had Rhiannon Giddens as our guest curator and her contributions have really helped to create the musical landscape of this year's festival. We are already in talks with artists for 2019 so watch this space…"
Cambridge Folk Festival 2018, you made us laugh, cry and dance in the sunshine. Roll on 2019.
More festival photos coming soon, plus interviews with Grace Petrie, Stick in the Wheel and O&O.
Words by Sarah Corbett-Batson
Photos copyright Carl Byron Batson and Sarah Corbett-Batson. Not to be reproduced or used without express prior written permission