[dropcap style="font-size:100px; color:#992211;"]T[/dropcap]he body is an electrical emitter, receiver and network station. Interconnected points vibrate with pulse messages; somewhere amongst the thought,  signals and the noise of action there is some obscure deity called us.
Music changes us; the electrical impulses  coursing through our brains are changed when we make sense of auditory inputs. Sonic experimentation has long pushed the boundaries of what we consider recognisable as music. We've changed the setting, format, range, production, even the value of music as a cultural artefact,however, what has remained largely sacrosanct is the role of agency in the creation of music.
Starting from a shared appreciation of the creative possibilities of Michaela Davies' art-music explorations, Bad Seed James Sclavunos and the Australian avant-garde cellist explored how control might be exerted over musicians via EMS (electrical muscular stimulation). The resulting experimental productions marked the beginning of an exploration by the two artists into the role of the body in performance and whether physical agency and humanity are as closely tied together as most would expect.
Speaking to Trebuchet, Sclavunos and Davies (via a less painful electronic medium) described the history of the project and where this visceral investigation might lead.
James Sclavunos: Michaela and I first met at a Grinderman gig when the band played at a festival in Sydney. She approached me after the show and proposed a project that sounded pretty intriguing, that would have entailed me triggering MIDI impulses generated by my playing on a drum kit and these impulses would be turned into electrical stimuli that would control various muscles in her body. Now this sounded like good fun, but also didn't sound very… it sounded a bit S&M to me. Not that I have anything against that. I'm happy to go there if I'm paid the appropriate fee and I get to wear chains and a black leather bodysuit, but clearly this was a different kind of proposal.
In any case, the more I learned about what she was on about, the more interested I was in the creative potential and philosophical implications. But it wasn't until I had seen some actual footage of some of her pieces (in particular her 'dance' piece Subsoma) that I became very excited about the possibility of collaborating . Being a cellist, Michaela had already done numerous music-based pieces incorporating the EMS technology. I was specifically interested in collaborating on a musical piece that would integrate involuntary musical performance into a traditional score. The technology she was using was in fact pretty crude at that point, but there was enough potential there to encourage us to get together to see if we could come up with a diverse palette of sounds that could be produced exclusively by this technique.
"FM-2030 — Movements for Violin, Cello and Involuntary Quartet". Michaela Davies & Jim Sclavunos (2013)
In the very hot and humid summer of 2012, Michaela and I met up in Brooklyn, NY, and hunkered down with our laptops and her EMS set-up in my basement and we set about experimenting on each other to see what muscles controlled what sort of movements, and how those movements might interact with stringed instruments, and what strengths and durations and combinations of electrical stimuli produced the most interesting and reliable sounds. Michaela fortunately has a modicum of anatomical knowledge; I had absolutely none. Regardless of that, we learnt very quickly…
Read this article in full in Trebuchet 4 – The Body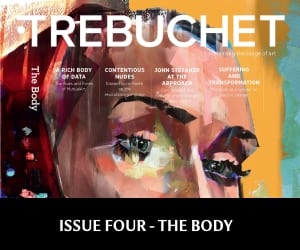 The aim of art is to represent not the outward appearance of things, but their inward significance. – Aristotle