The Big Art Auction, a collaboration between The Big Issue Group and Creative Giants, is now open for registration. Aimed at supporting The Big Issue and its network of sellers in a time of crisis, the auction has been made possible by a donation from Fender of a collection of Stratocaster guitars.
Nine artists have customised the iconic instruments: Gavin Turk, Goldie, Bran Symondson, Lauren Baker, Vhils, Joe Rush, Jamie Reid, Rugman, and Joana Vasconcelos. Alongside the guitars is also a range of limited edition and exclusive artworks including lithographs, paintings, prints and sculptures from a further 12 artists.
The Big Issue is offering increased support for sellers who are unable to get out to their pitches to sell, or who are facing increased hardship. Proceeds from the auction will enable the frontline team to keep providing the day-to-day support that has been so essential in keeping sellers going through this unprecedented time.
Russell Blackman, MD of The Big Issue, said: "We are delighted to be working with Creative Giants and The Auction Collective on this hugely exciting event. The Big Art Auction comes off the back of an idea originally sparked from a kind donation from the legendary guitar manufacturer Fender and the timing couldn't be better.
"With footfall down in previously busy high streets across the UK, it's very tough out there at the moment for Big Issue sellers. The Big Art Auction, with these truly one-off works of art, will raise urgently needed funds to ensure we can continue to support our sellers, both now and in the future."
Simon Vaughan, Director at Creative Giants, said: "We are so excited and proud to be part of The Big Art Auction. We believe art has the power to inspire, stimulate and promote new ideas!  Our team of artists were enlisted to deliver a range of exciting and thought provoking artwork that could support The Big Issue to explore and challenge the problems of our society today and ultimately raise awareness and funds."
Registration closes at midnight on 3 November, with the live-streamed event taking place at 19.00 on 4 November at The Auction Collective. The evening will include video messages from the artists involved.Visit  https://theauctioncollective.com/auctions/the-big-art-auction to register and view a full list of auction lots.
For art lovers seeking a more affordable investment, a timed limited edition release of prints will be available for a four-week period from 26 October. For more details see bigissue.com.
Image: Jamie Reid's customised Fender. Photo: Louise Haywood-Schiefer.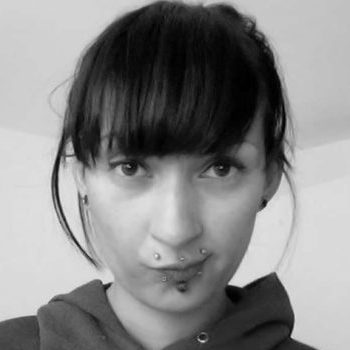 Naila Scargill is the publisher and editor of horror journal Exquisite Terror. Holding a broad editorial background, she has worked with an eclectic variety of content, ranging from film and the counterculture, to political news and finance.