[dropcap style="font-size:100px; color:#992211;"]A[/dropcap]fter nearly two decades as a singer-songwriter, Chris T-T has decided to hang up his fascist-killing and Spartacus-supporting guitar with a series of farewell gigs in the autumn.
I caught up with him after his well-received appearance at this year's Cambridge Folk Festival as one of Jon Boden's curated acts. Rather than being material from his extensive back catalogue, his set was a performance of A.A. Milne poems set to music.
So why A.A. Milne?
I think because he is really embedded in my childhood and I realised he's really embedded in lots of people's childhoods across generations. I've met people whose parents read Milne to them when they were little who now read Milne to their children and in some cases their grandchildren,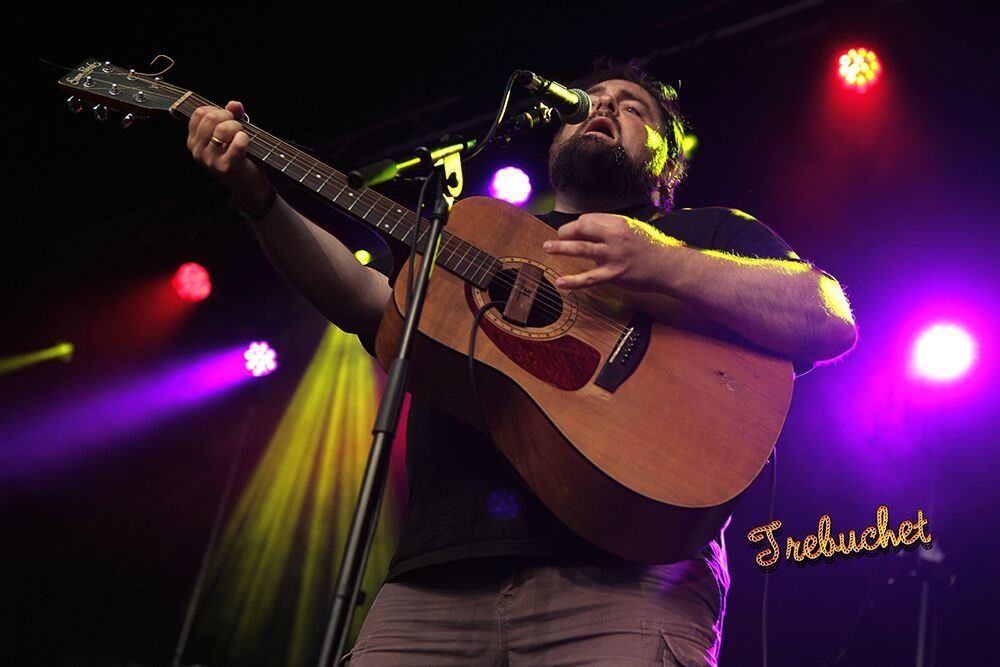 so it's an inherited thing. It's really deep rooted so what you notice, whenever I sing that show there'll always be people who don't realise how much of it they know. You think, oh I'll know that one and I remember that, and then suddenly there are little bits, and it's even just phrases in the language, he's so deeply embedded. I just find it a really beautiful, moving collection.
It's more melancholy than people expect as well. The words "family friendly show" imply silliness. I love that it has its silly moments – he invented silliness – but at the same time there's all these nuances. The very heart of Milne's poetry, I think, is his awareness of being this guy trying to connect to his lonely son, and that's in Winnie the Pooh as well. When I realised there was this thing that meant I could be melancholy, and sometimes be silly and do some joining in bits about elephants, it just satisfied all my creative urges. I love that I don't do it very often so I still come back to it loving it. The minute I sit down at the piano at home and think, I've got to remember these songs, it gets me in my heart, so yeah I love doing this show.
That combination of fun and melancholy, as well as appealing to all ages, fits in really well at a folk festival.
Yeah, I think that's true. Also it has a bit of history to it. I'm taking something from the 1920s. They aren't considered to be folk songs but of course the minute you sing them, they are. They have their own heritage, don't they? I was surprised how successful the show was and I really enjoyed singing just now. But at the same time I knew people would enjoy it and get something from it in a way they can't get from my stuff. That's not to do my own stuff down but I think I always divide any audience that isn't already my fan base. So this show enables me to just be fully nice, welcome everyone in and not alienate some sections.
Has it made you think that you don't want to give up performing after all?
Every time I have a good gig, yes. The run of gigs I've had this year, since I decided to quit, has been the most amazing run of gigs. You're speaking to me 90 minutes after I've sung the show and then spent some time at the signing tent with lots of people being really nice to me so of course I'm thinking, what on earth am I doing?! But in the cold light of day, it won't affect the decision I don't think. If I could sing to that many people on a tour of my own then I wouldn't be stopping but it's the exception.
If I'm honest, I tried to get booked at Cambridge Folk Festival for 15 years and couldn't. It's partly that this show is the one that works for Cambridge; partly it was Jon Boden reaching out and giving me a shot here that enabled it to happen. When I interact with real people at real gigs, I love my life making music. I've had the best adventures. I've had 20 years of not having a boss; I've had 20 years of pootling around the world being an idiot for a living and absolutely loving it but it's not sustainable at the level I'm at, unfortunately, but that's fine.
Do you prefer being solo and having complete control over everything you do to being in a band?
When I've played in bands for other people, I've loved doing that too. One thing I wouldn't rule out is becoming the keyboard player in a band, for example. If the urge to play is there then that might be one of the ways to get through that. I have a backing band where I'm the boss but it's not a folky band, it's a rock band so it's very loud and full on. I'm always happy to tone down the politics and the language so it wouldn't be an issue I don't think. Actually in a song of mine I have the line, "I wish I played bass in a hardcore band," and I do sometimes wish for the semi-anonymity of doing that.
I was the keyboard player for Frank Turner for a year because he lost his keyboard player mid-tour and needed a fill in. So I did maybe nine months on tour with Frank and absolutely had a blast. It really cemented a lifelong friendship, although we were already quite close. I don't necessarily have the discipline to work at that level but I would love to do it. I'd probably have to work hard to be tidy enough and professional enough. You see a unit like Frank's unit now (Frank Turner and the Sleeping Souls), and the crew and the band is so incredibly slick and in tune with each other – everyone knows what they need to do to get the gig done. I'd love to work at that level, I really would. So maybe you've just provided an idea, I think, I don't know.
I know that you don't like to be pigeonholed as a political songwriter as it's only a part of what you do, but do you think that the world needs more political songs right now?
I think that the world has a lot of political artists out there but what we need is for the gatekeepers of the musical world to open the doors for those artists – the people who chose which albums are going to be reviewed or the people who are selecting radio. I went on a really major radio station where I was not allowed to sing the word "liberal" and it was a song where I'd taken out all of the swear words.
Was that Love Me, I'm a Liberal? That's not much without the word "liberal".
It was Love Me, I'm a Liberal and it was 10 minutes before I was due to sing it. I was already on the air basically when they said, in between, we're not sure we can let you sing this song. There are loads of amazing political artists out there and there are loads of artists whose material is political but they let the material stand for itself. I think that one of the mistakes that I've made in my career is just being too mouthy generally and not trusting the songs to do the political work. I think if I'd released all the same songs but just kept quiet in between and just not been a political ranter on Twitter for example, I think I would have had a healthier relationship with that. I just find myself going, I'm nice really, all the time!

I've noticed that your political songs aren't just shouty one-liners. For example when you're singing about the countryside, you do go into the social forces such as gentrification rather than just simplistic sloganeering.
I think I do undermine things by being a bit too pessimistic or a bit too nuanced. For example, I'll make a whole album of political songs and then the last song with be Preaching to the Converted saying how pointless it is to be doing political songs because we're just all in a bubble. Love Me, I'm a Liberal is another example really of where I shoot myself in the foot by writing this really radical album that I'm very proud of, I love 9 Green Songs as a record and I think it does gets that balance right, except that I can't resist sniping at my own side or doubting myself. It makes me quite useless for protest events. I think the Left struggle to use me. On a march or a big union event you need people to go, yeah we're all together and united, and then there's me in the corner going, yeah but we're not really, are we? It just gets in the way. I think I'm definitely too bleak.
I think Grace Petrie is the current great protest singer. She's the closest we've had in this country to a new Billy Bragg for many years and she's a majestic live performer. I don't think she's necessarily captured it on record yet but her songwriting is exceptional, out of this world. She does what a lot of great protest singers do, which is that her love songs and her personal songs are outstanding, so she can cover both grounds. Like Billy Bragg is one of the greatest writers of love songs we've ever produced, and Tom Robinson as well, his love songs are beautiful. But what they do when they're writing about politics or issues is to uplift and I'm not capable of it really.
Will you still be arguing on Twitter after you stop performing?
I hope not, I hope I can turn it down.
Is that part of stopping performing, that you want to draw a line under certain things?
I was actually thinking about this earlier this morning. I really do need a break from myself. Part of that may need to be coming off Twitter as well. The other half of what we do on Twitter too much as music artists is promote ourselves so it will be great not to have to promote anything. Then I think I really need to not have this thing of needing to join in the debate because it's not important, it doesn't do anything. The people who make change aren't shouting about it, they're doing things and sometimes that's for ill. The people who make change for bad are the people who sit at home stewing for a few years and then do something horrendous, so we need to figure out a way of being the people that make change for good in that kind of a way.
Like I think the protest movement gets it wrong when it goes home. In places where protest movements have really made a difference, they didn't go home. The British way is to go to a protest and then go out for dinner – we've really got our message across, now let's go and have a pizza! It doesn't quite work for me. You can hear it coming out now, oh no, now I'm having an opinion again, stop having opinions, I'm too old for it!
[Interview continues next week with more juicy political, folk, and political folk chat]
Chris T-T plays his farewell tour this autumn. See the Chris T-T website for details
Interview: Sarah Corbett-Batson
Photos: Copyright Carl Byron Batson. Not to be reproduced without express prior permission
Read Part Two of this interview here.