[dropcap style="font-size:100px; color:#992211;"]I[/dropcap]n an all-seater theatre with oversized chandeliers nodding to faded glamour, Chris Isaak takes the stage in a bright red suit emblazoned with blue, green and gold sequins.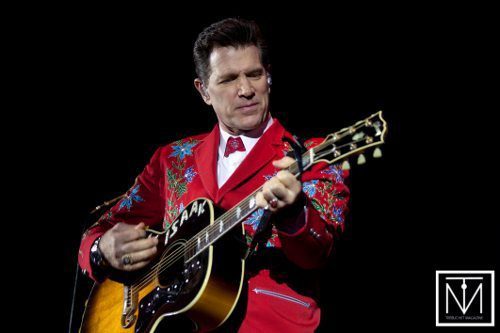 The first couple of numbers ('American Boy' and 'Pretty Girls Don't Cry') are pleasingly rockin' although not showstoppers. It really comes together when, draped in blue light, he launches into the mournful tones of 'Blue Hotel'. The blonde divorcees in the audience (some strangely reminiscent of Lula's evil shoulderpadded mother in David Lynch's Wild At Heart) swoon and melt into their plush red seats like witches dissolving in water.
Speaking of which, the most anticipated song of the evening, 'Wicked Game' could so easily have been a disappointment, but somehow he surpasses the recorded version; his replacement of "foolish people" with "foolish lovers" in the verse only making it more poignant. It is a sublime road trip of a song – melancholic riffs conjuring up a world crammed with despair and hope in equal measures, a vocal inflection in the chorus that twists the knife into your wild, broken heart and a falsetto that pierces your soul.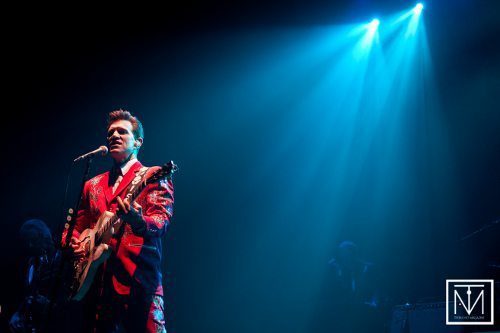 'Baby Did a Bad Bad Thing' from Stanley Kubrick's Eyes Wide Shut (which he dedicates to the audience members without partners, on medication and suffering from low self-esteem, whom he describes as his kind of people) is suitably depraved, gravelly and dirty.
During the latter part of the gig he entertains with a selection of rock 'n' roll covers from his latest album, Beyond The Sun.  To cover classics by Elvis Presley, Carl Perkins, Roy Orbison, Johnny Cash and Jerry Lee Lewis without being struck down by lightning and engulfed in flames places him in a select group, although hilariously the furiously-played piano is shrouded in dry ice and decorated with fake flames during 'Great Balls of Fire'.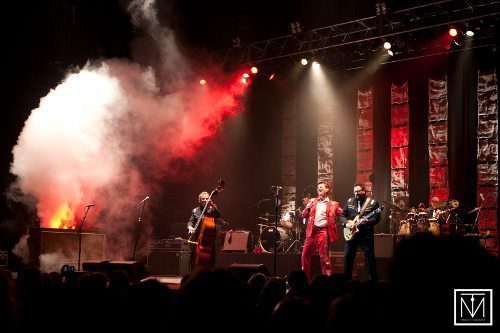 The audience are stirred by the rousing 'Ring of Fire', then suddenly the magic and energy of Sam Phillips' Sun Records is alive with toes tapping to 'Dixie Fried'. Isaak's crooning of 'Can't Help Falling in Love' is a little too cheesy, but all is forgiven as his strong and deeply-toned vocals make the most of 'It's Now or Never'.
Chris Isaak is comfortable sharing the limelight and sings the praises of his slick, and clearly relaxed, long time backing band. At times he performs choreographed steps with the other two guitarists, who don't put a foot wrong all night in any sense of the phrase. In addition to the drummer Kenney Dale Johnson, a second percussionist Rafael Padilla takes care of tambourines and bongos, while the keyboard player Scott Plunkett and double bassist Rowland Salley come to the forefront during the covers.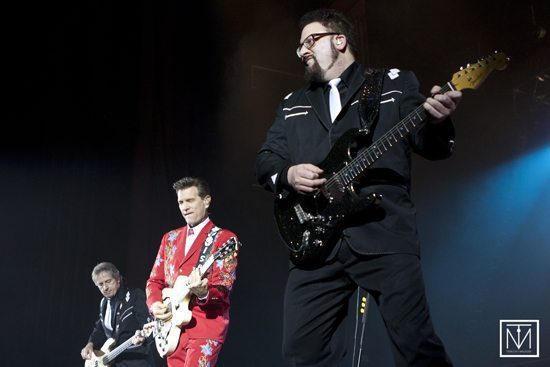 During an early number, to the chagrin of the security staff unable to stop the audience standing or dancing, he decamps from the stage and cuts a dash through the stalls, shaking hands and singing as he goes, then runs up to the circle for more of the same.  A number of ladies get somewhat excited, in some cases bordering on hysteria. Later he dispatches guitarist, Hershel Yatovitz into the crowd for more hand touching.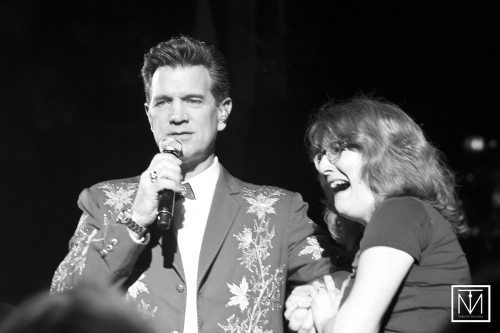 Security look edgier still when Isaak encourages the audience to ignore the house rules and to take pictures of him on their cameras or phones, resulting in a stream of fans scuttling up the aisles to the front. He poses for them whilst singing, looking straight in their direction and is eager to be snapped – he explains that he didn't get dressed up for nothing, and that he is glad we turned off the television to come out and support live music.
[box] he didn't get dressed up for nothing[/box]
For the inevitable encore, he dazzles in a suit made of tiny mirrors while a cut out backdrop of a pin-up girl descends onto the stage. That doesn't distract from his soulful rendition of 'Oh, Pretty Woman'. The jacket comes off as he closes on a gospel number, with his band crowding around another microphone to add backing vocals.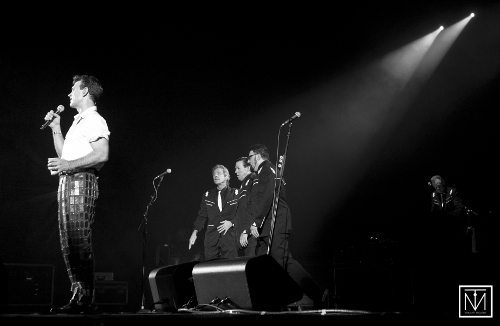 [box] chiselled without being clean-cut[/box]
Chris Isaak is the perfect rock 'n' roll hero – handsome and chiselled without being clean-cut, approachable yet darkly fascinating. Despite his friendly banter there is something unsettling about him, fitting the Lynchian vision of the American underbelly, a dystopian landscape as corrupted and uncertain as the surfy notes he bends and distorts.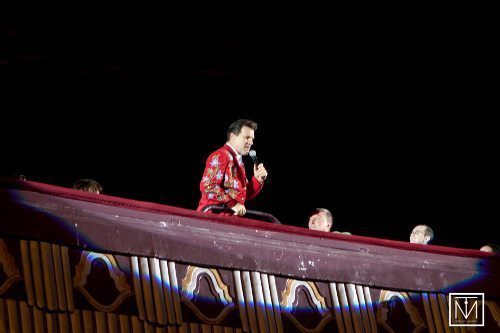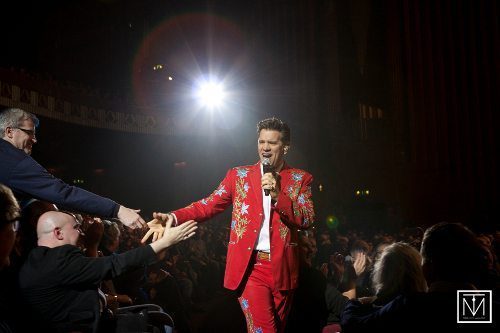 In a virtual age of so-called reality television where everyone is famous for fifteen milliseconds and true star quality seems like a relic from a bygone era, Chris Isaak has the theatrical glamour, presence and raw emotion that makes you want to run away and get married by an Elvis impersonator in Vegas.
Deliver us from surly musicians in jeans and baseball boots. Let us be blinded by mirrored suits and touched inappropriately by covers of seemingly untouchable songs.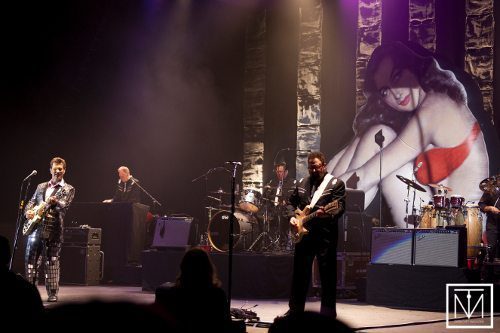 All Photos: Carl Byron Batson
[button link="http://www.chrisisaak.com/" newwindow="yes"] Chris Isaak Homepage[/button]