The BFI film festival screens a decent documentary about the great drummer Ginger Baker – no problem there.
Its director is a young hustler filmmaker/personality who has sold the film (successfully) on a trailer which features an angry Ginger smashing his walking cane into the director's nose – no problem there either. I manage to provoke the same director into completely losing his rag in front of the entire NFT1 audience – no problem at all.
Cheers to the Ginger man and drinks all round.
I approached the UK premiere with two sets of trepidations: firstly that the film would be a hatchet job on a 73 year old man with severe health problems and secondly, having spent three years singing for him in the 1970's, that I would appear in the film wearing some atrocious stage outfit.
Although the director makes some clumsy attempts to lure Ginger down a 'sob story' path the great man's bullshit radar and stubborn refusal to conform to any expectations keep the film nicely off the beaten track. On the second count, my own appearance is mercifully brief (embroidered silk Chinese jacket/emerald green satin trousers).
There is some terrific archive footage, mostly provided by the film's executive producer Tony Palmer. SEE Ginger whipping up an afro storm with Fela Ransom Kuti in Lagos. SEE highlights from both of Cream's memorable Albert Hall performances. SEE Ginger, stoned out of his mind, falling off his drums on a live German TV show.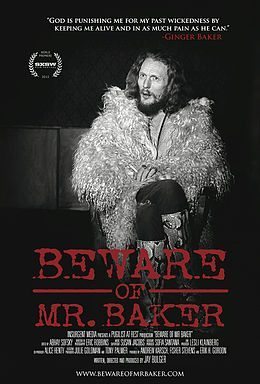 The usual celebrity endorsements by other famous percussionists such as Stewart Copeland, Charlie Watts and Mickey Hart are thankfully kept to minimum. There are terrific animation sequences to fill in blanks where footage was not available, pulsating moments where Ginger performs 'drum duels' with jazz greats such as Elvin Jones and Max Roach, and some insightful comments from Eric Clapton, Johnny Rotten and Jack Bruce on the nature of the beast. All in all, it provided an entertaining 90 minutes.
But the fun didn't end there.
Both the excited director (Jay Bulger) and a bored-looking Ginger rolled onto the stage for a Q and A. Honestly, I wasn't planning to participate, but the session was so tepid that I finally raised my hand just to liven it up a bit. It wasn't even a question really – I simply felt that the flick was so keen to portray its subject as mad, bad and dangerous (all of which can be true) that it overlooked his more generous qualities both personally and musically.
Well – the director took it as a personal insult. Before I had finished speaking he cut me off and went on a pointless rant for four or five minutes. It was not well-received by the audience and NFT management apologised to me afterwards for his behaviour. As I pointed out to him later: if you make a film for the public and then ask them to comment on it don't act bloody chippy when they do.
I also managed to speak with old my boss after the show, which was…
somewhat awkward.
Years of on/off heroin addiction have left their mark. The clear sparkle of mischief (always a saving grace in someone who is foul-mouthed and irritable) had left his eyes, but then, you don't get to the top in any profession without a ruthless streak. Despite or perhaps because of his failing health and financial insecurity, it was a grim, cold survivor who greeted me in the darkness of the NFT parking lot.
[box] you don't get to the top in any profession without a ruthless streak[/box]
It was then that I understood the true nature of the transaction between director and star and the reason for the young man's unreasonable response to my innocent remarks.
From Ginger's point of view the terms would be acceptable: a young hustler offers to revive his career with firstly an article in Rolling Stone magazine, and then a legend-cementing documentary film.
Ginger welcomes the young man into his South Africa home (not exactly with open arms as the film clearly shows), resists every attempt to be stereotyped, then sits back to let the youngster promote his career without even bothering to see the film – result.
Unfortunately the American director saw it differently. He has convinced himself that Ginger is his friend. Not an option in the world of a supreme jazz drummer from the East End school of hard knocks. In this world there are only allies or enemies, users or suppliers.
[box] I have seen Ginger 'put people in hospital' [/box]
The 'shocking incident' where star physically abuses director was no surprise to me. I have seen Ginger 'put people in hospital' on a number of occasions although never without provocation.
The lead up to the on-camera incident is not shown but if I were a young director seeking to make my name, one who had already tried and failed to convince his subject to cry on cue, I might be tempted to press an obvious anger button in order to get myself a 'money shot.'
If both men profit from the entertaining venture I have no problem with that. God bless the ginger monster and doubles all round.
[button link="http://bewareofmrbaker.com/" newwindow="yes"] Beware of Mr Baker Official[/button]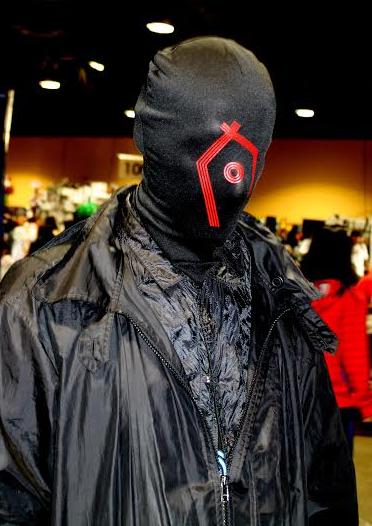 Having completed principal photography on phase one of the Sharks revival SWP is now preparing to edit the One Last Thrill feature documentary. Sharks themselves are 'dropping a big one' by releasing a double album Dark Beatles/White Temptations in April 2018.
In his spare time the author kayaks the muddy river Ouse and walks the South Downs which gently enfold his home town of Lewes.