[dropcap style="font-size:100px; color:#992211;"]P[/dropcap]erusing Art Stage Singapore, it is interesting to see the diverse aesthetics present at galleries of different nationalities.
It is almost a game you can play; guess the country before you look at the booth sign. Each specific aesthetic is hard to pin down in words, but somehow the effect of each culture's unique way of looking comes across through the artwork, and nowhere is it easier to get a view of so many cultures side by side as at an international art fair.
This effect of course is not only due to the artists creating the work, but also the curators who select the show.
When I entered the booth of London's Scream Gallery, the 'London-ness' was immediately apparent, even though Scream shows artists from around the world. The booth featured some really fun pieces that were bold and playful, and a very intricate and impressive artwork by Caroline Jane Harris. In the snapshots below you can see the pieces for yourself, and then join me in finding out about Harris' fascinating artworks and how they are made in her studio.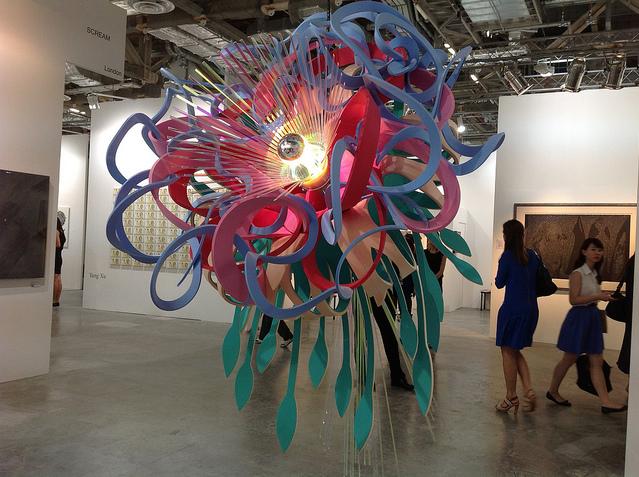 Hsiao-chi Tsai (Taiwan) & Kimiya Yoshikawa (Japan) have worked collaboratively on these vibrant light sculptures (pictured) that are suspended from the ceiling. With exotic flora as a primary influence, these artists use neoprene foam, perspex and an in-built light source to create hybrid 'Pop blooms' which allude to the cosmological and the botanical.
In the kaleidoscopic canvases of Beijing based Ye Hongxing, we see the artist's reaction to the swift change of China's social system. As the rapid pace of modernity in China shapes a new generation, Hongxing has become part of an exciting new wave of artists, reacting and exploring the developments of that region. Fantastical landscapes and religious symbols appear through her mosaic of stickers, creating a dazzling visual effect, colourful and fragmented.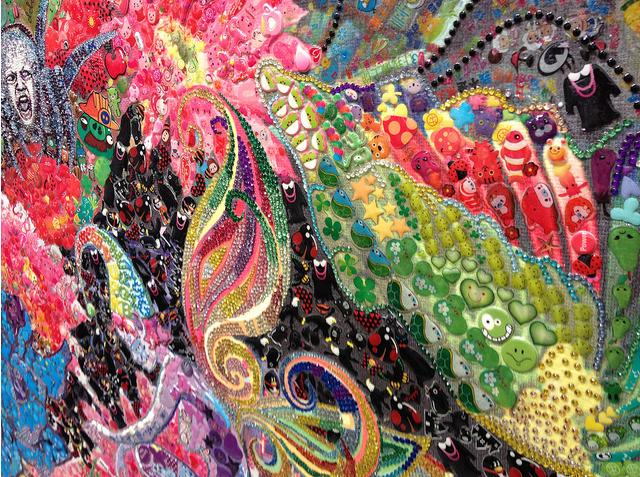 Ye Hongxing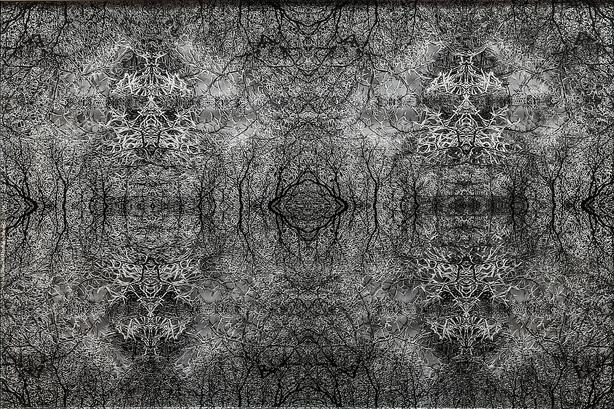 In the very different image above, we see Caroline Jane Harris's work is equally complex, but with its monochrome maze, it contrasts the other works by bringing an air of the sensitive and sublime.
The artist explores the intricacies of nature through a labour intensive paper-cutting technique. She responds to visual phenomena in nature; the endless geometric patterns found in all levels of existence. Using tree formations as her starting point.
Harris has a strong interest in artistic and devotional practices of Eastern cultures, creating art with an emphasis on detail and wonderment. Once layered, the two dimensional paper-cuts have an inherent sense of depth. I talked with the artist to find out how her white plains of paper become so infinite and abstract:
Nicola Anthony: Your work creates an idealised aesthetic of nature, through the symmetrical rendering of digitally printed photographs. You have called your technique 'solo and obsessive, requiring concentration, repetition and discipline'. It is fascinating to hear about your creative process. Could you tell us what a typical day in your studio is like?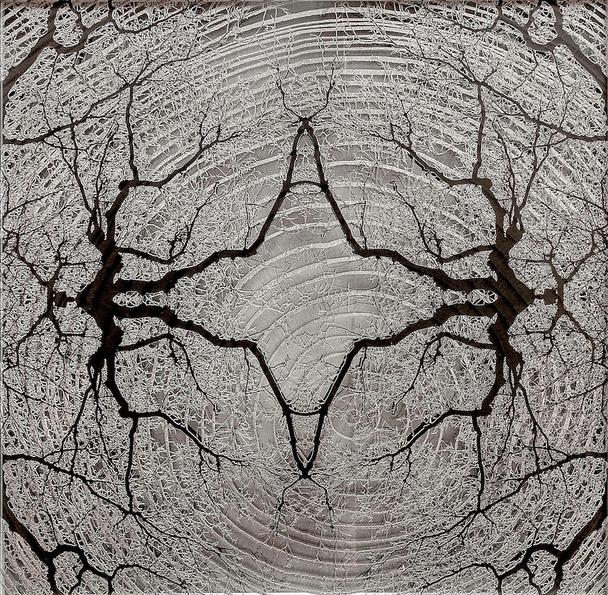 Caroline Jane Harris: When I start a piece I work mostly from home as I create the images on Photoshop, zooming right into the details in the photographs. It typically takes a couple of days of experimenting, testing and tweaking to get the images for each layer how I'd like them. I then have them printed and will spend the next three weeks to any number of months (depends on size) cutting. The type of tree and amount of layers in the piece are also factors determining how long it will take. I tend to cut in solid blocks of time, sometimes not looking up for an hour and a half, I get entirely absorbed in the series of tiny decisions made at every stroke of the hand.
NA: The disciplined nature of your working method has a meditative quality. You also seem to be influenced by Eastern cultures – could you tell us more about these influences and inspirations?
CJH: Paper is the medium which has become central to my practice as has been used in Eastern arts for centuries. Paper's long history and inherent everyday qualities allow it to be spectacular or mundane, strong and delicate all at the same time. I connect with the notions of the skilled hand, patience and emphasis on detail present in traditional Chinese arts. I look to Japanese painting and wood-block printing for technical inspiration and an understanding of the beauty and essence of nature.
NA: There is a fantastic mix of the traditional and handmade in your work, alongside some very new ideas and aesthetics which allude to images from under a microscope or seen through a telescope. Is this mix of old and new significant?
CJH: I studied Fine Art Printmaking which involves working with traditional equipment and processes. Whilst at University I experimented with wood-cutting, the process of making an image through deconstructing its surface and building up an image through layering. I took these principles and applied them to digital prints, re-working the order and cutting technique of creating reduction prints. I like the clash of the convenience of technology and labour-intensive artistry, which is only recognised on close inspection of the work.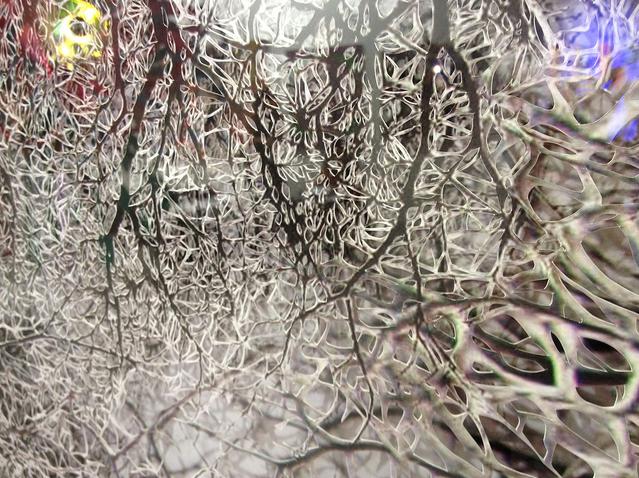 NA: And lastly – what's next for you? Any new artworks in the pipeline?
CJH: After Art Stage Singapore I am showing at the India Art Fair and have been short-listed for the Aesthetica Art Prize, where I'll be exhibiting in March. I am currently at an experimental stage in my studio, considering and testing new ways of creating the images and the importance of scale to each piece.
NA: Thank you very much Caroline for this portal into your world as an artist – we wish you all the best at Art Stage Singapore and in your future shows.
Words by Nicola Anthony
Images Courtesy of Scream Gallery

Nicola Anthony is a British artist known for her public art around the world. Her text sculptures are made of metal, words, memories and narratives. She has worked internationally with NGOs, art institutions, public spaces and cultural research bodies to create art which tells the stories that are often left unspoken.