[dropcap style="font-size:100px; color:#992211;"]C[/dropcap]oming from a largely DIY background, new album 'Be Nothing' represents not only Blackpool 5-piece Boston Manor's first full-length effort, but also their first release signed to Pure Noise records.
In a recent interview with The Independent, frontman Henry Cox revealed how exciting and liberating it was to work on a more substantial project, asserting that "recording a full album has such wider boundaries than just working on an EP". Given that I've watched Boston Manor's somewhat meteoric rise from the underground with interest (as they're a reasonably local band for me), this is one of the hotly anticipated releases of this autumn.
At first glance, the album's title Be Nothing is reflective of a bittersweet emotional journey, an ever-present in Boston Manor's material. Opener 'Burn You Up' delivers a catchy, bouncy start to proceedings, showcasing impressively crisp production values from the off. Lyrically, it se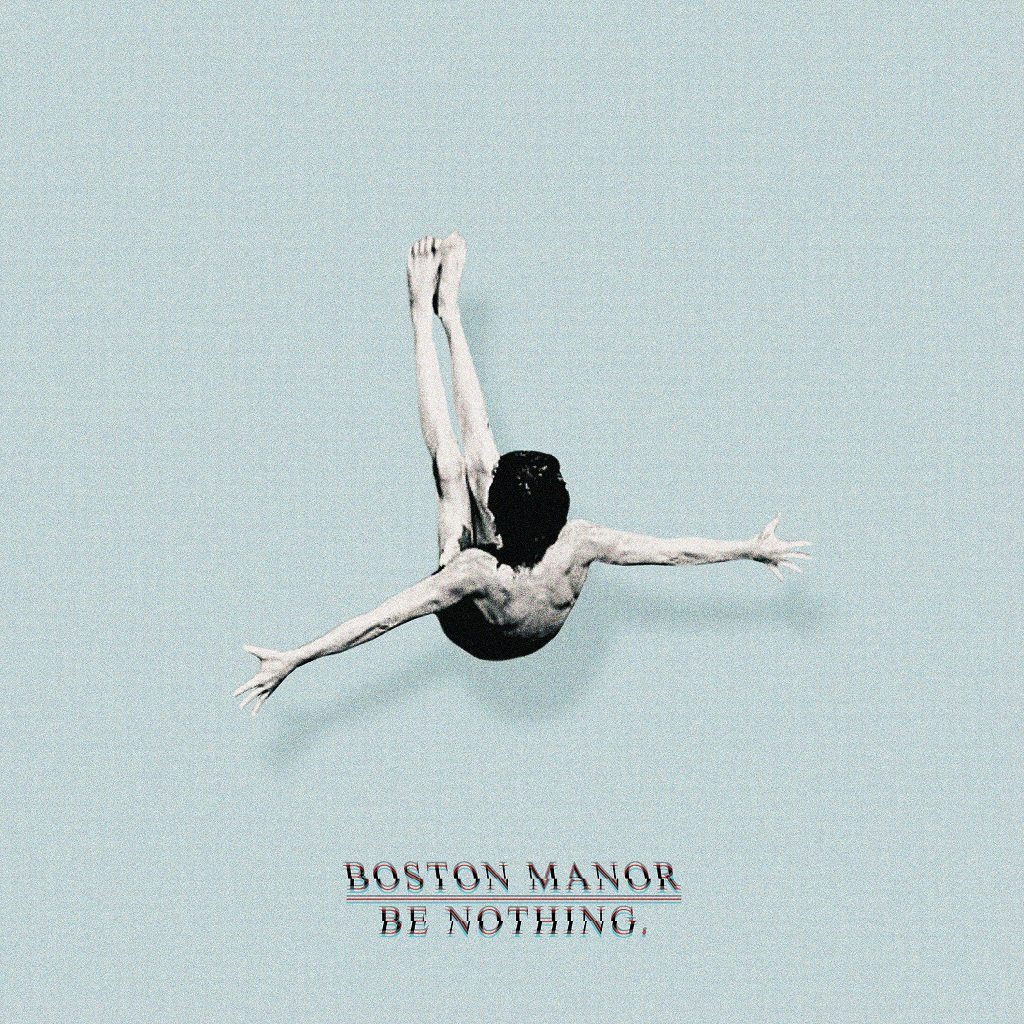 ems to be reactionary, instilling a sense of defiant self-affirmance with lines like 'you'd better get used to this 'cos I'm going nowhere, you'd better get used to this 'cos I'm staying right here' delivered with passion aplenty.
A statement to their detractors, perhaps – any band who've exploded out of the blocks and gigged relentlessly in a relatively short space of time (as Boston Manor have over the last few years) will have collected some naysayers. Their continued DIY approach to what they do is fuels this interpretation, given the sometimes dirty and difficult nature of the industry – 'fingers crossed behind your back, you poisonous snake who taught you to lie like that' to me comes across as the catchiest 'fuck you' Boston Manor could muster.
From here, we move into 'Lead Feet', a bass-driven intro breaking into beautiful harmonies and emotive vocals. The lyrics are steeped in retrospect and nostalgia, clarifying the feeling in their delivery. These are words with depth, yet still on some level relatable. It's hard to put my finger on a concise description for this track; the guitars are – in Boston Manor's usual style – bright and cheerful. There's something positive and motivating about both tracks up to this point, which doesn't quite hide the melancholy feel lurking just behind it.
Layered guitars build a brooding dawn to third track 'Laika'. There's a bit of a Brand New vibe coming into play in this one, yet with a nod to British contemporaries such as Biffy Clyro during the bridge. Thus far, 'Be Nothing' is shaping up to be a gem of a mixture between the upbeat guitar-work you might affiliate with contemporary pop-punk, counterpointed with more serious post-hardcore character and lyrics which manage to be simultaneously ponderous, exasperated and cautiously optimistic.
Following track 'Cu' again explores well-executed vocal harmonies, with more of the Biffy vibe to begin with from a musical perspective. Vocally we're getting more of a pop-punk delivery, yet there's more complexity and feel when you compare this material with that of their pop-punk contemporaries (and, indeed, Boston Manor's older releases). While lyrics such as 'Do you feel like you've sailed around the sun one too many times?' drawing a bit of an Emo quality thematically, there's a definite maturity about what they've achieved here.
The bitterness present throughout the album's lyrical content comes to a head in 'Broken Glass'. It's clear someone has been hurt in this equation to deliver such a thoughtful, progressive number with Henry's visceral, haunting vocals appearing to address the subject directly. The track builds over its four minute runtime into an aggrieved, finite ending that again audibly visits a place of real pain.
From here, we move into more effervescent territory reminiscent of Boston Manor's Pop-Punk roots with 'Kill Your Conscience' and 'Forget Me Not'. Mainlining their pedigree in fast-paced Pop-Punk, there are driving drum-lines from Jordan Pugh and strokes of The Wonder Years in delivery. 'This Song Is Dedicated To Nobody' is another blast from classic Boston Manor with vocal lines reminiscent of The Story So Far's Mount Diablo and upbeat lyrics handling self-reliance, life affirmance and moving forward providing one of my favourite tracks on this record.
Following this is title track (well, at least in part) 'Stop Trying, Be Nothing'. I've got to say, the title here has got to be a little tongue in cheek given that the band are embarking on the biggest chapter of their musical journey, and the lyrics from the off seem to follow this line of thought with that curious oxymoronic aggression (apparently negative, yet absolutely uplifting) so often found in Punk. It's a pacey number with an emo/pop-punk crossover sound (think Funeral For A Friend's catchier stuff) and a strong, riffed finish from guitarists Mike Cunniff and Ash Wilson.
Closer 'Fossa' begins with a much weightier, progressive aura than the previous few tracks, led by melodic guitar and vocal work supplemented nicely by punchy bass from Dan Cunniff. It builds to the close over the course of the track, highlighting Boston Manor's cultivation and development of their sound, and leaving us with a considered post-hardcore flavour to end on.
In all honesty, this is a much bigger album than I was expecting from the Blackpool lads (and that's not a dig at their earlier work, either). It's an incredible piece of writing and production deserving of a place amongst my favourite releases this year (in a year that's brought us top drawer new records from A Day To Remember, Every Time I Die and Touché Amore in the past few weeks alone). To summarise, a debut full-length demonstrating an incredible progression from Pop-Punk roots into much richer and emotive ground.

Jed the Music Ed. is a Music Promoter/Booking Agent and general fixer with Rawkus Events. Jed's interests include a constant and reckless over-caffeination, irrationally spontaneous travel plans and maintaining an over-expensive (borderline hoarder) PC/retro gaming habit.